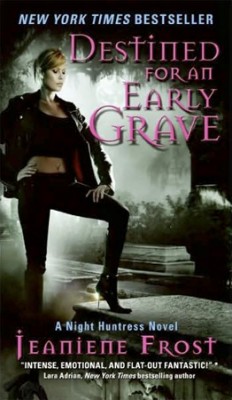 Author Jeaniene Frost's latest release, Destined for an Early Grave, is a one-of-a-kind urban fantasy romance novel that will both captivate and delight current fans and new readers alike. The fourth installment in Frost's popular Night Huntress series, Destined for an Early Grave follows Cat Crawfield, a strong willed, red-headed halfbreed (half human, half vampire) who is being terrorized by a powerful vampire that haunts her dreams. Gregor, also known as the Dreamsnatcher for his ability to spirit humans away while they dream, claims that he is married to Cat — a significant complication for her given that she has no memory of ever meeting Gregor and is happily married to the love of her life, a handsome and roguish vampire named Bones. Given that marriage is eternal among the vampire class, Gregor's claims pose considerable problems for Cat and Bones. As the two try to navigate the increasingly complicated and political situation, they must face some difficult truths about each other and their lives together.
There is something to be said for female authors' ability to touch female readers in a way that is entirely inaccessible to their male counterparts, and Jeaniene Frost's Destined for an Early Grave perfectly exemplifies this ability. Although both men and women experience the excruciating pain and hollow despair that can accompany separation from a loved one, unexpected changes in circumstance, and other life-altering situations, the fact remains that they do so in different ways. Jeaniene's writing has the haunting ability to create an emotional connection between character and reader that only some of the best writers can achieve. Cat Crawfield, also called "Kitten" by her friends and family, is an instantly likeable character who is made even more relatable by the numerous character flaws that she displays: a hot temper, fierce independence, nagging insecurity, and a degree of naïveté that many readers will easily identify with.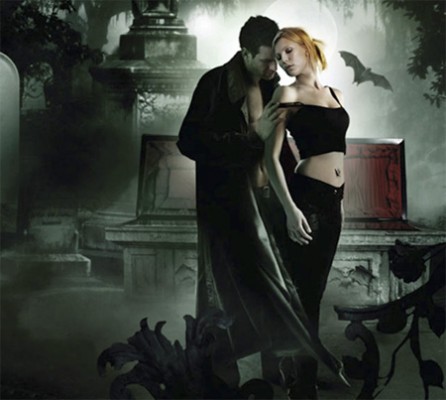 The city of New Orleans plays an integral role in Destined for an Early Grave, and in addition to being the perfect setting for an urban fantasy about vampires, demons, ghouls and ghosts, Jeaniene's use of imagery allows even those readers who have never experienced the unique character of the city to feel as though they are walking the streets of the French Quarter or sitting in the pleasant dankness of Lafitte's Blacksmith Shop. New Orleans legendary voodoo queen Marie Laveau also plays an integral role in Cat and Bones' adventure as the couple seeks the aid of the ghoul queen in combating Gregor's insane claims and restoring order to their lives. While Destined for an Early Grave takes readers on an emotional rollercoaster ride, it is more than a romance novel and also provides a great deal of action and some extremely robust — although still tasteful — sex. Overall, Destined for an Early Grave is an intoxicating read that will make you laugh and cry while you fall in love with its characters — either for the first time or all over again. Although it is the fourth book in the Night Huntress series, preceded by Halfway to the Grave, One Foot in the Grave, and At Graves End, readers unfamiliar with the other Night Huntress books will have no problem reading and enjoying Destined for an Early Grave. Jeaniene provides just enough background throughout to prevent new readers from feeling lost or confused about previous events, character histories, and other aspects of the series.
Still not sure? Jeaniene was kind enough to post the entire first chapter of Destined for an Early Grave on her Web site, which you can read here if you'd like to get a better sense of the characters or Jeaniene's writing style. Destined for an Early Grave is currently #7 on the New York Times Bestseller List and #38 on the USA Today Bestseller List. Published by Avon, an imprint of Harper Collins Publishers, Destined for an Early Grave and the other Night Huntress books are available in mass market paperback from most book retailers. Also keep checking back for our exclusive interview with Jeaniene Frost regarding Destined for an Early Grave, the Night Huntress series, and some of Jeaniene's future projects!