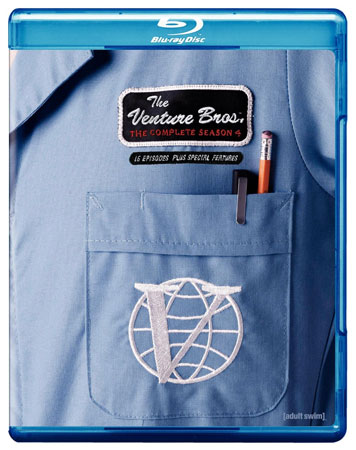 The fourth season of Adult Swim's hit series The Venture Bros. aired in two parts, and the first half of the season released on DVD in the fall. Many fans of the show held out for a complete and non-segmented season release, and it's finally here! The entire fourth season arrives on Blu-ray on Tuesday with The Venture Bros.: The Complete Season 4.
Anyone unacquainted with this brilliantly bizarre series would be well advised to go back to the first season and catch up before diving into season 4. Unlike many American animated series, The Venture Bros. actually carries quite a bit of continuity from episode to episode and from season to season. All the character relationships and plot lines are well established prior to this newest season. Since many of the jokes are based around the continuity and callbacks to previous episodes and situations, a lot of the humor might fly over newcomers' heads. Nevertheless, it's not Lost or Fringe. Jumping in with season 4 won't make the show completely inaccessible; you'll just love it so much more by starting from the beginning.
The Venture Bros. is all about the Venture family, headed up by modern day mad scientist Dr. Venture, and his two sons, Dean and Hank. Together with their family bodyguard Brock Samson and an array of recurring secondary characters, the Ventures travel the globe to seek out crazy and pseudo-scientific adventures. It all boils down to a whole lot of hilarious parodies and twists on everything from David Bowie to noir, encapsulated in a cartoon modeled overall as a parody of the old 1960s cartoons like Johnny Quest. Give it a few episodes to pull you in, and you'll be addicted to what arguably is the best animated series on current TV.
Both halves of season 4 are assembled here in this collection of 16 episodes, uncensored from their original TV broadcasts. In addition to the episodes themselves, all presented in full high definition, the Blu-ray also includes a bunch of special features:
Audio commentaries by Doc Hammer and Jackson Publick for all 16 episodes
28 minutes' worth of deleted scenes from 12 different episodes
"So This Is Captain…" – a brief featurette with repeated flubs and retakes of a single line of dialogue
Finale On-Air Promos and Comic Con Promo
Lost Open – Alternate opening for the show
The Venture Bros.: The Complete Season 4 releases on Blu-ray on March 22, 2011.