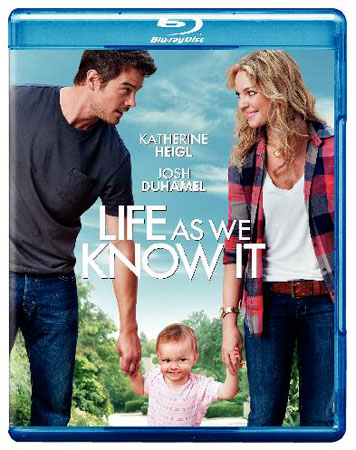 The recipe for a 2010 romantic comedy: Take one part Katherine Heigl (often interchangeable with one part Jennifer Aniston), mix with attractive male co-star (sometimes substituted with one part Adam Sandler), and top with a pithy adage or cliché. Babies and / or animals are acceptable as garnish. The chefs who concocted Life as We Know It are gourmets with this formula, and the resulting movie fits squarely into its genre alongside other recent romantic comedies and dramedies with similarly generic titles.
We meet Holly (Katherine Heigl) and Messer (Josh Duhamel) as professionals living and working in Atlanta. Holly owns a bakery, and Messer is a sports director with his sights set on a big career in pro sports production. They come to terms with their mutual dislike after their friends (played by Hayes MacArthur and Christina Hendricks) set them up for what is destined to be a horrible date. As fate would have it (hey, that would be a good rom-com title, too!), Holly and Messer reunite later when their friends die tragically in a car accident. And, surprise! They have been named as the godparents and guardians to their friends' baby Sophie. I can buy a lot of absurdity in movies, even to the extent of being cool with the mother of Jedi twins dying of a "broken heart." I can't quite reconcile otherwise seemingly normal parents secretly consigning their kid's guardianship to two unsuspecting people who hate each other, though. Further, this movie makes the grave mistake of perpetuating the socially acceptable lie that everyone secretly craves parenthood and should have a baby as we see people who previously had no interest in being parents suddenly embracing this new bundle of joy and poop in their lives.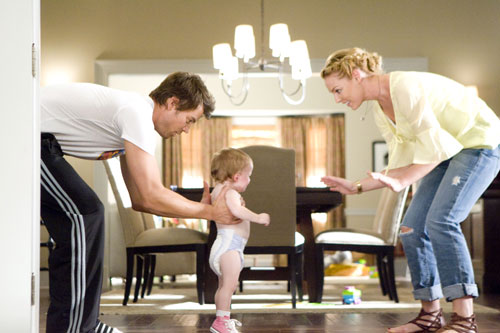 But Holly and Messer are game for the whole thing, inexplicably throwing their own lives to the wind as they agree to this ridiculous and probably infant-damaging arrangement. They move into their friends' former home together in order to take care of Sophie in her own, familiar surroundings. It's not long before Holly's uptight demeanor predictably clashes with Messer's carefree "I slob male" lifestyle, wreaking havoc and derailing their lives. As Holly pursues a new relationship with Sophie's pediatrician (played by Josh Lucas) while trying to expand her catering business, Messer works toward his dream job in sports directing. Their relationship follows all the usual hills and valleys as they figure out how to live with each other while suddenly tasked with raising a child.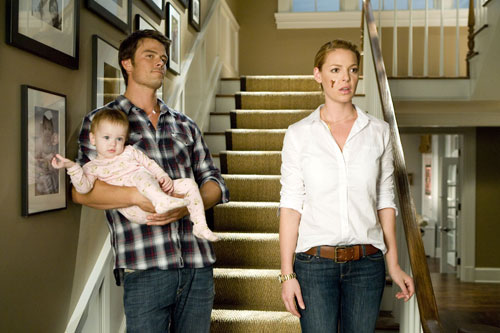 In the end, Life as We Know It is a predictable story that hits all the expected buttons and tugs at all the usual strings. But really, isn't that predictability part of what fans of the romance genre want? I decidedly am not in the target audience for this film, aside from some Firefly and Mad Men inspired geekery about Christina Hendricks playing the ill-fated biological mom. From talking with people who are into the genre, however, I'm inclined to think that this movie works quite well within its formula. If you're psyched by the notion of seeing Tad Hamilton and Izzie from Grey's Anatomy raising Joan Holloway's adorable baby, then this flick might be right up your alley. If not, you can safely skip this one.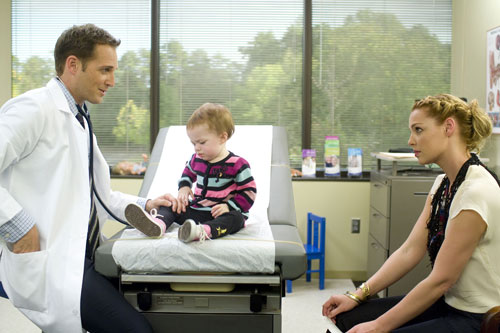 Life as We Know It released as a Blu-ray combo pack on February 8, including the Blu-ray version of the movie along with the DVD and digital download options. There are just a few special features included, all of them brief featurettes or montages:
A Survival Guide to Instant Parenting
Katherine Heigl: Becoming the Best Mom Ever
Josh Duhamel: The Triplet Tamer
Deleted Scenes
If it seems like I'm giving this movie a hard time, it's mostly due to its hard-to-swallow premise, combined with its complacency in its genre. Every beat is predictable, and it does nothing to hook anyone who wouldn't already be interested in this sort of movie.