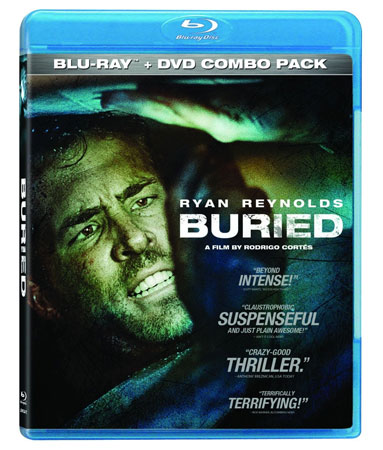 Not that I think any of you would make this mistake, but just so that we get this out there right at the beginning: Buried is not a feel-good movie. It's a lot of things, most of them brilliant, but a movie to watch as an inspirational pick-me-up? Not so much.
Ryan Reynolds plays Paul Conroy, a civilian contractor working as a truck driver in Iraq in 2006. When insurgents attack his convoy, Paul is knocked unconscious, only to awaken some time later in a dark and confined space. After frantically feeling his way around and eventually igniting a lighter, he discovers that he is sealed inside a wooden coffin, presumably buried alive somewhere in the Iraqi desert. With no idea as to who put him there or why, Paul will spend the next 90 minutes of movie time trying to free himself. Those 90 minutes pass in near-real time, and believe me when I say that they are some of the most excruciatingly intense 90 minutes you're likely to spend watching a recent movie.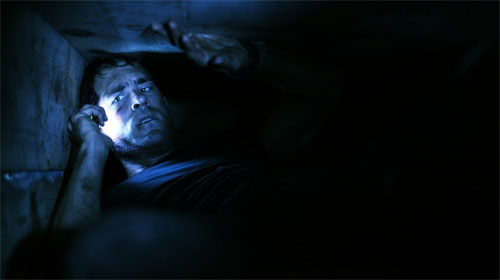 As Paul struggles with the physical and psychological confines, both he and the audience know that time and oxygen are running out, and it's only a matter of time until he either suffocates, is crushed by the dirt above, or is dragged out of the box to be murdered. As if just being locked in a coffin underground were not enough, Paul's predicament continually goes from bad to worse. The amount of horribleness that gets heaped upon poor Paul occasionally stretches credibility, but in the end his reactions and the way he deals with everything that happens to him feel agonizingly real.
Aside from a few brief flashes and some voices, Ryan Reynolds is the only actor in the movie. We do hear some voice work from the likes of Stephen Tobolowsky and Samantha Mathis, but this movie is all about Reynolds and the camera that never is far from his sweating and frantic face. He manages to sell Paul Conroy convincingly, and the buried alive scenario comes across as even more horrifying than just the concept sounds like it would be (and it sounds pretty darn terrifying).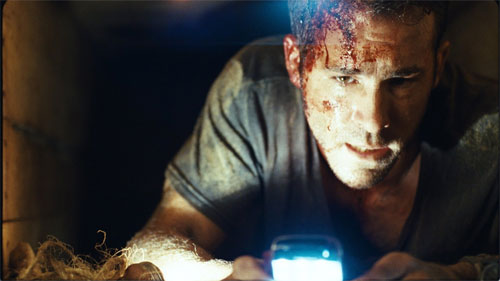 Buried is a movie that will put you through the proverbial wringer, ratcheting the tension ever higher as Paul's situation worsens with every passing minute. You'll catch yourself wanting to yell at him when he makes boneheaded decisions, and then you'll find yourself wondering whether you really would have been doing any better in the same situation. Buried fits into a subgenre I like to call "worst case scenario movies" alongside Frozen, Open Water, and any number of other potentially believable and terrifying movies with concepts that potentially could happen to a person. Although it does stretch believability a bit, Buried feels grim and real, and that makes it an intense thriller to add to your viewing list.
The Blu-ray release includes the DVD version as well, along with a special making-of featurette called "Unearthing Buried." It's a good package, but I really would have enjoyed a commentary track of some sort. This is the kind of movie that would benefit immensely from hearing the actor or director's comments throughout.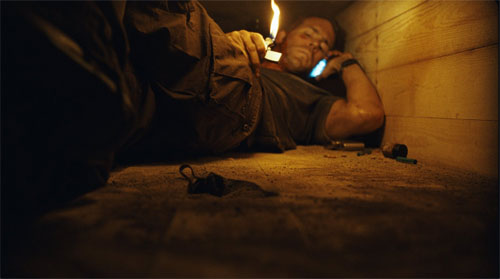 Buried is a hard movie to review because, while it is an excellent film and should be seen by anyone who loves thrillers and Hitchcockian suspense, it's not an easy movie to watch, and it's not one I can see myself returning to until a bit of time has passed. The tension is so taut that watching Buried is a physically exhausting experience. Still, I do recommend it as long as you keep my initial warning in mind. Being in a box for 90 minutes will bum you out, even if you're stuck there with an affable guy like Ryan Reynolds.