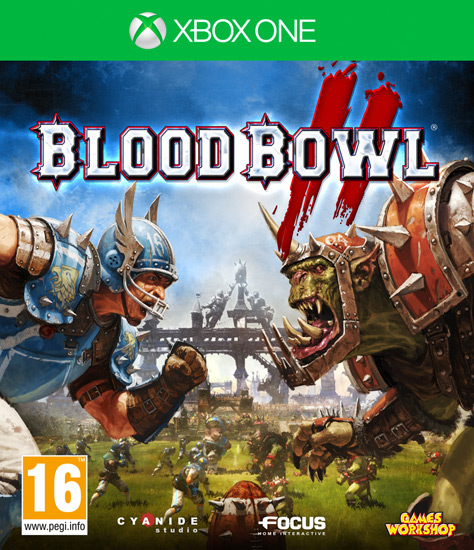 As a huge fan of tabletop gaming, I really should have played some Warhammer at some point in my life, shouldn't I? In fact, as an even huger fan of turn based strategy, I should have played Blood Bowl, either in its original miniatures incarnation or as the previously released video game. But, as fate would have it, the recently released Blood Bowl 2 is my first exposure to Games Workshop's brilliant tactical sports games and only my second exposure to the larger Warhammer universe, following my stint in Warhammer Online.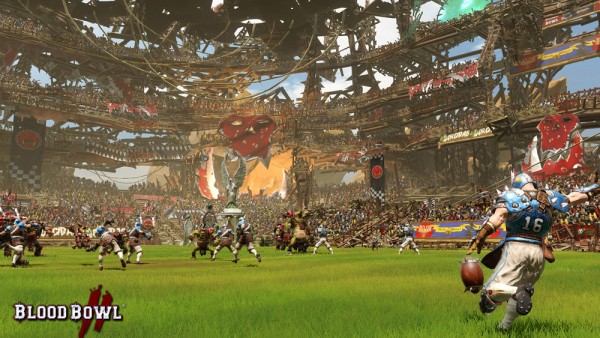 Blood Bowl 2 pits teams of fantastical players against each other in what boils down to a very brutal and very fun game of football. The teams are made up of the races that populate Warhammer lore, and the rules follow the basics of the real world analogous sport. The team in possession of the ball (a viciously spiked and dangerous looking version of an American football) takes the offensive and attempts to run the ball past the other team to score a touchdown. The defending team, as can be expected, does whatever it can to prevent said touchdown from happening. And "whatever it can" ranges from tackling the other players to straight-up fantasyland murder.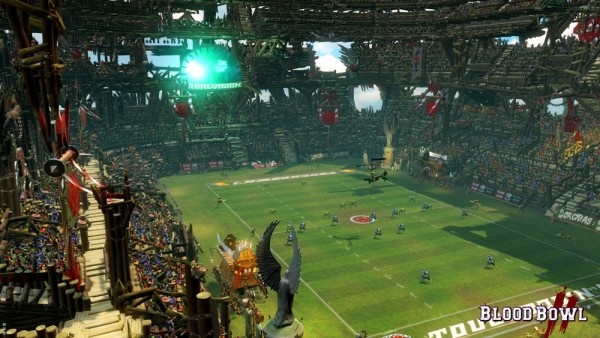 The gameplay itself is presented as turn based strategy, with one team issuing and executing orders for each of its players before the sides switch and the other team gets to do the same. There are a lot of options and possible actions that can happen during a turn, but the core of the gameplay has each player taking two actions per turn. One action can move a player a distance allowed by that character's skills and stats, and the other action has that player making an attack or related action. While the specific decisions that guide the course of a match are strategic, dice rolls control the outcomes of everything, aside from basic movement. And even movement resorts to dice rolls if you try to run a character too far in one turn. Roll poorly, and he'll stumble over his own feet.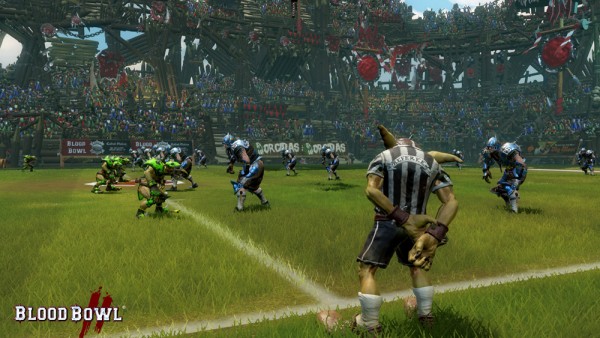 Each match tends to take a half hour or more to play, due to the deliberate and slow pacing of the strategy. Multiplayer matches necessarily take longer than matches played against the game's AI as both players fret and ponder their moves. A pair of lively commentators keep things moving along both during games and between them, and they add flavor to the already crazy things that transpire in the sport of Blood Bowl. The commentators carry over into the game's campaign as well, and they guide new players into the action, both on the field and in the larger metagame.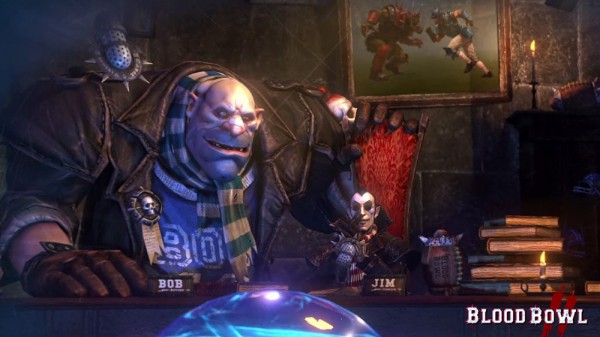 The campaign begins by handing you management of the Riekland Reavers, a notoriously losing team. After guiding you through an exhibition match with the old Reavers team, the team owner sacks all the players and has you start with a new roster to build a more successful team. Starting from the beginning and working a team up from scratch makes for an excellent tutorial that will ease you into the many intricacies of Blood Bowl 2. New mechanics are introduced as the games proceed, and you also will meet new and unique races as you face different teams throughout the story mode.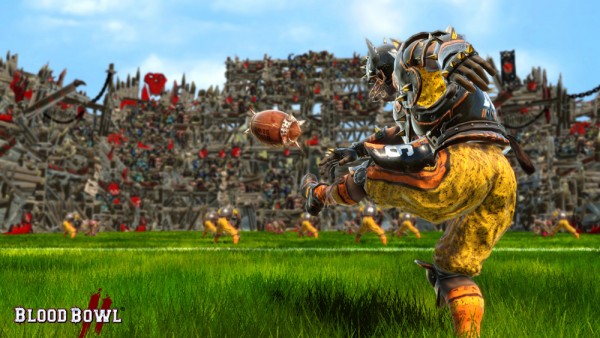 All the usual fantasy races show up, from Elves and Dwarves to Orcs. Humans also make a showing in a couple of different varieties. Every race has strengths and weaknesses, along with special units that are exclusive to that race. Some races, like the Elves, might be quicker to move, but they'll be less physically strong than sturdier ones like the Dwarves. The balance of skills lends itself well to the ebb and flow of offense and defense in the game, and experiencing all the different race matchups keeps the game feeling fresh.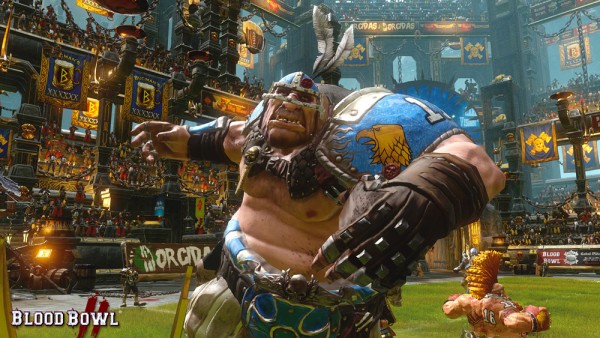 Each team is composed of individual characters, each of whom has his own set of abilities. A character comes with four standard stats, and he gains new abilities through the course of his career. Characters gain experience and level up as they play more matches, and as they level up you're able to pick from a selection of new skills to assign them. The skills available for choosing vary randomly, so it's just as possible to build super powered players as it is to end up with a dud. As you're building and refining your team, you can trade away the losers and recruit better players into your ranks. There's even an online marketplace where you can drop off your unwanted characters and pick up some new ones.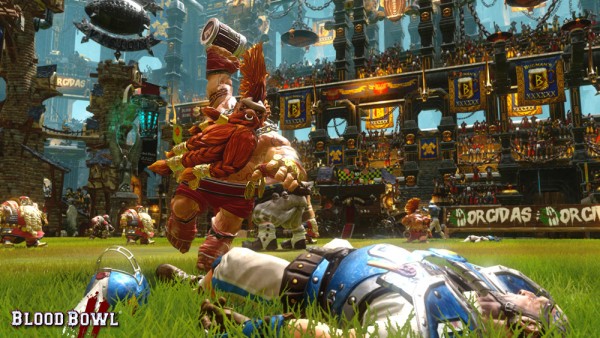 All this player leveling and trading is a big component of Blood Bowl 2, as you'll be engaging in management off the field just as much as you'll be running your little dudes around on the field. And roster management is a big deal, because permadeath is a thing in the world of Blood Bowl. Yes, your players can kick the bucket after kicking the ball. With bloodthirsty Orcs and nefarious Dark Elves out to do you harm, it should be no surprise that a severe whuppin' can and will land on any one of your players. Injuries persist from game to game, and once a player dies, he's dead for good. As the team manager, you'll also be in charge of all sorts of things like signing sponsorship deals and even funding riots in your home stadium that can swing the odds in your favor. You also can play around with aesthetic options like changing your team's logo and uniform colors.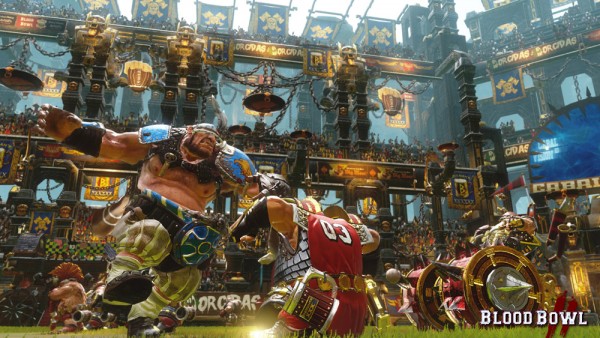 Blood Bowl 2's awesome concept of "football meets fantasy warfare" provides a great starting point for a game loaded with a deceptive amount of planning and depth. Sports fans who are big on stats and planning should check out this game, as should anybody who enjoys long-term, campaign-style strategy games with lasting effects. Blood Bowl 2 delivers on its promise and will keep you busy for many hours of pounding both the turf and your opponent's face.