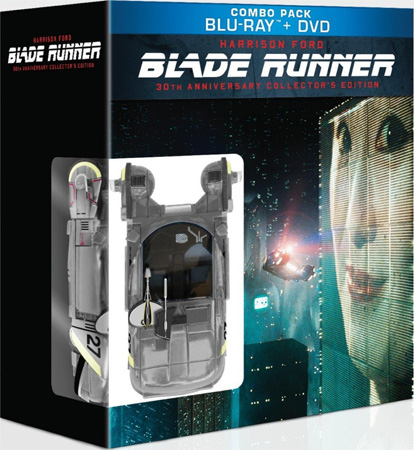 When an artist births a significantly different, inspiring, or otherwise important creation, there is a good chance that something akin to a paradigm shift will happen in that artist's chosen medium or genre. Those who spot a quick hit will scramble to replicate the original's success, spawning a slew of copies. More thoughtful folks who are influenced by the piece will let its themes and implications simmer a bit before plumbing its depths and allowing its essence to surface in their own works. Whatever the methods, there are works of art that impact their surroundings so significantly that they change the very artistic landscape.
It's easy to identify science fiction movies that were made after Ridley Scott's 1982 adaptation of Blade Runner for just this reason. From the brooding noir story to the costume design to the very world the characters inhabit, Blade Runner is a film that made other creators sit up and take notice. The movie's impact on science fiction ripples through the genre even today, but its importance to the genre wasn't always a sure thing. When the film originally opened in theaters, it was to tepid box office returns and very mixed reviews. Its supporters were devoted, however, and Blade Runner became an enduring cult hit. Over time, as its footprint on science fiction became more apparent, the movie gained wider praise and garnered the respect it missed when it debuted.
Loosely based on sci-fi luminary Phillip K. Dick's 1968 novel Do Androids Dream of Electric Sheep?, the film introduces Rick Deckard, played by Harrison Ford in between turns as Han Solo in the original Star Wars trilogy. Deckard is a retired cop in 2019. Known as a Blade Runner, Deckard's class of police act as hunters of synthetic lifeforms called replicants. The Tyrell Corporation and other mega-companies of the future have developed these human-like replicants to perform labor intensive off-world jobs. Replicants eventually mimic human emotions and exhibit potentially violent behavior, so their creators develop them to live no longer than four years. At the start of Blade Runner, replicant Roy Batty (Rutger Hauer) has thrown off his human-held shackles and brought a group of his fellow androids back to Earth to find a way to prolong their lives. Deckard's former superior sends Gaff (Edward James Olmos) to bring the former cop out of retirement to hunt down this one last batch of replicants before they can kill their way into Tyrell's corporate stronghold. Reluctantly on the case, the Blade Runner dives into the seedy tech underbelly of the mega-city that Los Angeles has become.
Slow in pace, heavy in subtext, and occasionally brutal in violence, Blade Runner is the sort of science fiction movie that has become a rarity for modern audiences. More pensive than explosive, the movie plays on themes of humanity, memory, and philosophy. It is this deliberate pacing and intelligent reflection that turned off as many viewers as it engaged in its theatrical run. Billed as an action film, Blade Runner functions best on many levels beneath its grimy veneer. The movie has provided plenty of fodder for discussion, debate, and interpretation of the decades, and the existence of numerous official versions only heightens the mystique surrounding the film.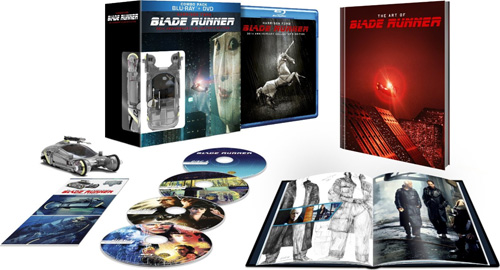 With 2012 marking the thirtieth anniversary of Blade Runner, Warner Bros has collected five of these versions for a brand new Blu-ray collector's edition, complete with a 72 page artbook, a special lenticular collectible card, and even a plastic toy replica of the flying Spinner cars featured in the movie. This new set packs in four discs, three of them being Blu-rays and the final one being DVD. The DVD includes the 2007 Final Cut version of Blade Runner, which also is presented in high definition on the first Blu-ray in the set. The second Blu-ray presents the 1982 Theatrical Cut, the slightly different and more violent 1982 International Cut, and the 1991 Director's Cut that removes Harrison Ford's voiceover narration and changes a number of elements including the movie's ending. The third Blu-ray includes the early and much bootlegged Workprint version of the film, along with a slew of special features and documentaries that will be of great interest to Blade Runner fans. There's also a code for the Ultraviolet version of the movie, if you're hooked on downloading your movies. The Blu-rays really are the stars of this collection, though, and they look and sound fantastic, the newest Final Cut especially shining.
As much discussion as there has been about the themes and implications of Blade Runner's plot, there's just as much debate about which version of the movie is the definitive one. The Blade Runner 30th Anniversary Collector's Edition should keep fans on all sides of that quarrel happy by providing an instant and comprehensive selection of ways you can watch this landmark science fiction movie. The box set released on October 23 and is in stores now.