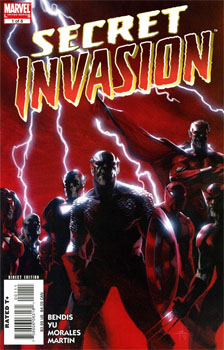 Diamond Comics Distribution released their bestseller lists for April 2008 today. Here's a look at the top 20 individual comic issues for the month, based on quantity sold:
Secret Invasion #1
New Avengers #40
Dark Tower: The Long Road Home #2
Mighty Avengers #12
Uncanny X-Men #497
Hulk #3
Thor #8
Amazing Spider-Man #555
Justice League of America #20
X-Force #3
Buffy the Vampire Slayer #13
Captain America #37
Justice Society of America #14
Amazing Spider-Man #556
X-Men Legacy #210
Amazing Spider-Man #557
Titans #1
Countdown to Final Crisis 1
Young X-Men #1
Batman #675
Marvel dominated the list once again, with 14 comics. DC came in a distant second place with 5 issues, and Buffy the Vampire Slayer gave Dark Horse their only entry into the top 20 for April.