John had the dubious pleasure of seeing The Mummy: Tomb of the Dragon Emperor this weekend, and you'd better believe he has some opinions to share about it. His review (with spoilers) follows, after the jump.
The Mummy: Tomb of the Dragon Emperor
CAST: Brendan Fraser, Jet Li, Michelle Yeoh, Maria Bello, John Hannah, Luke Ford, and Isabella Leong.
DIRECTOR: Rob Cohen
SYNOPSIS: Rick and Evie O'Connell's miscreant son Alex uncovers the lost tomb of the Dragon Emperor. Of course as these things go, some psycho, commie, equal opportunity, military dudes think that world domination is the way to go. So they force our heroes to resurrect the Dragon Emperor, and he will resurrect his army, and they will resurrect their families, and the families will resurrect their grannies, and the grannies will resurrect their cats.
ANALYSIS: Hey Rob Cohen, if you really want to surprise us with your filmmaking skills, you can do one of two things: You either can make a good movie for a change, or you can quit because you realize YOU DON'T HAVE ANY FILMMAKING SKILLS!
What is invariably sad about this cinematic debacle is that it was a thinly veiled attempt to cash in on the "Indiana Jones Resurrection Craze"–a craze which never came, despite the greatness of Indy 4. Universal finds itself sucking at the powdery teat of a franchise which was virtually dead after they tried to spin-off The Scorpion King. Thanks to some really bad scheduling on Universal's part, Poor Hellboy gets swallowed up by the Dark Knight phenomenon, and they paint us into a corner, giving us this as the only big filck to come out this week. I should've seen Swing Vote instead.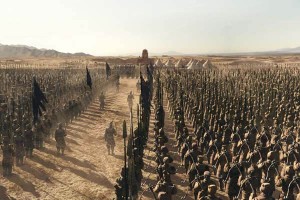 First off, the story offers absolutely no surprises whatsoever, due to the fact that they rehash every plot point from the first two movies. Not to mention that they swipe an entire chase sequence from Temple of Doom, and they try to one up it by using a horse, a carriage, and a truck loaded with fireworks. With all this lack of surprise, you aren't even remotely surprised to see martial arts sequences. These sequences are so poorly choreographed that Yuen Wo Ping would call a hit on the schmuck who put these sequences together. The fight scenes are so utterly slapdash that you absolutely refuse to believe that a badass martial arts guru like Jet Li could be taken down by two bar brawlers, which in turn is a blatant rip from the final fight in Lethal Weapon 4, which did the same type of fight, only believably.
Follow this up with the blatantly superficial CGI. Seriously, the integration of CGI into film is so poorly done that Cool World looks crisp by comparison. You get the impression that Rob Cohen gives his audience absolutely no credit for intelligence. He probably thinks that we're so distracted by flash that we won't notice the crappy workmanship. Guess what, we noticed. Let's face it; we've been spoiled by a summer of greatness. Every other spectacle which came before this had something new and amazing to offer. Let's go down the "great CGI action" list.
Iron Man in a mid air chase with military jets.
Hulk and Abomination in a bone crunching brawl using anything and everything in their surroundings.
Angelina Jolie and James McAvoy bending bullet trajecories with deceptive grace.
Hellboy and Doctor Johann Krauss taking on the Golden Army in their own special way.
Heck, even Hancock had some interesting things to offer on the CGI front! But when you try to throw in three Yeti who wouldn't even fit in in a animated flick by Chris Wedge, it's almost like watching a guy with no legs trying to play DDR. It's too sad for words. It's a sad day when the stop-motion animation and puppeteering effects from Army of Darkness are more convincing than a supposedly epic battle between two undead armies.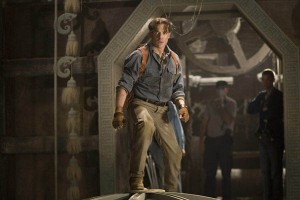 As for the actors… The returning actors can only do so much. Fraser was made for the character of O'Connell but the scriptwriters evidently had no idea what to do with the character to justify his return. Was Fraser so hard up for a double summer movie paycheck that he campaigned to have his part put in to this one? Plus, if we're supposed to believe that he's retired and that he's the father of an eighteen-year-old, wouldn't it be wise to age him up a little?
Speaking of his son, never mind that the actor offered no real reason to be interested in the character, but the setup for his character is irredeemably insipid. Why is it that all offspring in movies have to be jaded little brats when they turn eighteen? Instead here's a change: how about Alex actually holds his parents in high regard, but he becomes so immersed in the life of an archaeologist that he runs the risk of losing his identity and accidentally distances himself? That would have been more endearing when he is reunited with his parents. Oh wait, that would be good script writing, and this was written by the guys who wrote the Aquaman pilot.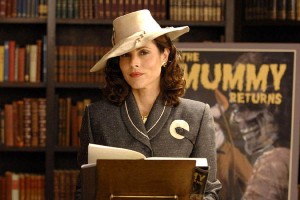 On a humorously related note, they say that Rachel Weisz opted out of doing this one because she disagreed with the script. Hmm, I guess unlike her co-stars, she read the script. Meanwhile, Maria Bello, regularly a stellar actress, is obviously in need of a paycheck between independent films. She is more concerned with practicing her British accent (probably for some amazing period piece) than she is about churning out the same kind of magic she gave us in Payback or The Cooler. Her chemistry with Fraser isn't really vacant. It's just not as deeply rooted as Fraser's and Weisz's.
Meanwhile, Jet Li and Michelle Yeoh… SHAME ON YOU!!! You both know better. That's all I really can say. They should know by now that having Americans making movies about China is a very bad thing, especially in this day and age. It justs seems totally degrading to Li's talents to see him getting his black belted butt handed to him by Encino Man. I know I'm restating what I said before. But that is all Jet Li's character is there to do! He's there to look all evil (which looked more like he was stifling his laughter), do scenes in a MOKAP suit, then get killed in a painfully wussy fashion. As for Yeoh, all she gets is to be the info dump girl and inevitably die by the villain's hand. I'm sorry, but she is a Bond girl! She should be the heroine, not her boring automaton daughter, who, by the way, couldn't act her way out of a chinese take-out box and had the voice of a female anime character on Prozac.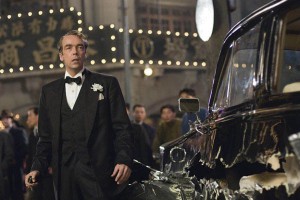 The only character who felt in keeping with the franchise is Jonathan (John Hannah). He is still the loveable, treasure obsessed scamp that we know and love from the previous two films. Unfortunately his presence has no sway on the plot. He's there merely, to serve as comic relief. At least in the prior two films he actually contributed something to the proceedings. Hell, in the first one, he sets the journey in motion. Here, they skin him down to the archetypal funny man who is there to defuse the melodrama. There's a problem… there is no melodrama, and all the other characters are throwing in jokes too. Well, they claim to be jokes, at least. In the end they're just sad and desperate. Even Adam Sandler wouldn't use them, and how sad is that?
I guess every summer has to have a bona fide stinker and this one had "Landfill" written all over its ugly face. I recommend audiences do one of the following:
Go see Hellboy II and boost the box-office so that Guillermo Del Toro doesn't have to fight to make Hellboy III.
Go see The Dark Knight an umpteenth time so it can break Titanic's domestic record.
Both one and two, as many times as possible.
FINAL GRADE: F (EXPULSION!!!)