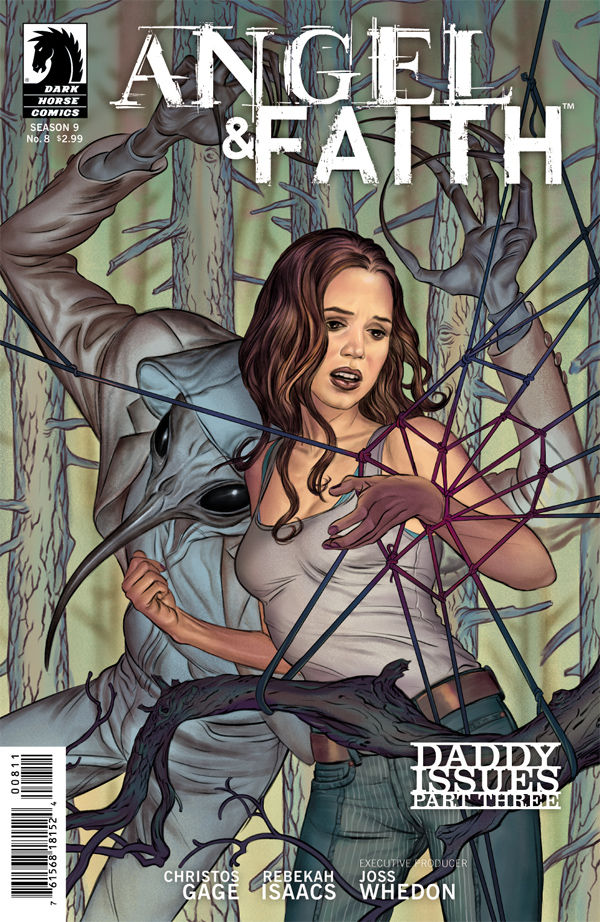 Issue: Angel and Faith #8
Release Date: March 2012
Writer: Christos Gage
Art: Rebekah Isaacs
Colors: Dan Jackson
Letters: Richard Starkings and COMICRAFT'S Jimmy Betancourt
Cover: Steve Morris
Alternate Cover: Rebekah Isaacs and Dan Jackson
Publisher: Dark Horse Comics
The Daddy issues continue this month in the Angel & Faith comic. The negative ramifications of family can still be felt in Drusilla, Angel, and especially Faith. Last time we delved deeply into the damage Angelus did to Dru, but this month it's all about Faith. That seems appropriate since she's the one who has the mysteriously-appearing father on her doorstep. He's messed his daughter up more than you can imagine, and he's not through yet.
We start off with Nadira and Faith getting into it over Nadira's thirst for vengeance. She's seen her friends and loved ones slaughtered by Pearl and Nash. All she wants to do is track them down and kill them for their actions. However, she's not too picky about how she gets this done. Anyone who gets in her way is bound to end up broken and bloody, too. Faith was supposed to be on top of locating the deadly duo, but she's taking more time than Nadira's willing to give. So, they fight out their aggressions with each other and look to be heading for a temporary truce until Faith offers the one thing that Nadira is willing to refuse. She doesn't want a quick fix, she doesn't want to do away with her pain, because that's what's fueling her mission. Faith should understand that isn't the way, but the Slayer is dealing with her own heavy issues.

Her father, as we long suspected, didn't come to England out of love for his daughter. He instead came to use Faith for her abilities. Dad's in trouble with Handsome Jimmy, of the Irish mob, and he wants help. No, he's not looking for a pay-out. Instead, he wants Faith to kill the guy for him. She's killed a human before, he sees no reason why she couldn't do it again. Yes, let's bring up all those horrible memories again. It seems like such a loving thing to do. Faith doesn't want to be that person anymore, she's fought hard to put that behind her, so she's not going to go into this fight willingly. Too bad for her that Handsome Jimmy and his crew isn't going to back down without a fight. She's pushed to take action and, in the heat of attack, she ends up chopping Jimmy's hand off. As you might imagine, the issues increase tenfold as a result of this. She lets out a flood of emotions and memories as she lets her dad have it. He made her exactly who she is, broken and abandoned and looking for any semblance of family she can find. That's gotten her into trouble time and time again.
Once dear old dad's out of the picture, Faith splits and Angel goes looking for her. Trouble is, she's not in any of her usual spots, so he's having a hard time finding her. Turns out, she went to Drusilla. We saw indications of her major emotional problems early in the issue, but now it's all come to a head. Faith just wants something to take away the pain. She's tired of hurting, tired of the weight of the world resting on her shoulders, so she wants it to disappear. And that's where we leave her this issue, getting ready to be drained of pain while Angel watches from afar. Will she go through with it? Or will Faith have to carry the burden still? We'll have to wait until the next issue to find out.
Rating: 4 / 5 Stars