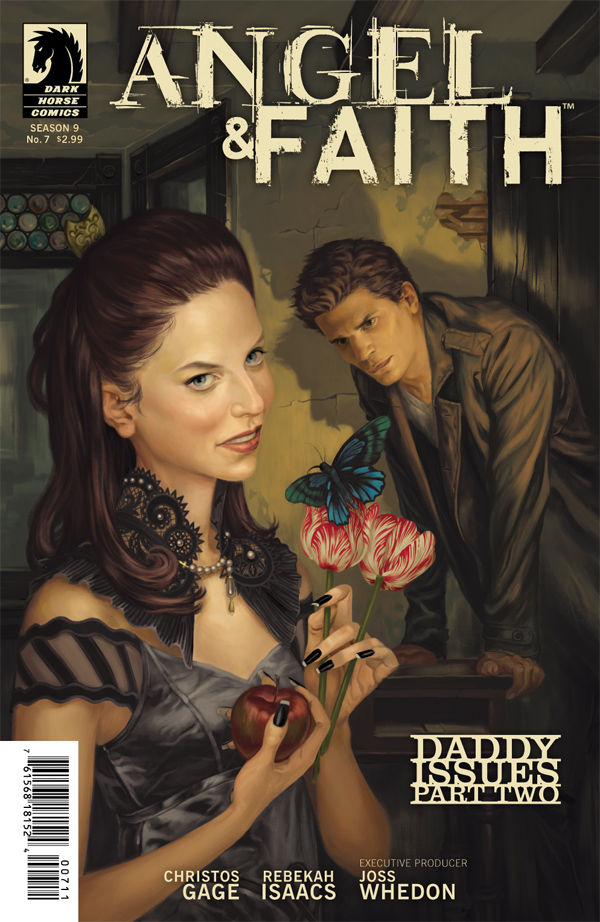 Issue: Angel and Faith #7
Release Date: February 2012
Writer: Christos Gage
Art: Rebekah Isaacs
Colors: Dan Jackson
Letters: Richard Starkings and COMICRAFT'S Jimmy Betancourt
Cover: Steve Morris
Alternate Cover: Rebekah Isaacs and Dan Jackson
Publisher: Dark Horse Comics
In the world of Angel and Faith, there are plenty of Daddy issues to go around. Not only is Faith's actual father back in the picture, we are also treated to a newly-sane Drusilla coming in to complicate Angel's life. Or perhaps she's making everything better? That's the debate raging in this issue of the comic.
I absolutely adore Drusilla. She was glorious and deadly when she was insane, so to give her back her sanity and let her run wild means we're in for a treat. We got to travel back to the beginning and fully explore the Daddy issues Drusilla has with Angel. Back before she was turned, she was a good girl with a loving family. Angelus destroyed all that. He killed her entire family, convinced her that she was evil, drove her crazy, and then condemned her to eternal life. Evil, sweet sweet evil. I always liked Angel better when he was bad.

But that power he had over Drusilla is no more. Not only is he on the soul-train of regret over his past actions, Drusilla is no longer the insane mess that she once was. No, she's had all that pain and insanity feasted upon by the Lorophage demon and it's been taken away. And what does she do when she's got her wits again? Tries to be just like her Daddy Angel. She wants to help the helpless and she's got a deviously wonderful plan to do it. The Lorophage gets to feast on the broken emotions of the humans who come to Drusilla for help, they get their lives back in return, and Drusilla gets a steady supply of blood for her troubles. A win for all involved.
But Angel doesn't see it that way. He wants to stop her, despite the fact that only a few have been broken by Drusilla's attempts and many more are better off for having met her. Faith sees the situation as more beneficial than Angel will allow himself to admit. And I have to say I'm siding with Faith on this one. If the people are coming to Drusilla, then she's not forcing the Lorophage demon on them. No one really loses in that situation, considering they come in knowing the possible consequences. Drusilla just wants to help people, she claims, and she really wants to help Angel out from under the weight of his despair and regret. The Lorophage demon could remove all that pain and give Angel a clearer mind, if he'd just allow it, but that's not going to happen just yet. Drusilla won't force this upon Angel, despite the fact he never afforded her the same benefit. She's willing to wait until he begs for it, and considering the extent of Drusilla's mindplay abilities I have no doubt Angel will come calling for her help in the near future.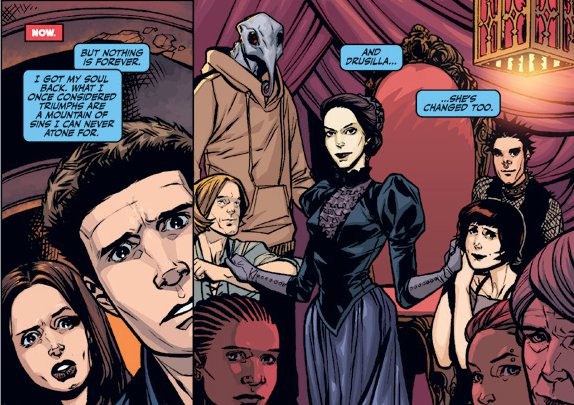 And if the regret of past actions doesn't drive Angel over the edge, the situation with Giles surely will. He's merged the Tooth of Ammut into his flesh and he's started taking on pieces of Giles's soul. That's why we've gotten glimpses of Angel acting or sounding like Giles already. And the more of Giles he takes on, the more voices will be vying for control inside Angel's head. There's Angel, Angelus, and now Giles. That's two too many and it's just going to get worse. I do look forward to seeing Angel fall apart from the strain of his new endeavor and I am intrigued by the secrets that Faith's dad seems to be holding. We're in for a complex mystery that's just gearing up!
Rating: 4 / 5 Stars