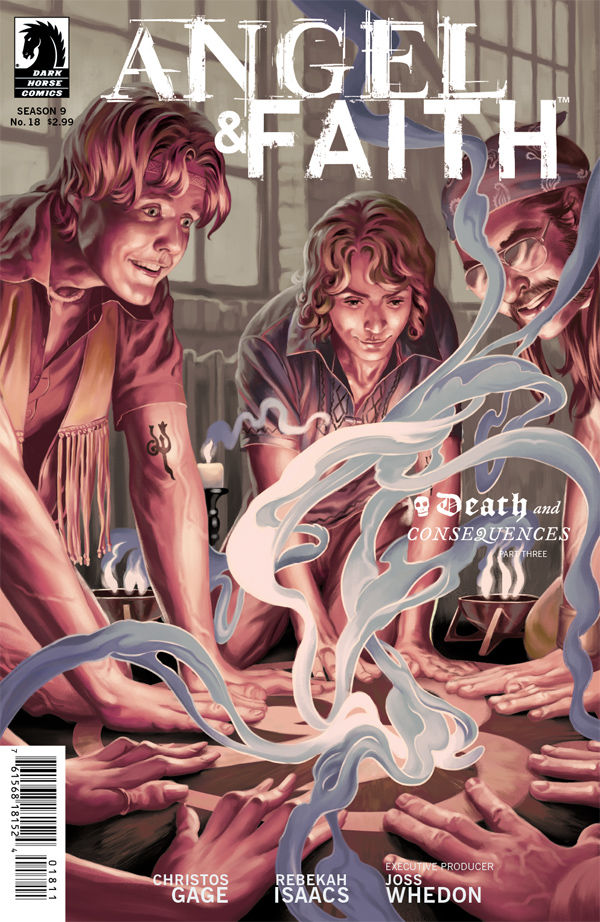 Issue: Angel and Faith #18
Release Date: January 2013
Writer: Christos Gage
Art: Rebekah Isaacs
Colors: Dan Jackson
Letters: Richard Starkings and COMICRAFT'S Jimmy Betancourt
Cover: Steve Morris
Alternate Cover: Rebekah Isaacs with Dan Jackson
Publisher: Dark Horse Comics
Eyghon's still controlling his zombie army and Angel's still trying to get the real Giles back. Throw in a few flashbacks and the return of a well-loved character and you've got yourself the new issue of Angel and Faith. It wasn't ground-breaking, but at least it moved the story forward a little.
Note: This recap may contain spoilers!
I had a real problem with the Ripper-era artwork in this issue, both the cover and the interior designs. The storyline I could go along with, since Giles perhaps had the whole guilt thing going on with him after receiving the Mark of Eyghon, but the way he's visually portrayed made him seem way too soft around the edges. I always pictured Ripper as rough, sharp, sure of himself. Even Giles had that level of danger existing just beneath the surface. But the flashbacks made him seem like, during that time in his life, an aimless loser who held no power whatsoever. Sure, he might have been trying to find himself again, but it's just not the memories I have of him.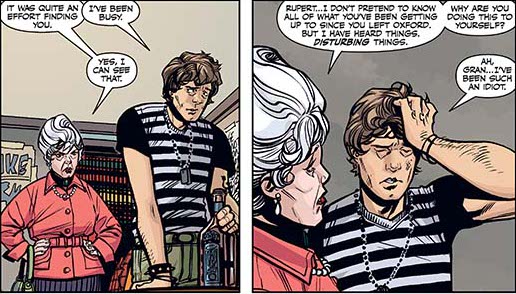 Once we return to present day, it gets a little better. At least this version of Giles is visually accurate, showing a man possessed and not holding onto his right mind. I like that he and Ethan are under Eyghon's control, as that tie to their past has always fascinated me. The fact that they're accomplices in this zombie army just makes it all the better. And I love that it's a vengeance thing on Eyghon's part, that he wanted to come back to the world and kill Ethan and Giles, but with them already being dead he just raises them to become minions. Angel's trying to bring Giles back in true form, but a small part of me hopes that Ethan can return as well. A gunshot to the head shouldn't keep Ethan down for long. Plus, the fact that Eyghon needs magic to sustain him ties in nicely with why he teamed up with Whistler, Pearl, and Nash. All the pieces are coming together.
What we're left with is a need to devise a plan, to allow Angel and Faith to save the currently zombified Slayers and hopefully regain the last piece of Giles's soul that Eyghon is currently housing. The fact that Spike has returned to help in this fight just makes me all the more happy. I love it when storylines converge like this, especially if we're bringing Spike along with it. So, we'll wait and see if Angel can indeed save Giles and bring him back to the land of the living. Hopefully Spike can help save the day and have a decent storyline to go along with it. Long live Ripper, long live Giles!
Rating: 3 / 5 Stars