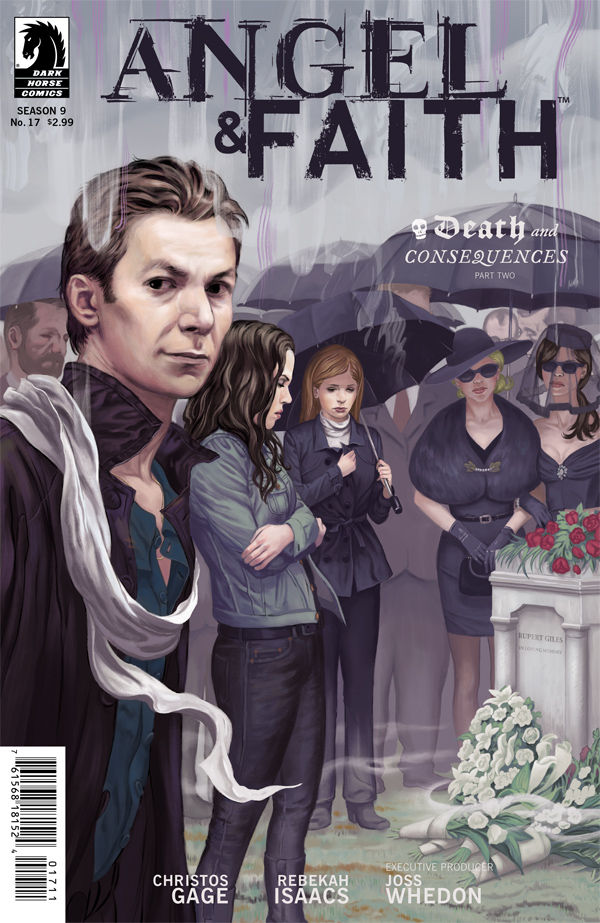 Issue: Angel and Faith #17
Release Date: December 2012
Writer: Christos Gage
Art: Rebekah Isaacs
Colors: Dan Jackson
Letters: Richard Starkings and COMICRAFT'S Jimmy Betancourt
Cover: Steve Morris
Alternate Cover: Rebekah Isaacs with Dan Jackson
Publisher: Dark Horse Comics
Giles might be back, but he's not acting like his usual self. Or is he? Perhaps Ripper has come out to play again! The mystery of Giles and his return to the land of the living continues in this month's issue.
Note: This recap may contain spoilers!
I am a big fan of Ripper, I'll admit that. And when I heard inklings that Ethan Rayne might be brought back into the storyline, I had hope that Ripper would get another mention. Well, I more than got my wish, and I couldn't be happier on that front. We learn, from the cover of this issue alone, that Ethan was at Giles's funeral, so that bought up the question of how. Last we heard from him, he was dead with a bullet hole to the head. Well, Ethan is resilient, if nothing else. He's not going to let a potential fatal wound get him down. Not when he can conjure up ways around it.
We got treated to a flashback of London, years ago, when Ethan was tattooing Diedre with the Mark of Eyghon. I'm big on tattoos as well, so anytime we get mention of the Mark of Eyghon, even when Giles isn't in full Ripper mode, I am pleased. To get to see a young Giles in full form, though, that was exciting. It gave us hints as to what the future held for him, as well as how he will be tied up with Ethan for many years to come. They have an interesting relationship and I feel that their destinies will always be intertwined, no matter how much they pull apart from each other.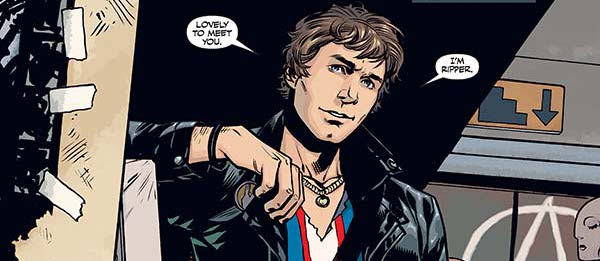 In present day, there's the duality of storylines that will soon interact. First off, there's Faith and Angel, continuing their attempts to bring the Watcher back. Faith is also dealing with her depression over how the other Slayers have turned their backs on her. The blame for that she lays at Angel's feet because, if she hadn't been protecting him, she never would have had to lie to her friends. She gave up everything for him and now he owes her. Her single request is that Angel bring back Giles. No excuses, no bailing on the plan, she wants the Watcher back. It's the least Angel can do and he will make sure it happens.
What they uncover along the way is that Ethan may be responsible for Giles's missing body. He was at the second viewing, even signed the guest book, so the duo know that he's not quite as dead as they once thought. How he's walking around after a bullet to the brain isn't clear, but death can't keep Ethan down and he's going to make sure that holds true. However, he may be bringing Giles along for the ride without his full consent.
When last we left Giles, he was over in Guildford hosting the Slayers and promising to bring dead Marianne back to life. Well, he technically came through with that promise, with the help of the Mark of Eyghon. Giles had to paint symbols all over her body, including the well-known mark, in order to bring in the necessary power to make the resurrection work. She rose, the Slayers were happy, and then the questions began. Why isn't she acting normal? Why doesn't she remember anything? What is Giles up to? Well, the answer is wrapped up with Eyghon and the resolution is yet to come. We got the Watcher back, but it's not the same one we remember.
Rating: 4 / 5 Stars