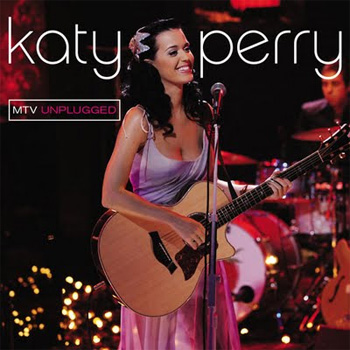 Artist: Katy Perry
Album: MTV Unplugged (CD & DVD)
Label: Capitol
Release Date: November 17, 2009
Just a few weeks ago, Katy Perry released her latest album, MTV Unplugged. The two-disc set features live renditions of some of her most popular songs, including "I Kissed a Girl" and "Ur So Gay," as well as several new songs and a DVD of her performance. After only one run-through, it is clear that the MTV Unplugged album gave Katy Perry another opportunity to play with some of her earlier compositions — an opportunity that she takes full advantage of. With the exception of a Fountains of Wayne cover included on Disc 1, each of the songs on the MTV Unplugged album were written by Perry herself, and it is obvious from both Discs 1 and 2 of the Unplugged album that Perry has a great deal of fun playing with them once more.
Disc 1 (CD)
Katy Perry opens the collection with rearranged versions of "I Kissed a Girl" and "Ur So Gay" that irrefutably put to bed any question that might remain about the singer's raw singing talent. These selections highlight the full range and power of Perry's voice as she performs vocal acrobatics that, although somewhat superfluous, give new life to the existing lyrics. Another benefit of hearing the live versions of "I Kissed a Girl" and "Ur So Gay" is how much easier it is to understand the lyrics of each.
Once Perry's vocal prowess is established with a couple of her well-known compositions, she throws out some new material with a cover of Fountains of Wayne's "Hackensack," written by Chris Collingwood and Adam Schlesinger for the band's 2003 release, Welcome Interstate Managers. Perry's version of "Hackensack" remains true to the feel of Fountains of Wayne's original, although her version differs in vocal presentation from Fountains of Wayne's lead singer Collingwood's.
Following "Hackensack," Perry returns once more to her debut album, One of the Boys, with a rendition of "Thinking of You" that will make Alanis Morissette fans' toes curl. Morissette is a recognized influence on Katy Perry's work; the singer even went so far as to work with producer Glen Ballard based on his experience working with the Canadian singer-songwriter. Although the studio version of "Thinking of You" first released in 2008 on One of the Boys emulated Morissette's signature style, it is the live version of the song that really highlights Perry's appropriation of the breathy, drawn-out chords that characterized several of the songs from Morissette's 1995 release, Jagged Little Pill, especially "You Learn" and "Ironic."
On the heels of "Thinking of You" is another song from One of the Boys, this one titled "Lost." Written by Katy Perry and Ted Bruner, "Lost" is a peaceful ballad about how overwhelming it can be to leave what you know and go somewhere new. The more mellow mood created by "Hackensack" and "Thinking of You" is carried through "Lost," for which Katy Perry performs not only the vocals, but guitar as well. The album picks up a bit with Perry's performance of "Waking Up in Vegas," another popular single from One of the Boys. The live version of "Waking Up in Vegas" doesn't differ greatly from the original album version, having what amounts to the same instrumentals and just a little bit of a twist on the vocal performance. The final song included on Disc 1 of Katy Perry's MTV Unplugged album is titled "Brick by Brick," an original composition that was leaked onto the Internet at one point but has not, to date, been released on an album other than MTV Unplugged.
Disc 2 (DVD)
The second disc in Katy Perry's MTV Unplugged album is a DVD of her live performance. Besides offering a visual of the performance heard on Disc 1, Disc 2 of Perry's MTV Unplugged also provides viewers with some insight into the artist's song choices and influences. Perry tells her audience, for example, that "Ur So Gay" is a song she wrote about an ex-boyfriend who started wearing her jeans and using her eyeliner. Similarly, Katy describes why she chose to include a cover of the Fountains of Wayne song "Hackensack," which she believes is a perfect pop ballad that really hits home for her. MTV Unplugged Disc 2 also features an interview with Katy Perry, a track menu that allows viewers to watch each song and introduction separately if they so choose, and a credit listing for each of the musicians involved with the performance.
Overall, the Katy Perry MTV Unplugged collection is a great one to own, especially for those who already enjoy her music. The production values of Disc 2 (DVD) are excellent, and Perry's live performance presents viewers an opportunity to see the artist not only sing, but play guitar as well. Formal introductions of each of the highly talented musicians that accompany Perry for MTV Unplugged also appear on Disc 2; however, those listeners who want to skip the song and artist introductions can do so by listening to Disc 1 (CD) or by using the track menu provided on the DVD. For more information on Katy Perry or her MTV Unplugged album, visit her official web site. There you also can watch the trailer for Perry's MTV Unplugged performance and visit the official Katy Perry store.
Rating: 4 / 5 Stars
Track Listing:
Disc 1 (CD)
"I Kissed A Girl (Live)"
"Ur So Gay (Live)"
"Hackensack (Live)"
"Thinking Of You (Live)"
"Lost (Live)"
"Waking Up In Vegas (Live)"
"Brick By Brick (Live)"
Disc 2 (DVD)
I Kissed A Girl (Live)"
"Ur So Gay (Live)"
"Hackensack (Live)"
"Thinking Of You (Live)"
"Lost (Live)"
"Waking Up In Vegas (Live)"
"Brick By Brick (Live)"
Interview
Note: Thank you to our friends at Cornerstone Promotion, who provided Fandomania.com with the opportunity to review Katy Perry: MTV Unplugged as well as a free promotional copy of the album.