Zombie Tales is an anthology comic series published by Boom! Studios that gives readers a brief look into the lives–and unlives–of people living and dying in the times of the zombie apocalypse. The newest issue, Zombie Tales #11, is in stores this week, and here's a look at the three tales it offers.
Casualties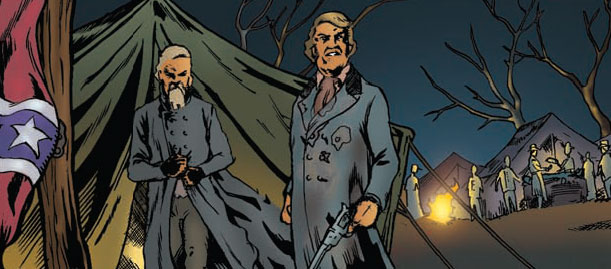 Casualties, which is written by Ralph Soll with illustrations by Unai, is the first zombie tale featured in this issue of Zombie Tales. Set against the backdrop of the 1864 Civil War, Casualties tells the brief story of how the Confederate General turned the tides of the war: zombie soldiers, created by the "dark arts forbidden by things Christian" of a Haitian slave woman named Nali. An interesting idea, this tale leaves me wanting to know more about what happens once zombies are recruited to the Confederacy. Perhaps we will find out in the next issue.
Exodus 2061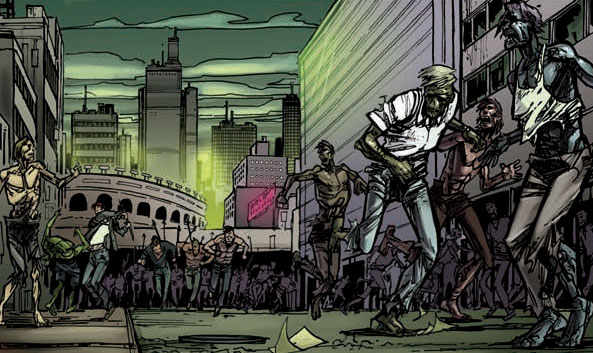 Billed as "The exciting conclusion to Kim Krizan's 2061 Saga," Exodus 2061's 8-page addition to Zombie Tales #11 depicts the final chapter in the series' story, written of course by Kim Krizan and illustrated by Jon Reed. Without any exposition, the characters remain nameless to new readers, and the majority of the story simply shows various stages of human revolt against the zombie oppressors that have them caged like animals. The graphics of Exodus 2061 are reminiscent of those in Robert Kirkman's The Walking Dead, and though the story is sparse it's an interesting one.
Population Control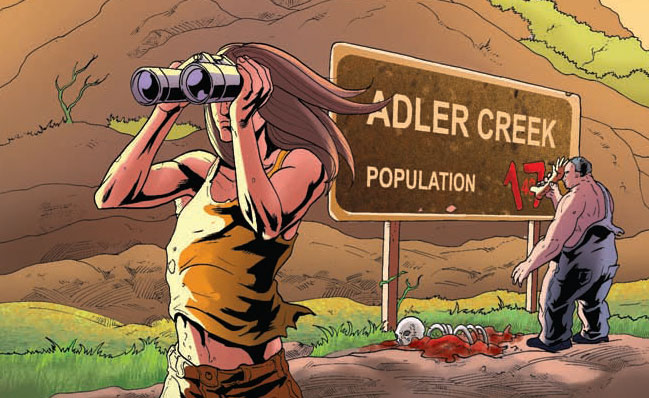 Wrapping up issue #11's zombie tales is Population Control, written by Bryce Carlson with illustrations by Axel Medellin Machain. The story follows two zombie apocalypse survivors, Benton and Jules, on their daily hunt for food: zombie flesh. Loyal to their town, Adler Creek, Benton and Jules continue to hunt there until there is no food left and they must consider eating one another. Although the story might be an interesting one, the nauseating nature of the comic's illustrations don't leave me wanting any more.
Of the three stories, I enjoyed Exodus 2061 the most. I am a big fan of The Walking Dead's illustrations, and the fact that Jon Reed's are similar lends some legitimacy to a story written and illustrated by individuals I've never heard of before. I also enjoyed the story enough that I will be going back into past issues of Zombie Tales to see if there's any more information on the characters depicted in this issue's segment. In my opinion, Population Control was a waste of time, but I can definitely understand someone less bothered by the illustrations not having a problem with this story. As previously mentioned, Casualties feels incomplete, but we will have to wait and see if it is an ongoing series in Zombie Tales or whether it remains stand-alone, leaving something more to be desired.