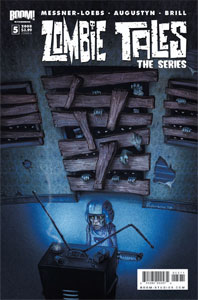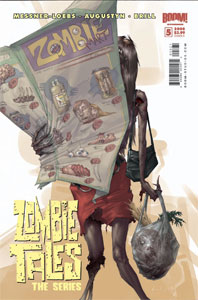 Zombie Tales is an anthology comic series published by Boom! Studios that gives us brief looks into the lives and unlives of people living and dying in the time of the zombie apocalypse. The newest issue, Zombie Tales #5, is in stores this week, and here's a look at the three tales it offers.
He Ain't Heaven, He's My Brother
The first story in this issue is written by William Messner-Loebs, with art by Matt Cossin. It's a short glimpse into the life of Ginny Horton, a mentally slow girl who is making her way through the zombie wasteland with her brother Joe, who took care of her before he became infected and turned into a zombie himself. In her time since the fall of humanity, Ginny has found religion through a televangelist. This story has her seeking out the pastor in the hopes that he can cure her brother of the zombie plague.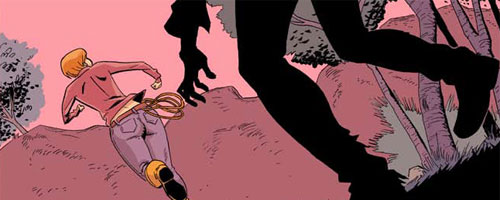 Sanctuary
Sanctuary, the second tale this month, is written by Brian Augustyn and drawn by Leno Carvalho. It focuses on a group of "young jaded Americans" taking a trip off the beaten path in Britain to see the standing stones and other pagan relics without being hampered by a tour group. Things quickly turn ugly when the Eaters of the Dead arise and consume all of the group but one girl, who manages to flee to an abandoned cathedral. As she tries to survive the zombies there, she also confronts her own faithlessness.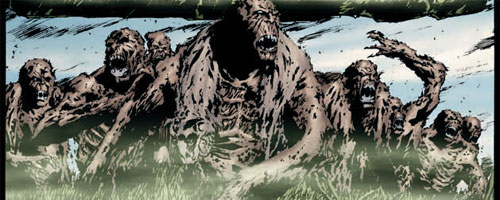 Bait
The final story in this issue is from writer Ian Brill and artist Jason Ho. This one follows two people–one dead and rotting in the passenger seat and the other very much alive and driving–on a journey across the desert in a truck carrying some mysterious cargo. The driver narrates and has a plan for dealing with the zombies, inspired by poor, dead Lisa before she became zombie chow.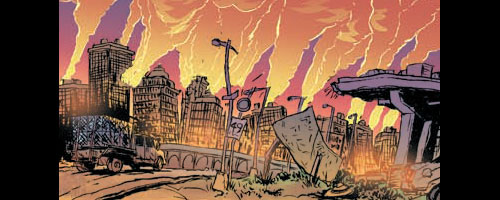 Of the three, "He Ain't Heaven" is my favorite. Ginny is such a clueless and winsome character that I couldn't help but root for her, despite her obviously dead end quest. The story has some nice turns to it, and in the end it's a surprisingly unique zombie story. The other two tales in this issue are enjoyable as well, but "Sanctuary" is my least favorite of the bunch. The conceit in the story feels a bit strained and comes across as a little trite. Each presents a unique and brief glimpse into a world where humans are in peril and zombies are on the prowl. All three stories deal with faith in one way or another. Ginny has her belief in the TV pastor, the girl in "Sanctuary" has no faith in God, and the driver in the final story places faith in Lisa and her ideas. I hadn't read any of Zombie Tales prior to this issue, but I'm now intrigued enough to check out some back issues.