Vampires are famous not only for coffin cribs and an affinity for sanguinary necks, but also for their hard-earned immortality.
Movies have the profitable Twilight franchise and television has the wildly successful True Blood series. But what about tried and true vampires, those who have stood the grueling test of time? One of them made motion picture history, while another has more sex appeal than Johnny Depp. Well, that's a lie, but you know what I mean. Granted, the new vampires are sexy and popular, but can they sustain pop culture status from generation to generation? The number of movies known to have a reference to Dracula is 649, making him King of the Vampires. Do Bill Compton or Edward Cullen have the necessary staying power to hang in there like my eight favorite vampires?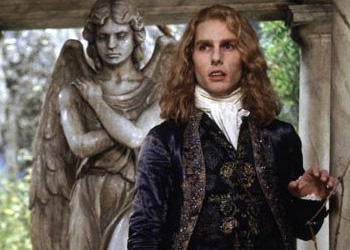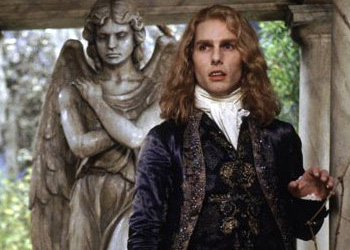 As Lestat, Tom Cruise takes a love chunk out of Brad Pitt in Interview with the Vampire: The Vampire Chronicles (1994) while iconic author Anne Rice takes a chunk out of him when she said Cruise would be no more interesting as her famous vampire Lestat than Edward G. Robinson would be as Rhett Butler. Then she saw the movie and changed her mind by saying: "The charm, the humor and the invincible innocence which I cherish in my beloved hero Lestat are all alive in Tom Cruise's courageous performance…. [Cruise] was defiant and yet never without conscience; he was beautiful beyond description yet compelled to do cruel things. The sheer beauty of Tom was dazzling, but the polish of his acting, his flawless plunge into the Lestat persona, his ability to speak rather boldly poetic lines, and speak them with seeming ease and conviction were exhilarating and uplifting. The guy is great." No, you skeptic, she's not a Scientologist (that I know of).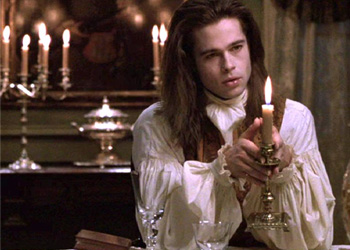 Brad Pitt in the same movie, Interview with the Vampire (1994), plays reluctant vampire recruit Louis de Pointe du Lac, who succumbs to Lestat's beauty and "good heart." He and Lestat are soul mates as well as lovers. Louis was a real person with so much tragedy in his life, coupled with his inability to commit suicide, that he puts himself at risk hoping someone else will do the job for him. Instead, he gets a shot at eternal life from Lestat. In the end, though, Brad Pitt seems to have dumped Lestat in favor of Lara Croft, Tomb Raider.
6. Peina, The Addiction (1995)


As Peina, a vampire who has fasted, not feasted, for the last four years, Christopher Walken tries to teach upcoming vampire Kathy not to give in to her addiction for blood. "The point is to blend in," he tells her, "not to stand out like a sore thumb." He then breaks his fast by a quickie neck job on her, after which she wants to commit suicide. He tells her, "You can't kill what's already dead." When she begs him for help, he tells her to read The Naked Lunch. He's Walken. He can do no wrong.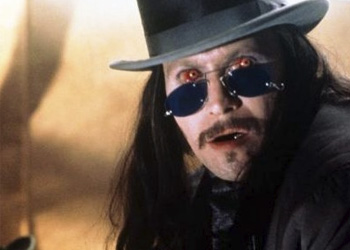 Leave it to Francis Ford Coppola and you'll get your money's worth. Stars Gary Oldman as Dracula, Anthony Hopkins as Van Helsing, and Tom Waits as Renfield (after Steve Buscemi turned it down). Winona Ryder (Mina) brought the script to Coppola, perhaps to make up for withdrawing from Godfather III, after which they weren't on speaking terms. Coppola refused to use modern digital technology and hired his son, Roman, to revert to old-school movie trickery, much as Hitchcock was known to do. The shot of Dracula rising up out of his coffin is Coppola's homage to 1922's Nosferatu. An interesting fact: The wedding scene of characters Mina (Winona Ryder) and Harker (Keanu Reeves) was a reshoot done at an L.A. Greek Orthodox church. The entire ceremony was filmed with a real minister and they didn't realize till later that Ryder and Reeves had actually been married.
4. Lady Miriam, The Hunger (1983)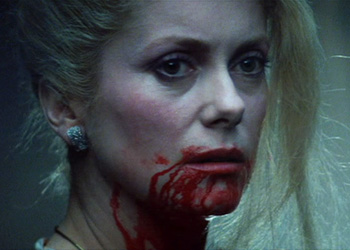 Catherine Deneuve as Lady Miriam watches David Bowie do a reverse Benjamin Button, then sets her fangs for Susan Sarandon. They're like a pair of lesbians at a Hoover convention. If you don't believe me, check out Catherine's love scenes with Susan. If Susan had to leave Tim Robbins, she could've at least left him for Catherine Deneuve. This movie is memorable not only for the beauty of the three stars, but because nobody cares if they understand it or not.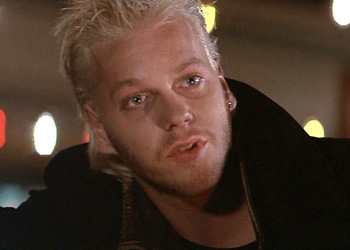 Tagline: "Sleep all day. Party all night. Never grow old. Never die. It's fun to be a vampire." Kiefer Sutherland as vampire David says, "What, you don't like rice? Tell me, Michael, how could a billion Chinese people be wrong?" In fact, all the good lines are David's. Here's a taste of the dialog between Kiefer Sutherland's David and Jason Patric's Michael:
David: How are those maggots?
Michael: Huh?
David: Maggots, Michael. You're eating maggots. How do they taste?
Those maggots could've been just noodles, or they could've been real. If you like time travel, they were probably real and served as advance reprisal for Jason taking Julia from Kiefer four years into the future. How could she have run off with Jason when Kiefer looked so cool on that bike?
2. Dracula, Dracula (1931)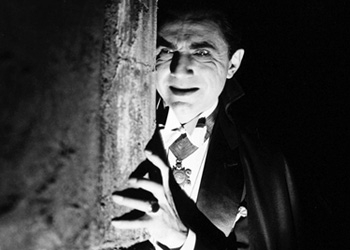 Bela Lugosi in 1931's Dracula is probably the all-time champ. There's nothing like Lugosi's version of necking. His need for sweet young thing, Mina, brought new luster to the Dracula franchise. His suave, sophisticated nobleman, poised for the Transylvanian puncture, begins with the hapless Renfield, the realtor who only meant to rent a castle to the Count but, instead, turns into a wannabe vampire himself. Poor Renfield is condemned to live life as slave to his master's every wish and, after all that, he turns into a raving loonie. I've always liked Lugosi simply because he's the only actor who, subsequent to this hit movie, Dracula, chose mostly bad roles, even worse than the ones Nic Cage picked, after his hit movie, Leaving Las Vegas (exception: Adaptation). Speaking of Nic Cage, I can't include his performance as a wannabe in Vampire's Kiss because he wore fake fangs. And running through New York streets yelling "I'm a vampire! I'm a vampire! I'm a Vampire," doesn't make you one.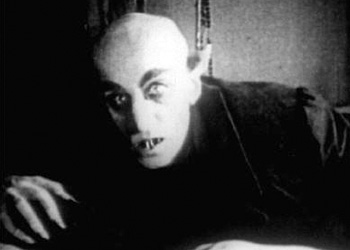 Sure, it's German, but who cares? It's a silent film. I defy anybody to be scarier than the vampire Graf Orlok, as portrayed by Max Schreck. His IMDb bio points out: "His performance as the bald, bat-eared, close-fanged Orlok remains one of the most frightening film characters in history." Note: Schreck is the German word for fright. In Batman Returns (1992), Christopher Walken plays a villain named Max Shreck, and in Shadow of the Vampire (2000), Willem Dafoe plays the actor Schreck as a real vampire playing the vampire character Orlock. Note that the reason the vampire's name is Graf Orlock and not Dracula is because Bram Stoker's widow was still alive and refused copyright permission. Fat lot of good it did her in the end.
If you've got your own favorite vampires who might stand the test of time and they're not mentioned here, please tell me.