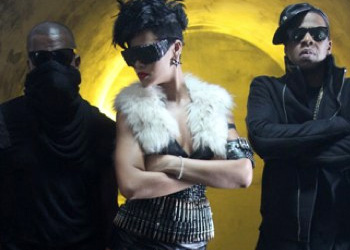 We all have a little villainous streak to us — an aspiration to control the world and remake it. Whether it's taking over the government, getting revenge, or simply destroying stuff, one of the great things about reading comic books or watching television is having a chance to explore our inner baddy.
But what is world domination without a good soundtrack? Below are my 7 picks for the top music to call yourself king to.
1. "The Beginning is the End is the Beginning" – The Smashing Pumpkins
Maybe it's because this version was used for the Watchmen trailer and "The End is the Beginning is the End" was used for Batman & Robin but there's something about the slower and moodier nature of "The Beginning is the End is the Beginning" that screams megalomania and world domination.
Suggested for:
Those who want the world to burn. Gratuitous slow mo walking down long hallways is encouraged.
Ozymandias – Watchmen
Tate Langdon – American Horror Story
2. "Tigerlily" – La Roux
Say you have a crush. But this crush won't give you the time of day and instead makes googly eyes at a cape wearing superhero. Obviously the only solution is take over the world and then they'll pay attention to you. That's how relationships work right?
Suggested for:
Obsessives with a romantic streak.
Dr. Horrible – Dr. Horrible's Sing-A-Long Blog
Gendo Ikari – Neon Genesis Evangelion
3. "Run This Town" – Jay-Z and Kanye West featuring Rihanna
Get the people on your side and the old regime will crumble at your feet. Start with a town and expand to the world.
Suggested for:
Persuasive leaders with mob control.
Magneto – X-Men
Marlow – 30 Days of Night
4. "Skullcrusher Mountain" – Jonathan Coulton
You don't need pounding bass lines or an electronic beat to take over the world. Just henchmen, some monkeys and an island to call your own.
Suggested for:
Villains who don't get invited to the cool kid parties.
Doctor Doom – Marvel
Professor Chaos – South Park
5. "Patriarch on a Vespa" – Metric
Things beyond fixing: binary gender codes, heteronormativity, the Chicago Cubs. Sometimes it's best to burn it all to the ground and start over.
Suggested for:
Vixens who want to rule the roost.
Poison Ivy, Harley Quinn, Catwoman – Batman
Ginger – Ginger Snaps
6. "Circuit Board City" – The Wombats
Who says the world has to be conquered with tanks and battleships? The new age villain makes technology work for them. Or is technology.
Suggested for:
Tech masters with an eye on world domination.
Cylons – Battlestar Galactica
Theo – Die Hard and Thomas Gabriel – Live Free or Die Hard
7. "Everybody Loves Me" – OneRepublic
The most dangerous villains are the ones who make us believe they're the heroes. Whether it's through a charming smile, a well regarded position, or just outright lying, these villains make it hard to spot a wolf in sheep's clothing.
Suggested for:
Villains with good PR.
Lex Luthor – Superman
Harold Saxon – Doctor Who