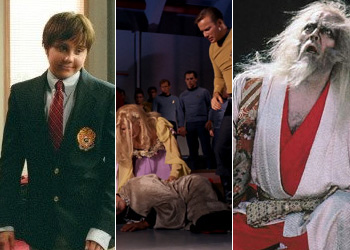 In the past couple weeks, actor Nathan Fillion made some noise on the Internet about a new adaptation of Shakespeare's Much Ado About Nothing directed by none other than Joss Whedon. Whedon, of course, is a revered figure in the geek community with a range of much loved productions including Buffy the Vampire Slayer, Firefly, and Dollhouse, the cult-classic Dr. Horrible's Sing-Along Blog, and the upcoming Avengers. On the flip side, Much Ado is comedy approximately 400 years old about love and sibling rivalry. As a group of soldiers comes back from war, Claudio falls in love with the governor's daughter Hero, Benedict and Beatrice renew their love-hate relationship, and Don John plots to make his brother, the prince, and everyone else miserable.
While this film is a straight adaptation of the play, over the decades many filmmakers have drawn inspiration from the Bard to make their own stories, updating the originals for an audience that may have little interest in language and situations four-centuries old. However, when done well, these films show that themes of Shakespeare's time still make sense today.
She's the Man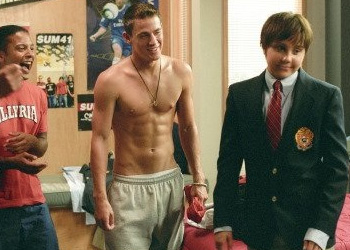 This film retells Shakespeare's Twelfth Night, a story in which Viola disguises herself as a man while searching for her brother Sebastian. While disguised, she takes up employment as an assistant for the Duke and helps him woo the countess Olivia, despite falling in love with him. Meanwhile, Olivia finds herself drawn to the disguised Viola and a wacky love triangle ensues.
Admittedly, it's not the best update. Amanda Bynes plays the Viola of this film, who takes her brother's place at a private school so she can play a soccer match against her ex-boyfriend's team. While there, she falls for Duke (Channing Tatum) who also has a crush on a girl named Olivia, who also has a crush on Viola. Bynes tends to overplay the male characteristics of the role, acting like a stereotype. Lots of other characters' names are ripped straight from the play, including the school's name (Illyria Academy), Toby (Duke's friend), and Malvolio (a pet tarantula). Much of it plays out like typical high school rom-coms, but does well playing with the themes of romance and mistaken identity present in the play.
Ran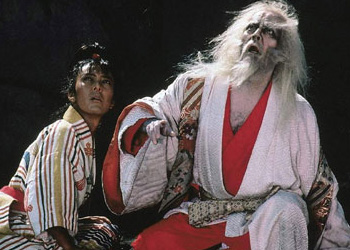 Akira Kurosawa directs this update of King Lear, a play in which the title character divides his kingdom amongst his two of his daughters while disowning the third. He later descends into madness while the two daughters wage war against each other. Kurosawa's version changes the setting to feudal Japan and features a clan leader who divides the clan leadership amongst his sons to the same disastrous effect. While some people may find it difficult to follow a foreign language film, Kurosawa is nothing to sneeze at. Possibly Japan's most prolific director, his films inspired many American films including The Magnificent Seven (The Seven Samurai) and Star Wars (The Hidden Fortress).
Star Trek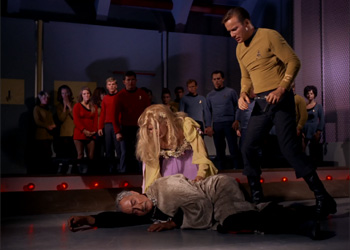 The original 1963 series is chock-full of Shakespearean plot lines and characters. The episode "Elaan of Troyius" bases itself on The Taming of the Shrew and involves the crew transporting the title character to her politically-arranged marriage, while Kirk is forced to endure her demanding ways. Further, "The Conscience of the King" not only steals its title from Hamlet, but features a production of the play in which one of the actors is secretly a mass-murderer. The most obvious references are in Star Trek VI: The Undiscovered Country, which borrows its title from Hamlet's famous "To be or not to be" speech and features the classically-trained Christopher Plummer as General Chang, a Klingon with a habit of quoting the Bard. [Fun side-note: William Shatner was once an understudy for Plummer in a production of Oedipus Rex.]
Forbidden Planet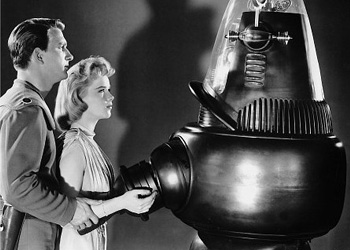 This 1956 sci-fi classic has often been compared to The Tempest, which features the magician Prospero who forces the King of Naples's ship to sink off the coast of Prospero's island so that he can take revenge on his brother Antonio for stealing his dukedom. When the crew washes ashore, the king's son Ferdinand meets and falls in love with Prospero's daughter Miranda.
In the film, Leslie Nielsen (yes, that Leslie Nielsen) plays Commander John J. Adams, whose spaceship lands on the planet Altair IV, where the colonists have mysteriously vanished, except for Dr. Morbius (Walter Pidgeon) and his daughter Alta (Anne Francis). While Adams's first officer falls for Alta, the update changes things when she eventually falls for Adams instead. Meanwhile, the crew finds that Morbius possesses technology from an alien race that itself seems miraculous, and later terrifying.
10 Things I Hate About You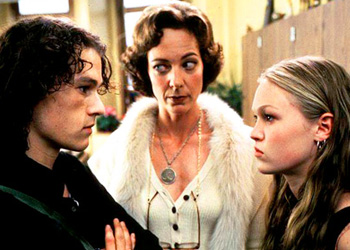 If you grew up in the '90s, there's no excuse for not being familiar with this adaptation of Shakespeare's The Taming of the Shrew. Though mentioned briefly earlier in this article, the original play features Lucentio, who wants nothing more than to marry Bianca, but can't because of her father's rule that her older sister Katherina must marry first. The problem presents itself in that Katherina has such an abrasive personality that no suitor will have her. Lucentio, thus hatches a plot in which he convinces fortune-seeker Petruchio to woo Katherina so he can pursue Bianca. Though originally drawn to Katherina for her family's wealth, he later falls in love with her and is able to "tame" her.
The film version takes the same approach, transferring the plot to yet another high school in which Cameron (Joseph Gordon-Levitt) pursues Bianca (Larisa Oleynik) and hires troublemaker Patrick (Heath Ledger) to date Bianca's sister Kat (Julia Stiles). It proved to be a breakout product for Gordon-Levitt, Ledger, and Stiles, as well David Krumholtz, who plays Cameron's friend Michael. Meanwhile, comedic actors Larry Miller, Darryl Mitchell, and Allison Janney deliver their own hilarious performances.
---
So far, the details of Whedon's adaptation have been kept under wraps, with the exception of the occasional tweet from Fillion or Sean Maher, who played Simon Tam on
Firefly
. What is known is that the production involves many actors from Whedon's shows, including Alexis Denisof as Benedict, Amy Acker as Beatrice, Fran Kranz (
Dollhouse
) as Claudio, Clark Gregg (
Avengers
) as Leonato, Fillion as Dogberry, and Maher as Don John. Certainly, the film will attract many Whedonites (including me) to the theater, and one can certainly hope it will bring a new appreciation of Shakespeare to many geeks, as other films and shows have done.