We collected input from hundreds of visitors to the site, convention attendees, and industry professionals to compile the list of the 100 Greatest Fictional Characters of All Time. You can see the beginning of the project here, where you'll also find an index of all the results to date.
Today we bring you the first five in our list of 100.
100. Dr. Sam Beckett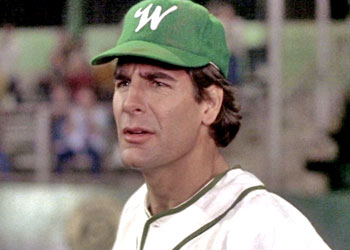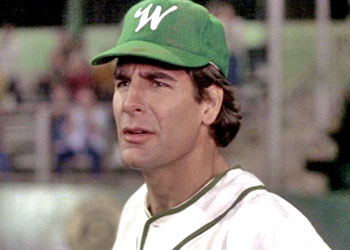 Appears In: Quantum Leap
Created By: Donald P. Bellisario
Audiences first meet Sam Beckett as an amnesiac, displaced from time into a strange body in 1956. Over the course of Quantum Leap, Sam uncovers more of his own history while he leaps through time "setting right what once went wrong." Ever propelled by a desire to return to his own body and time, the time traveling scientist made "string theory" a household term in the late 80s and early 90s and helped open a generation's conceptions of the universe and time.
99. Lois Lane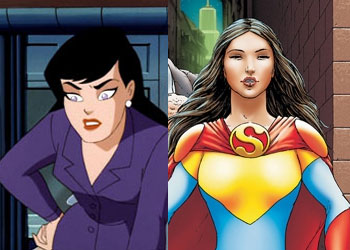 Appears In: DC Comics
Created By: Jerry Siegel and Joe Shuster
Created in 1938 as a love interest for Superman, Lois Lane would become one of DC Comics's longest enduring characters. From her inception through today, Lois has worked as a hard-hitting journalist at Metropolis's Daily Planet. Her character has gone through a number of changes, even being relegated into a silly and comedic role in the 1950s and 60s in Superman's Girl Friend, Lois Lane. After more than 70 years, however, Lois has become a strong and intellectual force on her own merits, even temporarily getting her own superpowers in All-Star Superman.
98. Hellboy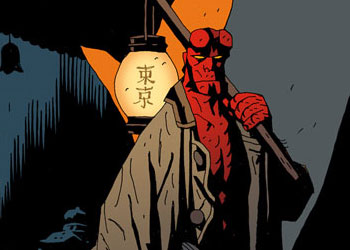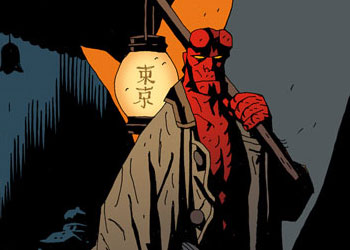 Appears In: Dark Horse Comics
Created By: Mike Mignola
Drawing from pulp adventure and folklore origins, Hellboy is a demon raised by humans to fight for good in a world overrun with evil and the supernatural. He first appeared in comics in 1993 before making the jump to film in 2004, played by Ron Perlman. Hellboy is an icon of comics, and Mike Mignola has won numerous awards, including the Eisner and Harvey, for unleashing this Nazi-killing Earthbound demon upon pop culture.
97. Patrick Bateman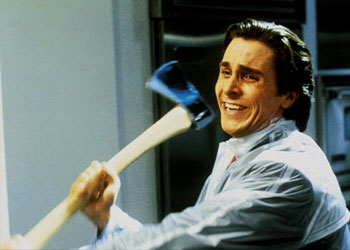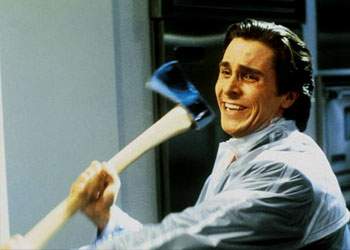 Appears In: American Psycho
Created By: Bret Easton Ellis
An investment banker working on Wall Street at Pierce & Pierce, Patrick Bateman is the very picture of wealth and success. Beneath Bateman's moneyed and professional "mask of sanity" lurks a dark side, one that readily tortures and murders with wild abandon. In an era of excess and vapidity, Patrick Bateman is a sharp commentary on yuppie culture. In addition to American Psycho, Bret Easton Ellis's The Rules of Attraction, Glamorama, and Lunar Park also include Bateman peripherally.
96. V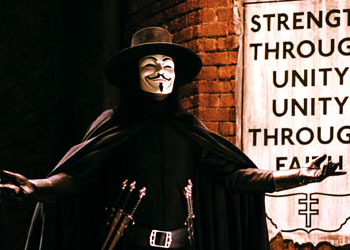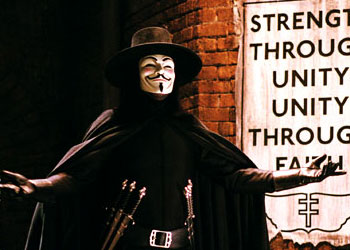 Appears In: V for Vendetta
Created By: Alan Moore and David Lloyd
Designed to be equal parts protagonist and antagonist, V has become a modern icon in pop culture for revolution and anarchy. Famously clad all in black and wearing a Guy Fawkes mask, V seeks to violently bring down the established government that had imprisoned him. In 2005, V made the jump to a film adaptation, portrayed by Hugo Weaving.
The list continues tomorrow with #95-91.