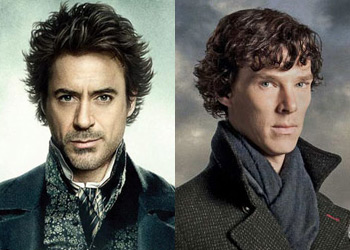 The second series of Sherlock premiered on BBC this week, and Benedict Cumberbatch reprised his role as the eccentric sleuth. With Sherlock Holmes: A Game of Shadows having debuted in theaters recently, Robert Downey, Jr, also has been in the public eye as Holmes. More than seventy well-known actors have portrayed Holmes over the years, so it's forgivable if you've missed a few of them along the way. Some of them turned in unforgettable performances, including Basil Rathbone in his series of films in the 1930s and '40s. There are quite a few that might come as a surprise, though. Here's a look at ten actors you might not have known played Holmes.
1. Peter Cushing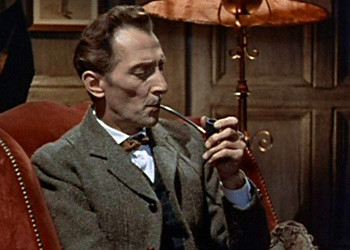 In 1959's Hound of the Baskervilles movie and the Sherlock Holmes TV series that ran from 1965 through 1968, Star Wars's Grand Moff Tarkin himself played Holmes. He reprised the role post-Star Wars in 1984 for a TV movie called The Masks of Death.
2. Tom Baker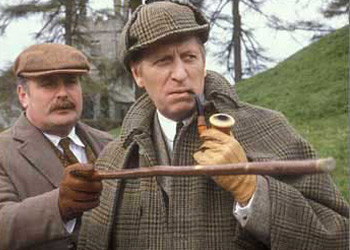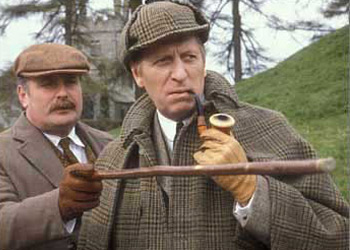 Best known as the Fourth Doctor on Doctor Who, Tom Baker donned his sleuthing cap for the 1982 The Hound of the Baskervilles adaptation.
3. Frank Langella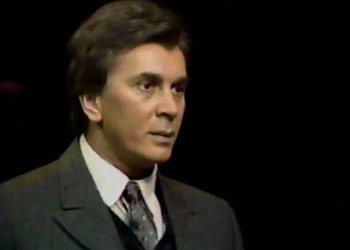 Frank Langella is an award winning actor with a huge list of credits, but you might not have known that an appearance as Sherlock Holmes is nestled into his resume, courtesy of the 1981 Sherlock Holmes TV movie.
4. Matt Frewer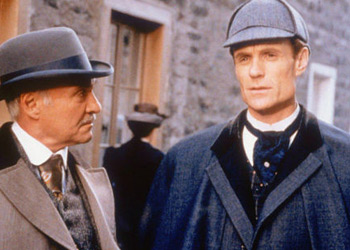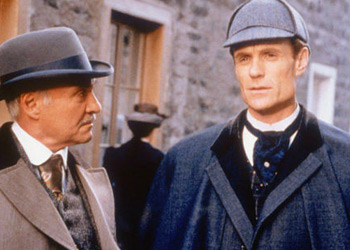 Also known as Max Headroom or, more recently, Taggart on Eureka, Matt Frewer played Sherlock Holmes in four TV movies from 2000 through 2002.
5. George C. Scott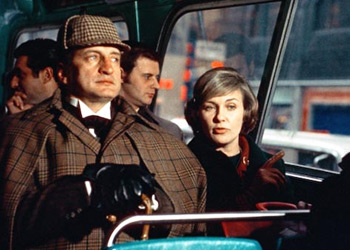 In 1971 George C. Scott, perhaps best known for his roles in Patton and Dr. Strangelove, didn't exactly play Sherlock Holmes, but he did play a delusional man who believed he was Sherlock Holmes. His performance is additionally significant because that movie, They Might Be Giants, would be the inspiration for the name of the popular band that formed in 1982.
6. John Cleese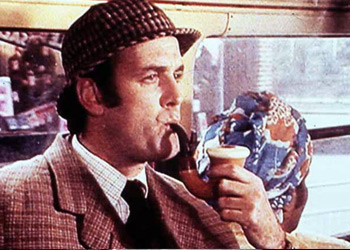 The Monty Python veteran starred in two Sherlock Holmes spoofs: Elementary, My Dear Watson in 1973 and The Strange Case of the End of Civilization as We Know It in 1977.
7. Charlton Heston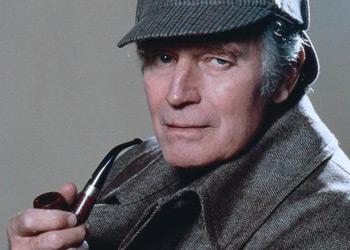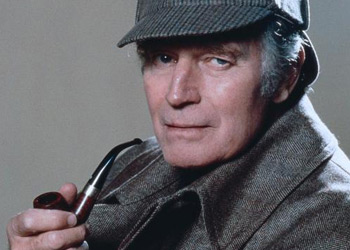 Yes, Ben-Hur actually played Sherlock Holmes. The Crucifer of Blood is a play adaptation based on the original Doyle novel The Sign of the Four. Charlton Heston played Holmes in the Los Angeles stage production and again in the 1991 TNT TV movie version.
8. Christopher Lee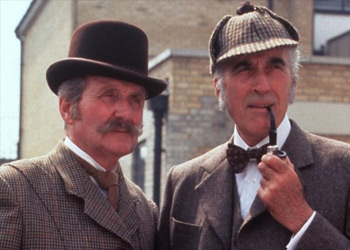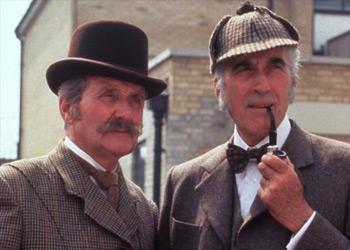 Grand Moff Tarkin isn't the only Star Wars villain to take a turn as Holmes; Count Dooku did it in 1962, 1991, and 1992. Christopher Lee (also known as Saruman in the Lord of the Rings trilogy) starred in three Sherlock Holmes movies, the latter two produced for TV.
9. Roger Moore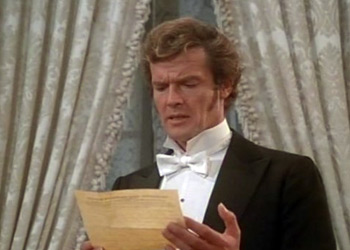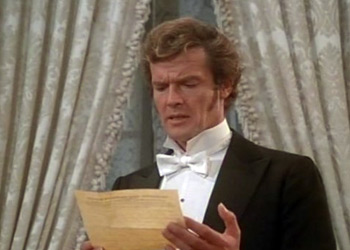 Right in the middle of his tenure as James Bond, Roger Moore jumped into the shoes of another of Britain's famous crimefighters to star in the 1976 made for TV movie Sherlock Holmes in New York.
10. Leonard Nimoy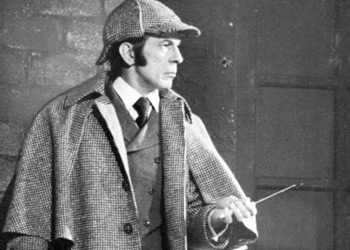 Whether you know him best as Star Trek's Mr. Spock or as the creator of that awesome song about Bilbo Baggins, you might not have realized that Leonard Nimoy played Sherlock Holmes in a touring stage production in the '70s.