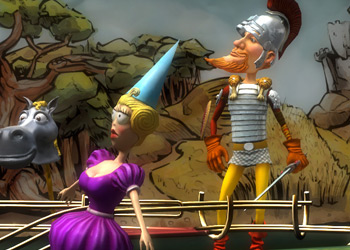 Zen Studios has made a name for themselves not only as the creators of one of the very best games on the Xbox Live Arcade but also as general all-around digital pinball pros. Since the release of their pinball games on various platforms they've kept a steady stream of new add-on pinball tables coming, including some awesome adaptations of Marvel Comics characters as well as original and creative designs. Their next new table is set to release this month, and it adds, incredibly, roleplaying elements into the pinball experience, one of the chief features being a persistent character leveling system that carries over between pinball rounds. If that's not a recipe for addiction, I don't know what is. We'll be running a full review when the Epic Quest pinball table releases later this month, but for now here's the teaser trailer Zen just unveiled.
Epic Quest will be releasing as an add-on for Pinball FX2 on the Xbox Live Arcade and Zen Pinball on the PlayStation 3, Apple devices, and Android.
Jason is the founder and managing editor of Fandomania. He is severely into toy collecting, plays a worryingly large amount of games, watches way too many movies and TV shows, and reads more than his fair share of books and comics. He also likes guacamole.