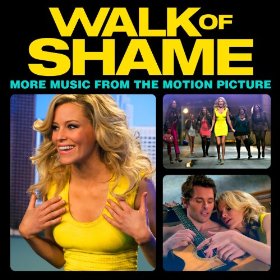 The movie Walk of Shame has released not one, but two soundtracks. For those that didn't get enough from the regular release, this short collection features seven more songs to help you get into the party mood. As an addition to the movie, or your first introduction, it will either get you fired up or leave you flat. I don't think there's any middle ground on this one.
With a variety of artists featured on the tracks, it did give enough vocal range that I wasn't bored. The collection heavily highlights a theme of hip hop, with Black Mob Group, along with Sebastian Robertson and Kill the Computer, carrying the brunt of the offerings. Robertson, being the son of a Rock and Roll Hall of Fame member, had a lot to live up to in my mind and he came through by helping to feature noted artists that I'll be sure to look up. Both Lana Shea and Mia Koo gave a refreshing female contribution in a male-dominated genre.
Walk of Shame (More Music From The Motion Picture)
"My People In Here" by Black Mob Group (Featuring Eric Nelson)
"La Rumba Nueva" by David Rolas (Featuring Columbia)
"Rise Up" by Sebastian Robertson and Kill the Computer (Featuring Lana Shea)
"No Pressure" by Black Mob Group (Featuring Selasi)
"Shawty Wants A Rider" by Black Mob Group (Featuring Gold)
"Give It Up" by Sebastian Robertson and Kill the Computer (Featuring Mia Koo)
"Saddle Up" by Stuart Davis
Though not necessarily a collection I'll listen to repeatedly, and too short to last throughout my normal commute, it was nice to hear for a change of pace from my usual musical collection. Unfortunately, it didn't inspire me to seek out the movie, which is what I often hope for when a soundtrack comes along. If you're already a fan of the movie, however, it's a good way to continue to viewing experience after you leave the theatre.
Rating: 3 / 5 Stars

In her youth, Kimberly could be found in the library, devouring books that covered everything from WWII History to Dr. McCoy's latest adventures aboard the Enterprise, with some X-Men thrown in for good measure. Saturdays were often reserved for PBS re-runs of Doctor Who and Red Dwarf. More recently, she's been riding along with the Winchester brothers, and she hopes the Impala doesn't run out of gas for a long time.