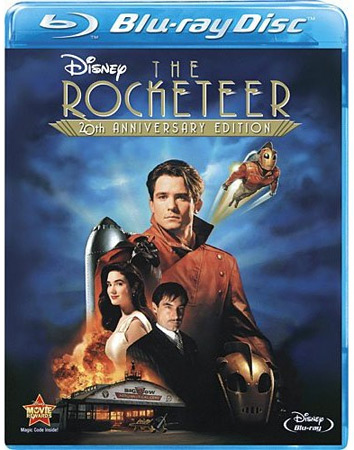 I truly can't believe that it's been twenty years since The Rocketeer was released. Twenty year old movies are supposed to be things like The Rocky Horror Picture Show and Jaws and Rocky. You know, things that actually turned twenty when I was seventeen or eighteen. But here we are in 2011, and I step a little closer to the grave with every anniversary edition Blu-ray that releases for a movie I vividly remember watching in the theater. I'm pretty sure this will be the only review of The Rocketeer that begins with the reviewer examining his own mortality, because the movie and its legacy are anything but moribund.
The Rocketeer seems like a new adaptation of a pulp sci-fi character from the '30s or '40s, but he actually saw the light of day in 1982. Created by Dave Stevens as a cameo in the Starslayer comic series before spinning off into his own series, the Rocketeer fits so perfectly into the genre to which he pays homage that he might as well have actually leapt forth from the imaginations of some of those early twentieth century serial filmmakers. Because of the inherent nostalgia in the character and his world, the 1991 Disney film does not feel at all dated for a 2011 viewing. In fact, the special effects and set pieces ring truer and better, specifically because it's all done with practical effects and green screens (or were they blue back then?) instead of with eyeball-sizzling CG, as it surely would have been done today.
Cliff Secord (Billy Campbell) is a test pilot in late 1930s Los Angeles. His test run in a new aircraft goes awry when the FBI chases a mobster into the middle of his flight. The plane is wrecked, and Cliff barely escapes with his life. The Feds nab the gangster and haul him away, but not before he hides the contraband he'd stolen in one of the other planes at the airfield. When Cliff and his friend Peevy (Alan Arkin) later stumble across the mysterious abandoned parcel, they have no idea that it's an experimental jetpack that was developed by and stolen from wealthy industrialist Howard Hughes (Terry O'Quinn). Needing some quick cash, Cliff decides to strap on the jetpack for a local air show where he previously had been relegated to be the air clown. When disaster nearly strikes another of the pilots, Cliff uses the jetpack to save a life, all in the view of the press and spectators. He becomes an anonymous instant sensation, named the Rocketeer by the reporters and the airfield owner, Bigelow (Jon Polito).
Meanwhile, Cliff's sweetheart Jenny (Jennifer Connelly) is working hard at being an actress but so far has managed to be little more than set dressing in a medieval action film starring Hollywood heartthrob Neville Sinclair (Timothy Dalton). Neither Jenny nor Cliff knows that Sinclair is the one who hired mobster Eddie Valentine (Paul Sorvino) to snatch the prototype from Hughes, and they're none the wiser when Sinclair realizes Cliff has the jetpack. Cliff, Jenny, and their friends soon find themselves in the midst of a twisting adventure of pre-war espionage and high flying danger as Sinclair and the FBI all pursue the Rocketeer.
The movie works as an adventure and as a period piece, and on Blu-ray it's nearly indistinguishable from 1930s action films that might be made today. The cast is as superb as it sounds, and there are quite a few familiar faces in the supporting roles and extras as well. The Rocketeer looks and sounds great in high definition, and it's a worthy and fun addition to the library of classic Disney films that have made the leap from DVD. With this being the twentieth anniversary edition, I expected some nice extras and bonus features, but this release is surprisingly bare. There really isn't anything on the disc other than the movie itself and a standard definition trailer. That's a little disappointing, but I'm willing to cut the release some slack just because The Rocketeer is such a fun movie that really deserves this great HD treatment.
The Rocketeer 20th Anniversary Edition released on Blu-ray on December 13, 2011.
Jason is the founder and managing editor of Fandomania. He is severely into toy collecting, plays a worryingly large amount of games, watches way too many movies and TV shows, and reads more than his fair share of books and comics. He also likes guacamole.