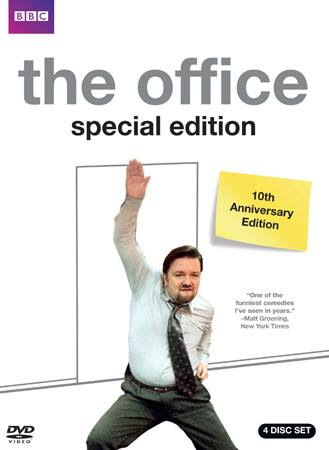 I like to think I'm a worldly person, but somehow when the American version of The Office debuted on NBC in 2005, I had no idea that it was based on a British show of the same name that had aired a few years earlier. It was only after Steve Carell had endeared himself to me as Michael Scott and I was well into the "Jim and Pam are the most awesome couple ever" Kool-aid that I realized Ricky Gervais had done it all before and, according to many, had done it better. Being a fan of the US Office first, I had a rather healthy resistance to any talk like that, so I managed to avoid actually seeing any of the UK Office for several years. And then that fateful day arrived when I decided to watch the very first episode of the original series. The initial verdict? It's exactly the same show that NBC broadcast, just with different accents.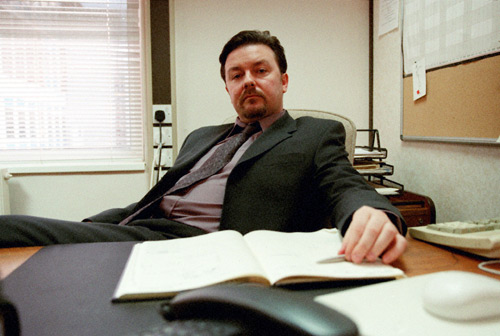 When I say the UK Office and the US Office are the same show, I don't mean that they are thematically similar or that they remind me of each other in subtle ways. No, they quite literally are the same show. Entire scenes, jokes, and lines are lifted from the original UK show to be transplanted into the American one. The performances are eerily similar between the British cast and their Yankee counterparts, too. Lucy Davis's sighs and eyerolls as long suffering receptionist Dawn echo later in Jenna Fischer's Pam. Shades of Martin Freeman's likeable Tim still permeate John Krasinski's performance as Jim. When it comes to Ricky Gervais as David Brent and Steve Carell as Michael Scott, it's often hard to remember that they're not two very similar guys playing exactly the same character in the same way. Even the stapler-in-Jello gag appears in both shows' pilot episodes, pretty much verbatim.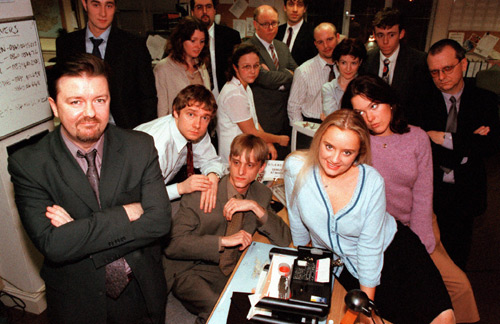 Since I saw the two shows in the reverse order and already was invested in the American cast before seeing the original British episodes, the whole thing is sort of surreal to me. The UK Office at first felt like a SNL sketch showing what it would be like to throw the familiar American series into a British setting. Once I was able to mentally judo my way around the similarities and figure out exactly who lifted what from whom, I realized that despite the shows' likenesses to each other, there are a lot of inherent differences that set them apart and make each uniquely brilliant in its own way. British humo(u)r is famously hilarious, but like many delicacies from the UK, it can take some getting used to for newbie foreigners. Once you've gotten a feel for the characters, their rhythms, and their awkward silences, the series gels into an undeniably great creation.
With the tenth anniversary of The Office rolling around, it's time for a brand new DVD release, and that's what arrives in stores today in the form of The Office Special Edition. This four disc set comes in an attractive slipcase from the BBC, and it includes not only both regular series of the original Office (twelve episodes in all), but also the two-part holiday special and a big bundle of special features that fans of the series will love. Among the bonuses included are:
Series 1 Episode Introductions and interviews from Ricky Gervais, Stephen Merchant, and a bunch of other celebrities ranging from Ben Stiller to Hugh Jackman.
Original Pilot Episode
Deleted Scenes and Outtakes
Video Diaries from the show's crew
Several featurettes:
Closed for Business – The cast talks about ending the show in the midst of popularity
Comedy Connections – Retrospective documentary featurette
How I Made The Office – Behind the scenes documentary about the show's production
Music videos for "If You Don't Know Me By Now" and "Freeway Love"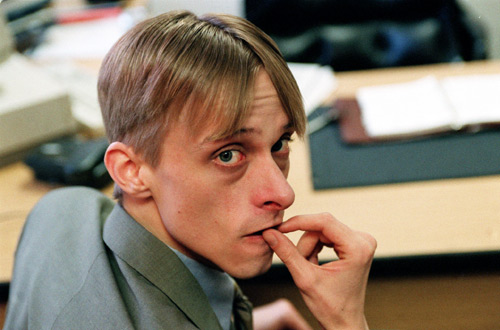 If you've only ever seen the American version of The Office, you really should check this new collection out to see where the whole thing started. It's kind of awesome to see a thin young British guy walking around in Dwight's suits. Fans of the original series also will find a lot to love here, given the depth of bonus material included and the assembly of the entire series in one package. If you already own the whole British Office series from previous DVD releases, this new set's value to you will depend on how much you're into the new set's brand new extras, chief among them the Series 1 episode intros, the original pilot episode, and the Comedy Connections documentary.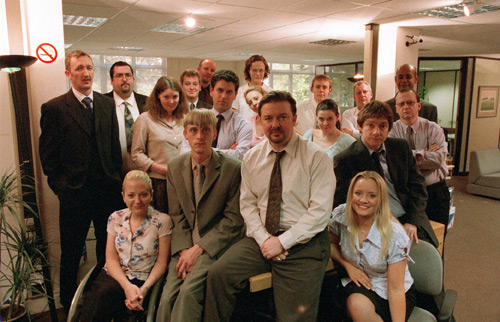 The Office is a groundbreaking comedy series whose influence on British and American humor is undeniable. This new tenth anniversary set is in stores on November 22, 2011, and it's a great opportunity to meet the staff of Wernham Hogg Paper Company.
Jason is the founder and managing editor of Fandomania, and he co-hosts the weekly Fandomania Podcast with Celeste. He is severely into toy collecting, plays a worryingly large amount of games, watches way too many movies and TV shows, and reads more than his fair share of books and comics. He also likes guacamole.