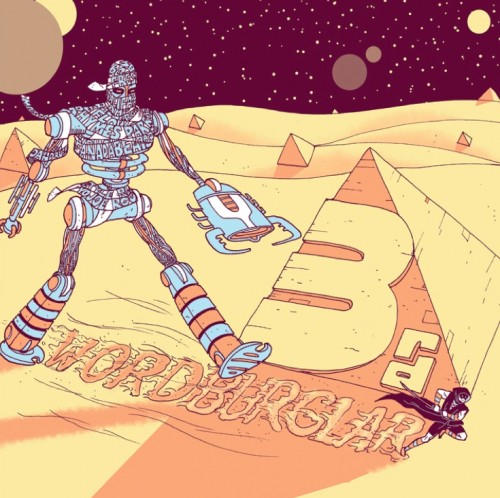 I've been anticipating Wordburglar's 3rdburglar since the release of the single "Rhyme O'Clock." Man, is it good! Wordburglar is appropriately named; he uses words as if he stole them from the universe and put them together in a unique, highly lyrical style. How he manages to make nearly everything rhyme with his name ("Pre-Show Routine" is a particularly good example) is beyond me, but he does!
The first actual song on the album is "Croque Monsieur" in which we learn that 'Burg's rhymes are not just any ham and cheese, but the much fancier French version. I have a feeling there's a deliberate wink and nod in that: he's not just any ham with cheesy music, he's a hoity-toity ham with upper crust cheese. He does have a song about Fred Broca, one of Cobra's Crimson Guardsmen from the G.I. Joe comics. That's pretty cheesy, but the song treats him seriously. So, yeah, croque-monsieur.
I'm particularly fond of "Sneaky Neighbors" (featuring Timbuktu) because it reminds me of some of my own actual neighbors. Although fortunately my neighbors aren't quite that bad. I also enjoy the chill "Sufficiently Suffonsified." 'Burg sits back on the beat when he raps, and this track really shows off his style well. "Foofaraw" is another one that really shows off Wordbuglar's strengths — in this case, his rhyming ability. It's a bit like the "Pre-Show Routine" in actual music form.
Of course there's plenty of geekiness to satisfy. In addition to G.I. Joe, there's Star Wars in "Rhyme O'Clock" but especially "Dude, Where's My AT-AT At?" which is also on Garthim Master's Ghosts of Nostalgia. This version sounds like a different mix to me, but I may be wrong. Regardless, it's an amusing tale of a trooper who managed to forget where he parked his AT-AT while running errands for Dengar and Asajj Ventress. "Drawings with Words" is all about comic books, from the mainstream (The Avengers) to the more obscure (Nth Man). 'Burg know 'em all. There's also "Your Friend's Brother," the guy who introduced you to all things geeky, but also seemed a bit on the creepy side, especially in retrospect.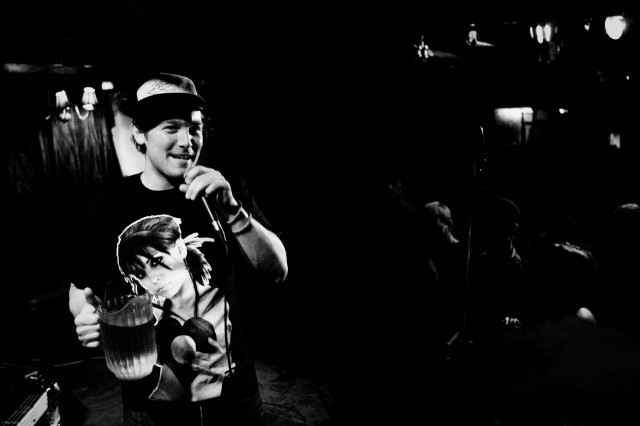 I'm quite certain that 3rdburglar will end up on my Best of 2012 list. Like his Canadian counterparts on Hand'Solo Records, Wordburglar is making some amazing indie hip-hop that's heavily geeky. I just can't get enough of everything they do, and I'm really looking forward to more. Oh, and if you want to know more about 3rdburglar, check out this link for fourteen fun facts.
Track Listing:
"Pre-Show Routine" (01:54)
"Croque Monsieur" (03:09)
"So Much Time" (03:06)
"Rhyme O' Clock" (feat. More Or Les) (04:06)
"Fred Broca" (03:00)
"Sneaky Neighbours" (feat. Timbuktu) (03:31)
"Sufficiently Suffonsified" (03:25)
"Drawings With Words" (03:19)
"Dude, Where's My AT-AT At?" (feat. The Garthim-Master) (04:01)
"Point of Departure" (03:12)
"Steady and Stable (Strange Roads)" (feat. Chokeules, Richard Benjamin, MC Homeless, Riddlore & Timbuktu) (04:01)
"FOOFARAW" (03:19)
"Your Friend's Brother" (04:13)
"YOBOSAYO (Moonbase)" (03:59)

Chad (aka Darth Aqueous, Dark Lord of the Fish) is a geeky high school English teacher. He primarily writes about geek music, with a focus on the fandom-y (it's totally a word!) elements of the lyrics. He also produces a weekly podcast with interviews of geeky musicians. He currently lives in Gainesville, FL, with his wife and three cats, Parker (named after the character on Leverage), Anya (from Buffy), and Zoe (from Firefly).