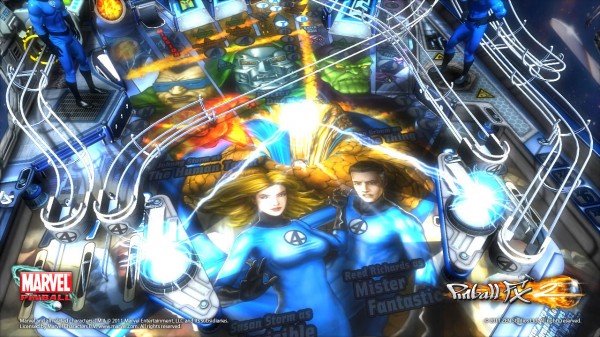 Every time I review a new release from ZEN Studios, I begin by piling more and more praise onto their XBox Live Arcade release Pinball FX2. I apologize if I'm starting to sound like a broken record, but the game really is that good, and every new addition to it makes it that much better. Unquestionably, the most popular add-on for the game was the release of four new pinball tables, all inspired by Marvel Comics characters. The Marvel Pinball collection included such top tier heroes as Spider-Man, Iron Man, and Wolverine, as well as the surprising and awesome addition of Blade. ZEN went into space for their next table release, MARS, but they returned to the realm of comics for this week's new table, featuring Marvel's first family, the Fantastic Four!
With Fantastic Four joining the lineup, the roster of available tables climbs ever closer to the twenty mark, and Pinball FX2 continues to push the boundaries for Xbox Live Arcade games in terms of achievements. While most XBLA games cap out at a maximum of 200 possible achievement points, Pinball FX2 broke that barrier upon its initial release, and it keeps nudging the limit up with every added table. Fantastic Four adds 50 more achievement points, distributed across three new achievements, all attainable only on this new table.
While ZEN Studios has done an awesome job with the gameplay and general platform for the game, the themes and unique features on each table really make the overall game shine. Fantastic Four is no exception, taking the interactive characters, themed challenges, and characteristic dialogue from their previous Marvel releases, and enhancing them in every way. Characters featured in this table include all four members of the team, as well as the villainous Doctor Doom and Galactus. Each of the characters interacts with the gameplay in some way and is more than just window dressing. The voice acting sounds even better here than in previous releases, and all the dialogue is immediately identifiable to the characters and situations.
The table's story setup has Galactus on his way to devour the Earth, and the Fantastic Four team is the only thing standing in his way. They need to obtain the Ultimate Nullifier to stop him, but Doctor Doom and the Skrulls throw wrenches into their plans as they enact their own plots for domination. The table mechanics set up a huge array of gameplay modes that pit the members of the Four against their enemies in creative ways. One of the activated missions has Mr. Fantastic using his stretchy arms to grab the pinballs to load them into a chute, while another has Invisible Woman using her force field to defend against Doom. All the gameplay modes flow well in and out of each other, making for a fast paced and high action table where something significant always is happening.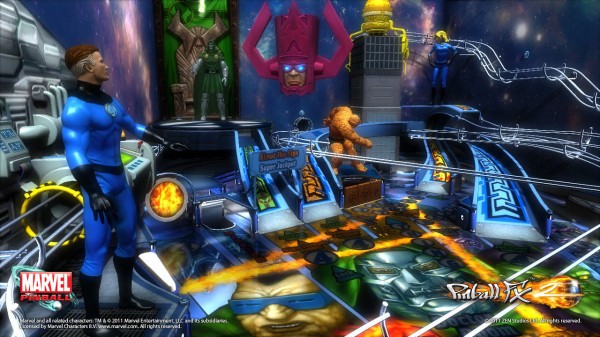 There always are loads of secrets and surprises packed into ZEN Studios' pinball tables, and it would be a crime to spoil them for you. Slamming the pinball into the correct lane or target at the right time is extremely rewarding, and the pace of the rewards on the Fantastic Four table is great. You'll always feel like you're doing something right as long as you keep your ball in play. Additionally, this table allows for simultaneous game modes, so you can make harder missions easier by activating a multiball, or you can gun for two different goals at the same time.
The Fantastic Four table is available now on the Xbox 360 for 240 Microsoft Points. It's forthcoming to the PlayStation 3 as part of the Marvel Pinball game there, but that release was delayed due to the ongoing PSN outage. We'll keep you posted about that upcoming release.
Jason is the founder and managing editor of Fandomania. He is severely into toy collecting, plays a worryingly large amount of games, watches way too many movies and TV shows, and reads more than his fair share of books and comics. He also likes guacamole.