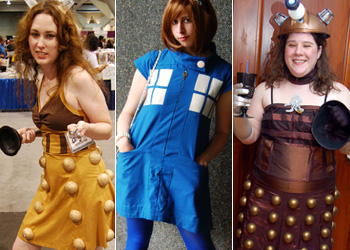 Doctor Who fans have gone Time War Couture! This collection of stylish fan-made dresses inspired by the time-traveling TARDIS and the villainous Daleks is surprisingly diverse. Whether decked out with whisks and plungers or sporting an outfit that's bigger on the inside, these fans show creativity that would surely earn them acclaim at Fashion Week Gallifrey.
1. Like, Exterminate!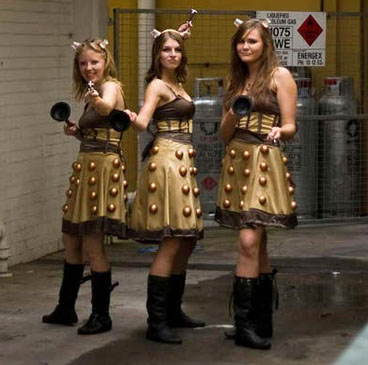 Echidnite and friends made these costumes for the Australian convention Supanova 2009.
2. Silver Dalek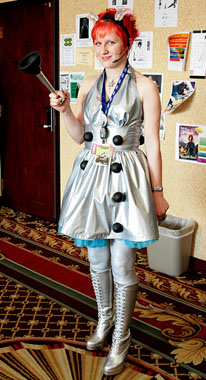 This Dalek from CONvergence 2009, captured by Jason Weberg, has a bit of a retro sci-fi feel.
3. Blue Box Dress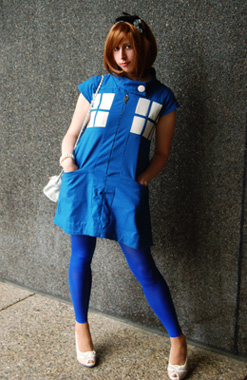 Fashion designer Tara Reich is doing a whole line of Doctor Who-inspired fashion! This mod TARDIS dress is the first in the series.
4. Dalek Rouge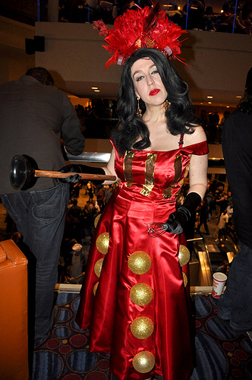 This showgirl Dalek photographed by Clinton Steeds at Dragon*Con 2009 looks like she'd be pretty good at the Caan-Caan! (Sorry.)
5. Fearsome Dalek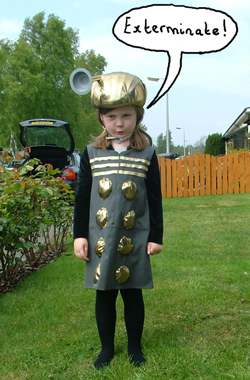 This picture by hiddentapir might be the most adorable thing I've ever seen. The end.
6. TARDIS and Dalek Sec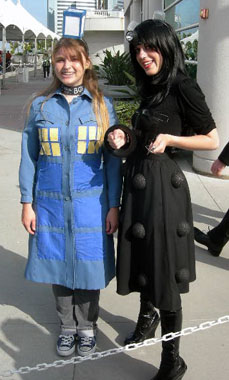 Here's a two-in-one from coldbrains4 (the TARDIS on the left), since it also features her friend as a fabulous Dalek Sec.
7. Gold Shoes Dalek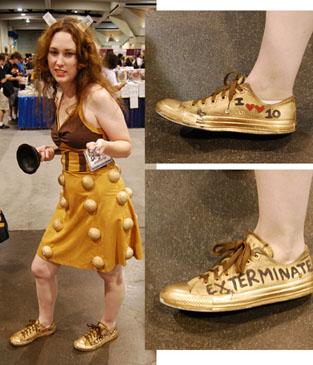 A fitted, fashionable dress wasn't enough for this Dalek featured on Cool Jerk — she went the extra step and made shiny gold shoes with the Dalek "motto" and a declaration of her fave Doctor.
8. Dalek Evening Gown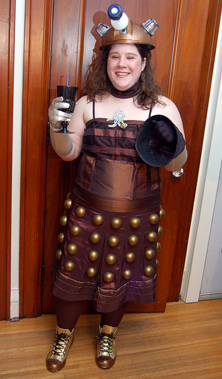 The skirt of anndor's dress is based on the actual Dalek build plans, so in addition to being beautiful, it's screen accurate!
9. Bigger On The Inside Dress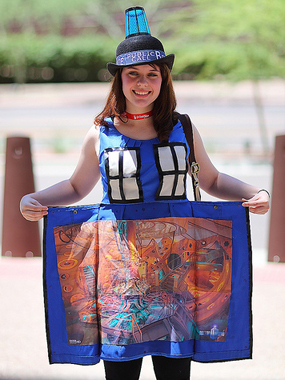 The front of this TARDIS dress, as photographed by G Brummett at Phoenix Comicon 2010, opens to reveal its much-bigger inside! It closes back again with magnets. Brilliant!
10. Dalek Sec & Red Dalek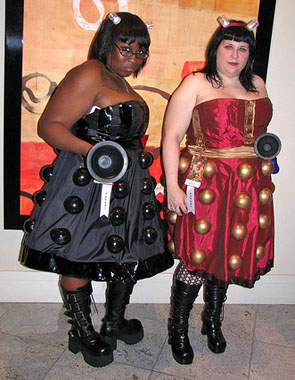 Awesome boots and fishnets complete the look for these girls, photographed by Scott Hamilton at Dragon*Con 2009.
11. "Genesis of the Daleks" Dress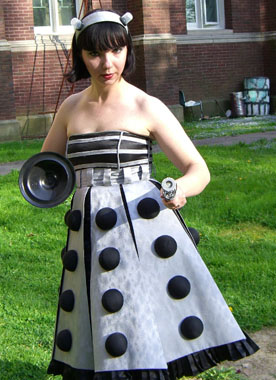 EHyde based the color scheme for her Dalek dress on the 1975 serial "Genesis of the Daleks."

Celeste Monsour is Fandomania's Creative Editor and former co-host of the Fandomania Podcast. Among their many interests are photography, '80s/'90s nostalgia, social justice, time travel, and adorable animals.