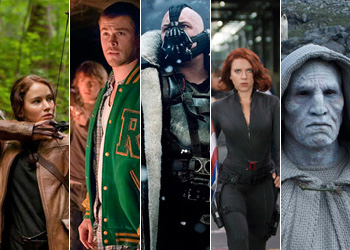 With 2012 coming to a close, it's time for us to revisit our annual tradition of looking back at our favorite releases of the past year. We polled the Fandomania staff and asked for everyone's favorite movies of 2012. This list is a compilation of the results.
The Avengers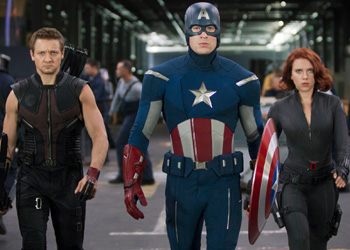 "Marvel built this movie just right, starting years ago, giving out little nuggets in each individual character movie that kept us interested in the overall story. The movie itself does a great job of balancing time for most of the major characters (Black Widow didn't get a lot to do) but with this many big names, it was about as well balanced as it could be." – Dax Collins
"Do you like superheroes? How about six of them? A group of social outcasts, all brought together because the world needs saving, learned to trust and rely on one another to make the best team around. Being a huge comic fan of these characters, seeing them brought to life with such a great script and great acting made it a summer dream come true." – Kimberly Lynn Workman
"I love it when a plan comes together, and that's exactly what happened when Marvel launched their ambitious plan to build a cohesive movie universe over the course of several years and several A-list films. The Avengers is the first big payoff in what promises to be a decade-long journey with the world's greatest heroes."- Jason Dorough
"One of the most entertaining action films of the year. Joss Whedon understands what his audience wants and he's more than happy to put exactly that on the screen, regardless of any criticism." – Ava DiGioia
"Do I really need to say why The Avengers was a great movie in 2012? It was funny and dramatic and the characters were perfect. I can't wait for The Avengers 2 and the rest of the Marvel movies." – Nikki Day
"I started the year having never read a single Marvel comic in my life. I'd seen some of the movies, but that was the extent of it. I'm ending the year reading lots and lots of Marvel comics. The Avengers movie wasn't the entire reason, it wasn't even really the instigating factor. But months after seeing the film, it stuck with me, and I wanted more. The Avengers was fun and bright and exciting, and made me fall in love with characters I didn't know anything about." – Sarah Baum
The Cabin in the Woods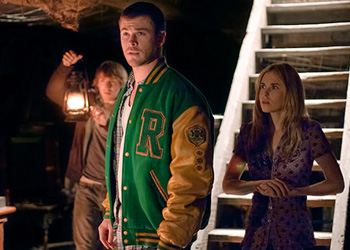 "This was an awesome year for Joss Whedon, as he delivered two of the year's very best movies within weeks of each other. True, The Cabin in the Woods took years of delays to get from post-production into wide release, but when it finally arrived this summer, it was an instant lock for my favorite movie of 2012."- Jason Dorough
"'Scary' movies aren't high on my list because they tend to be too cheesy for me and unbelievable, but I walked out of the theater after Cabin in the Woods both surprised and content. The twists, and the fact that it's actually more of a comedy than anything else, made it a memorable movie for me." – Kendra Beltran
"There are some interesting things happening in horror and horror-comedies lately with this and Tucker and Dale vs. Evil. This was a very smart way to take your standard horror tropes and turn them to your advantage as a story teller. I enjoyed it a lot." – Dax Collins
The Dark Knight Rises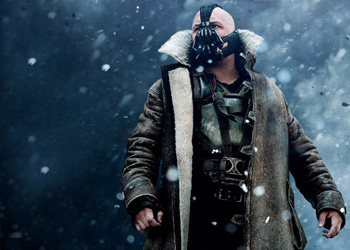 "Some movies aren't perfect, but you love them anyway. This is one of those. It's dark and gritty, and even though it has its imperfections, it's a movie that I want to watch over and over." – Sarah Baum
"Two words: NAILED IT!" – Lamar Furbanks
"I really liked the ending of this trilogy. I loved how Nolan incorporated a lot from the comics and Tom Hardy as Bane is my favorite villain." – Nikki Day
Prometheus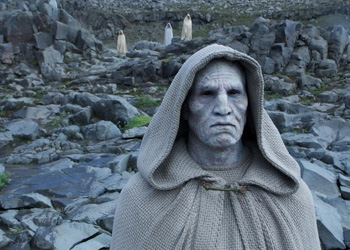 "'Head explosion' is the only way to describe my response to Prometheus. I want to watch it on repeat so I can discover every lovely layer in this beauty. I can only hope for an amazing follow up that can link us a bit closer to Alien." – Lauren Taylor
"I'm a big fan of fiction that doesn't give easy answers and requires some inference and deduction on the part of the viewer (see also: Lost, Alan Wake, and Twin Peaks). Prometheus presents a beautifully designed and maddeningly byzantine look at the origins of the Alien universe, making it my favorite thought provoking movie of 2012."- Jason Dorough
The Hunger Games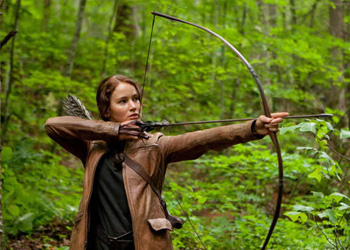 "Given its subject matter, it's not too surprising that The Hunger Games is very dark. But despite it being a bit disturbing, it's enjoyable to watch the very capable Katniss Everdeen use her wits and survival skills to overcome the obstacles thrown at her by a bloodthirsty dystopian government. Though it's the first installment in a trilogy, the movie stands on its own." – Celeste Monsour
"The first adaptation in the Hunger Games trilogy successfully translates the action, suspense, and desperation of the book onto the screen. Releasing midway through the year, The Hunger Games also helped 2012 become the Year of the Bow and pushed actress Jennifer Lawrence into many memorable and meme-inspiring talk show chats." – Jason Dorough
The Amazing Spider-Man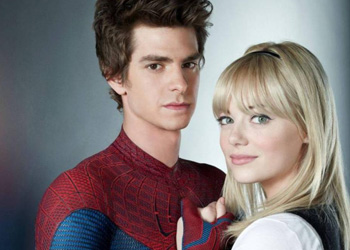 "I am always hesitant when comic franchises are rebooted and recast. However, this version of Spider-Man gave us a superhero who was snarky and lost and just trying to find out where he fit in. I'm looking forward to seeing where Andrew Garfield takes this character in the next movie." – Kimberly Lynn Workman
"Should have been called Ultimate Spider-Man, since that's what they based it on. But whatever they call it, they're on the right track." – Lamar Furbanks
21 Jump Street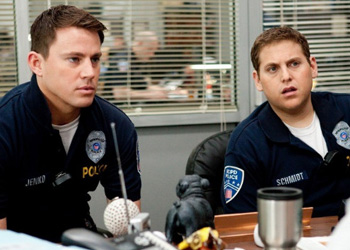 "No, it's not a great movie by any means. However, it was easily the most surprising movie I saw all year since I had to pause it several times because I was laughing so hard. I've only watched it the one time, so we will see how it stands up to repeated viewings, but for a movie that I was expecting almost nothing from, this really delivered a lot of laughs for me." – Dax Collins
"I was sure this would wind up on the 'worst of the year' list, but it ended up being the funniest thing in theaters all year. Korean Jesus is very proud of that." – Kendra Beltran
Indie Game: The Movie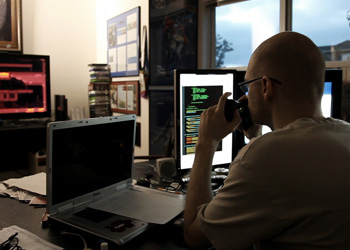 "An early Kickstarter success, Indie Game: The Movie is a brilliant and personal documentary that follows the development progress of three independent video games, all of which had become huge successes by the time the movie released. I love inspiring and true journey movies, and this one is made even better by focusing on the world of game creation." – Jason Dorough
"Being a gamer, I was interested in this documentary about the process of making an independent video game since I thought it would be a neat behind-the-scenes look. But I didn't expect it to be such an emotional and inspiring story — you really feel like you get to know these guys (and their families) as they risk almost everything they have to bring their visions to fruition. And I think anyone, even someone who's never played a video game, would be gripped just like I was by the struggles and achievements documented in the film." – Celeste Monsour
Wreck-It Ralph
"A funny and heartwarming family tale that has appeal for the whole family. I didn't have an interest in the movie but was outvoted by my daughters. Ended up enjoying it as much as they did. Showcases great themes like true friendship, helping others, and being happy with one's life." – Ava DiGioia
The Hobbit: An Unexpected Journey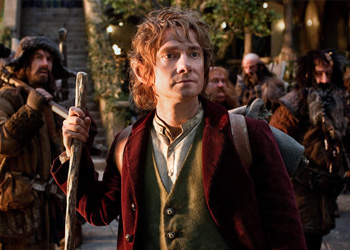 "By far, the best movie I've seen this year. The 48 frame rate elevates the cinematically appealing scenery to a stunning visual experience. The book was intended to be a children's book, but Peter Jackson and the WETA crew have created a non-juvenile tale that still can appeal to younger movie-goers. Personally, I love the way Jackson is handling the story and now believe he can craft a believable trilogy that is true to the book." – Ava DiGioia
ParaNorman
"An animated tale of an outsider who can talk to the dead, deals with some unsettling zombies, and teaches a whole town a lesson on acceptance. I'm not even into the whole zombie craze and I thought it was an amazing movie for any age." – Kendra Beltran
The Raid: Redemption
"I think this one was 2012, and I realize that it won't be everyone's cup of tea. If you're a big lover of dialogue and plot, this isn't for you. If you're interested in well-choreographed, over-the-top violence, this movie was a ton of fun." – Dax Collins
Moonrise Kingdom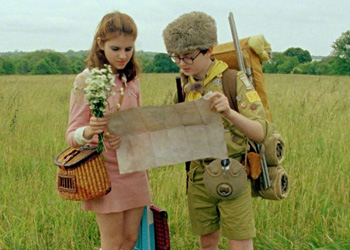 "The tale of two young people falling in love — each with their own quirks and challenges in life — isn't as cheesy as it sounds. It's a better love story than Twilight any day. Yet another masterpiece as Wes Anderson can do no wrong." – Lauren Taylor
The Perks of Being a Wallflower
"In a time where kids are latching onto movies like Twilight and The Hunger Games, I'm glad Perks was made. There needed to be some sense of realistic adolescence for this generation to latch onto." – Kendra Beltran
Scalene
"This indie film by Zack Parker is now available on Netflix. It is a three-sided tale about a young girl caring for a mute man whose mother may or may not be abusing him. It is worth a few watches and deserves to be talked about." – Lauren Taylor
Ted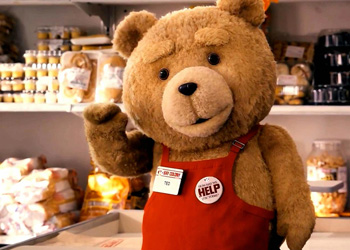 "A guy works at a dead end job, spends most of his time hanging out with his childhood toy, and has a super hot corporate executive girlfriend that likes him the way he is. If only it weren't escapist fiction…" – Lamar Furbanks
Pitch Perfect
"I went to a free sneak preview of this one, for which I'm glad, because I don't think I would have chosen to go on my own. With a witty cast of characters, fantastic music, and only mildly crude humor, it was an all-around good time to see the underdog achieve success." – Kimberly Lynn Workman
Madagascar 3: Europe's Most Wanted
"While some animated movie series lose steam as they go on and on and on (how many Land Before Times are there now?), Madagascar remained fresh as they took on the third installment with the same sense of adventure and jokes that killed every time." – Kendra Beltran
Jason is the founder and managing editor of Fandomania. He is severely into toy collecting, plays a worryingly large amount of games, watches way too many movies and TV shows, and reads more than his fair share of books and comics. He also likes guacamole.
2012
,
21 jump street
,
best of
,
cabin in the woods
,
Indie Game The Movie
,
Lists
,
moonrise kingdom
,
movies-
,
ParaNorman
,
pitch perfect
,
Prometheus
,
TED
,
the amazing spider-man
,
The Avengers
,
the dark knight rises
,
the hobbit
,
The Hunger Games
,
the perks of being a wallflower
,
wreck-it ralph