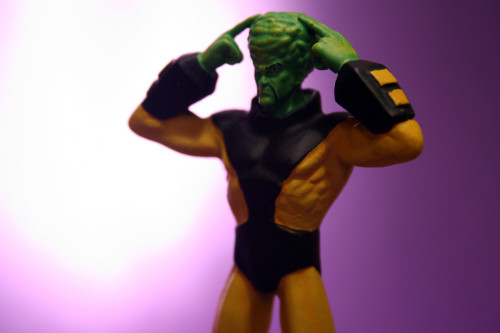 The big-brained Hulk villain is the next in Eaglemoss' line of Classic Marvel Figurines. Here's my review with photos.
The Leader is not a top-string Marvel character, but he's immediately recognizable to Hulk fans. He's represented here in a characteristically cranial-fondling pose, dressed in his yellow and dark blue supervillain suit. The Leader stands a little under 4″ tall, in scale with the rest of the line, and is cast from lead.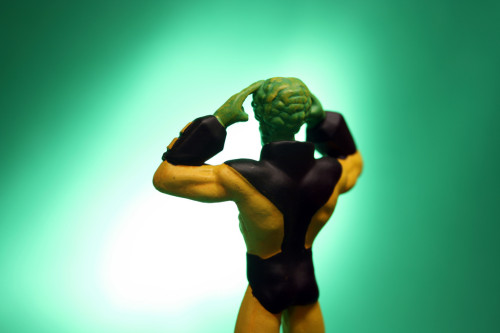 I'm not personally a big Leader fan, so this figurine isn't the most interesting to me, but it is a faithful representation of the character, and I don't have any complaints about it. The sculpt and paints look good and tight, giving me hope of some consistency in the quality of these lead collectibles (especially in light of my positive reviews of the Rhino and Hercules figurines this week).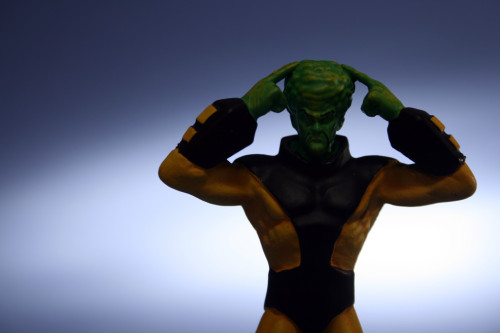 The Leader isn't the coolest Marvel character and isn't the best piece in the Eaglemoss collection, but he'll be fun for Hulk fans, as well as for completists of this series.
( Classic Marvel Figurines The Leader )
Jason is the founder and managing editor of Fandomania. He is severely into toy collecting, plays a worryingly large amount of games, watches way too many movies and TV shows, and reads more than his fair share of books and comics. He also likes guacamole.