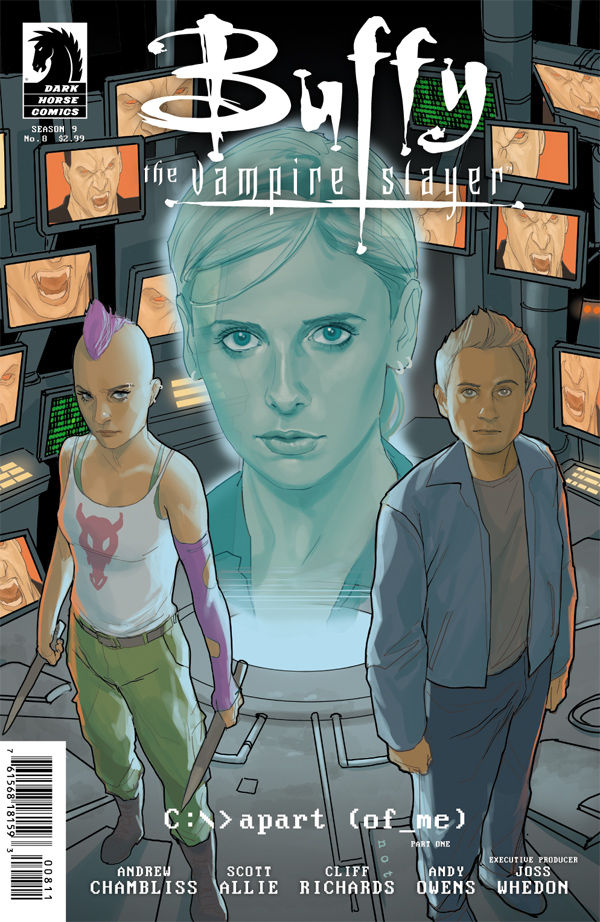 Issue: Buffy the Vampire Slayer: Season Nine #8
Release Date: April 2012
Writers: Andrew Chambliss and Scott Allie
Pencils: Cliff Richards
Inks: Andy Owens
Colors: Michelle Madsen
Letters: Richard Starkings and COMICRAFT'S Jimmy Betancourt
Cover A: Phil Noto
Cover B: Georges Jeanty with Dexter Vines and Michelle Madsen
Publisher: Dark Horse Comics
A BuffyBot, a fake reality, and an old acquaintance are all up for a visit in this issue of the Buffy comic. When last we left the storyline, Buffy found out that not only was she not pregnant, but also her entire existence was a lie. She was a BuffyBot, but how long had she been switched with the real Slayer? That's what she and Spike were determined to figure out. First stop, the one who knows BuffyBots better than anyone — Andrew.
Oh, Andrew, I've missed you. When we meet up with him again, he's just waking up, convinced that aliens have come to abduct him. He's been expecting this for a while, going by the fact he had his clothes packed in an emergency stash. Unfortunately, it's only Spike and the BuffyBot, come to find out what part Andrew's played in the Buffy-swap. As an aside, I like the subtle shout-out to Joss in this scene. Andrew's seen holding an Avengers shirt, a nod to the fact that Joss Whedon is directing the upcoming Avengers movie.
Turns out that Andrew, in his own twisted way, was trying to help. Spike wanted to figure out whoever was coming after Buffy, so instead of stepping in and tracking down the threat, Andrew simply switched Buffys. He transferred her mind to the BuffyBot when the whole "drunk at the party" incident happened. Instead of getting pregnant, as she thought, she had her body replaced with a metal one. The real Buffy is off in suburbia somewhere, seemingly with amnesia going by the wordless actions she was going through.

Meanwhile, Detective Dowling is in the morgue identifying the remains of Detective Cheung after the zompire attack. He's gone through a lot of losses because of his interactions with Buffy, and it's only getting worse. Dowling heads over to Dawn and Xander's place, in grief and depressed, because not only have countless cops died, but now he finds out Buffy's actually a robot. It's a little bit too much to take in. And then, on top of it, he's yet to find out that Cheung isn't all dead. She was actually turned and is now attacking the medical examiner back at the morgue. Like I said, the situation is growing more complicated.
As we leave this issue, Andrew, BuffyBot, and Spike are speeding their way towards Amnesia!Buffy's safe house, putting their approach on overdrive when they see her house is being broken into. Sadly, they couldn't get there in time to keep her safe and instead she was hit over the head, thrown in the back of a van, and kidnapped. Now it's going to be a race against time to find her and reunite Buffy's brain with her body. The adventure continues!
Rating: 4 / 5 Stars

In her youth, Kimberly could be found in the library, devouring books that covered everything from WWII History to Dr. McCoy's latest adventures aboard the Enterprise, with some X-Men thrown in for good measure. Saturdays were often reserved for PBS re-runs of Doctor Who and Red Dwarf. More recently, she's been riding along with the Winchester brothers, and she hopes the Impala doesn't run out of gas for a long time.