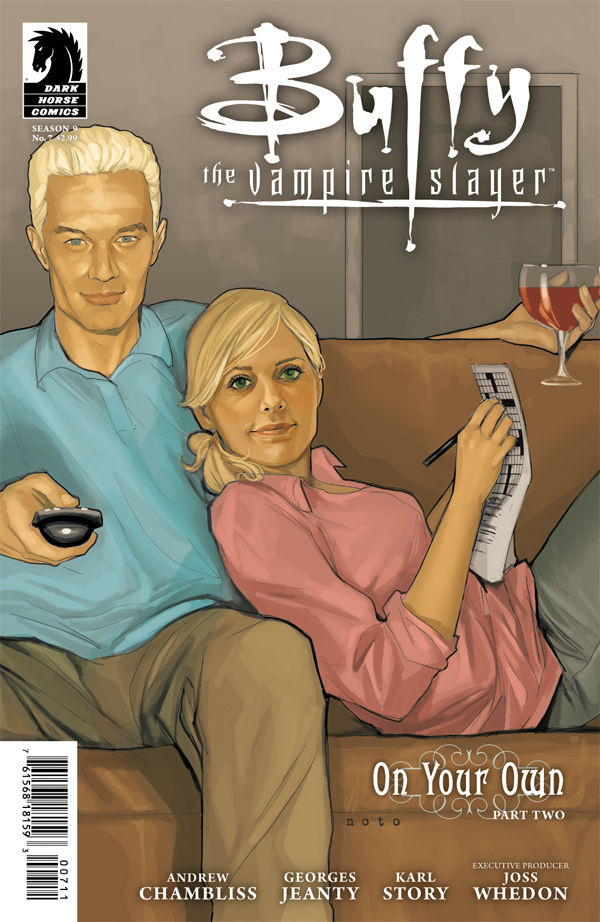 Issue: Buffy the Vampire Slayer: Season Nine #7
Release Date: March 2012
Writers: Andrew Chambliss
Pencils: George Jeanty
Inks: Karl Story
Colors: Michelle Madsen
Letters: Richard Starkings and COMICRAFT'S Jimmy Betancourt
Cover A: Phil Noto
Cover B: Georges Jeanty with Dexter Vines and Michelle Madsen
Publisher: Dark Horse Comics
With an uncertain future for Buffy and a twist that I never saw coming, this month's issue of the Buffy comic is sure to spur discussion among fans. When last we left the Slayer, she was getting ready to have an abortion. This issue we find her living with Spike in his spaceship? She is confusing me. On one hand, Spike's her best chance at having a life. On the other hand, he's not the ideal of normality. I'm enjoying the give and take of their relationship and I long for their happily ever after, or as close as they can get to it, but going by this issue they have a lot of hurdles in their way.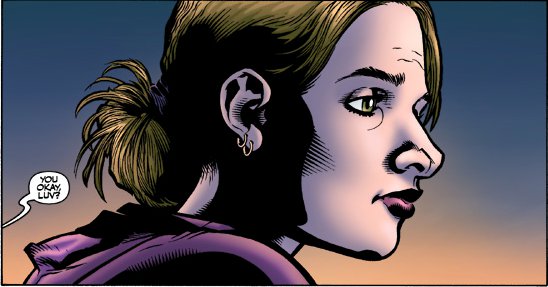 After we deal with getting Buffy settled in her new home, Spike gets a call from his cop friend. There's a reason why untrained people shouldn't go after vampires. So, like always, when someone's in trouble Spike goes to help them out. It's a personality flaw that gets him into troublesome situations more than once. And, despite Buffy's desire to join the fight, Spike makes her promise to sit it out. She may be planning to get rid of the child within her, but until that comes to pass, Spike's going to make sure she doesn't put herself in any danger. Sadly, he keeps forgetting how stubborn Buffy is and the fact that she's the Slayer. Her own safety doesn't really play into it. Besides, if she hadn't shown up, she would have never been subject to the cop's attempts to play matchmaker between her and Spike. The universe wants them to be together and I wish it would happen.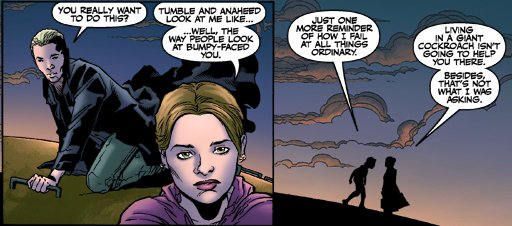 Finally we have a real heart-to-heart between Spike and Buffy. She knows he still loves her, but he's standing up for himself, not wanting to be her dirty, evil secret that she uses to escape reality. He's better than that and, until she realizes it, he's going to walk away. It might have been the catalyst she needed to admit her own feelings for him. It was a touching moment, I thought we were having a breakthrough, and then everything went haywire. Reality has ripped apart and I don't know what's going on. Apparently Buffy hasn't been her real self for a while now, but we're not sure when that changeover happened. At what point did she switch from real Buffy to Buffybot? Where is real Buffy? Is she even pregnant? What's going on? I'm so confused, and feel so cheated. The doomed love story of Buffy and Spike just took three steps back. I hope some fixes are coming soon because right now my frustration levels are rising.
Rating: 4 / 5 Stars

In her youth, Kimberly could be found in the library, devouring books that covered everything from WWII History to Dr. McCoy's latest adventures aboard the Enterprise, with some X-Men thrown in for good measure. Saturdays were often reserved for PBS re-runs of Doctor Who and Red Dwarf. More recently, she's been riding along with the Winchester brothers, and she hopes the Impala doesn't run out of gas for a long time.