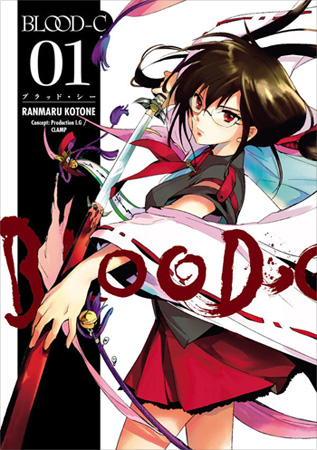 Blood-C is set in the same universe as other Blood titles, Blood: The Last Vampire and Blood+. All three titles are about a young girl called Saya. However, her background in each is very different. In this manga, Saya Kisaragi is, at first glance, a normal teenager, if slightly more clumsy. She lives with her father, Tadayoshi, and works at their family shrine. Her mother is said to have died when Saya was very young and Saya has taken over her mother's job of being a shrine maiden.
Note: This recap may contain spoilers!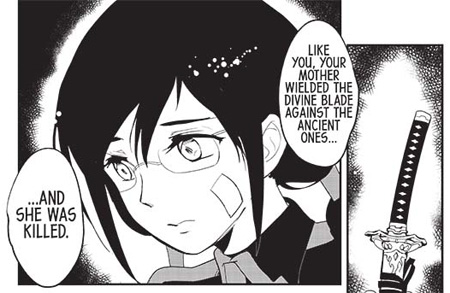 Saya lives in a relatively small town and is almost always late for classes because she stops to help people or gets distracted. She is well liked by everyone, even her teachers. At the end of the first chapter, it becomes apparent that there is more to the town, and Saya, than is seen at first glance. It seems that Saya's mother died defending the town from the Ancient Ones, and that Saya has taken over that job as well. Saya wields the Divine Blade against the Ancient Ones and is a very proficient swordfighter.
As the manga volume goes on, we find out more about the town and the people in it. At times, some people seem to act odd or suspicious around Saya, such as Fumito Nanahara and Kanako Tsutsutori. Fumito is an old friend of Tadayoshi's and owns a café where Saya loves to eat; however, he acts suspicious when it comes to Saya's food. Kanako is Saya's homeroom teacher and at times seems to know what is really happening in the town.
Strange things happen sometimes to Saya. There's a dog that seemingly follows her, but always runs away when she gets to close. Saya faints in class one day, but wakes up in the café. After saving two men from the Ancient Ones, Saya overhears one of them say, "They never told me", which confuses Saya and allows the Ancient One to land a blow on her. Saya kills the monster, but starts to think of all the strange things happening to the town.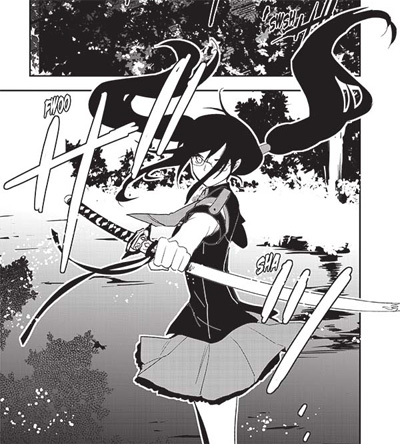 I enjoyed this manga very much. It has a lot of action, but it's also very funny at times. There's a good balance between both aspects. The characters seem very fleshed out and never false. I'd love to learn more the Ancient Ones and why Saya must battle them. I think it'll be interesting to see what is really going on with the town and some of the people, as I believe there are many secrets left to uncover.