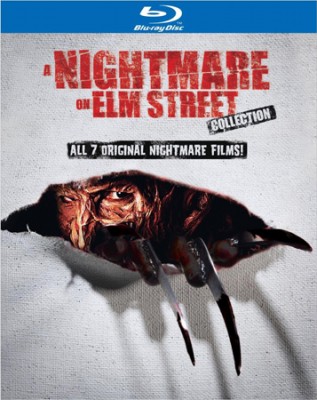 When it comes to the horror genre, the 1980s was a golden era. The slasher genre as we know it owes its heart and soul to the films that debuted horror legends in that decade (with some of the big movies bleeding into the late '70s and some in to the early '90s). Amid the butchery of Leatherface and the unstoppable killing machine that was Jason Voorhees, Wes Craven introduced a new villain craftier, creepier, and more playful than the others. Freddy Krueger just might be the greatest and most enduring horror monster of the past century, and Warner Bros pays tribute to him this month with the Blu-ray release of the A Nightmare on Elm Street Collection.
From his flame-scarred face to his trademark sweater and hat to his viciously bladed glove, Freddy is the very definition of a horror icon. Robert Englund personified Freddy in his many outings as the wicked and often wickedly funny bad guy, and the new Blu-ray box set is all about his nightmarish tenure. The new set does not include ancillary outings like Freddy Vs Jason or the more recent A Nightmare on Elm Street reboot that starred Jackie Earle Haley. Rather, this set assembles the first seven films in the franchise, comprising the real core of Freddy and his victims.
The set comes packaged in a fairly plain and standard sized Blu-ray package with a cardboard slipcover. That's a little disappointing for a seven movie collection, especially when it's a collector's edition of a beloved franchise with a huge fan following. Some sort of special packaging seems more appropriate, but going the standard and boring route definitely is not a deal killer for the set. In fact, it's hard for me to find anything to complain about aside from the lack of imaginative packaging.
Five discs come in the set, including four Blu-ray and one DVD. The movies themselves appear on the Blu-rays, with A Nightmare on Elm Street getting the first disc to itself. Disc 2 includes Nightmare 2: Freddy's Revenge and Nightmare 3: Dream Warriors. Disc 3 has Nightmare 4: The Dream Master and Nightmare 5: The Dream Child. Disc 4, the final Blu-ray, has Freddy's Dead: The Final Nightmare and Wes Craven's New Nightmare to round out the heptalogy. The single disc version of the first film and the double feature of Freddy's Revenge and Dream Warriors are previously available on Blu-ray, but this set is the first domestic release for the double Blu-rays with the fourth through seventh films.
Each movie has a full complement of special features, including audio commentaries (two for the first film and one for New Nightmare), more than thirty featurettes across the whole series, music videos, theatrical trailers, and more. The original A Nightmare on Elm Street gets a deluxe treatment with its Focus Points visual commentary that offers alternate scene takes and other features exclusive to that mode. In addition to the movie-specific features, the final disc in the set is a DVD loaded up with over three hours of additional content. Among the DVD bonuses are a retrospective featurette called Fear Himself: The Life and Crimes of Freddy Krueger, as well as two complete episodes from the Freddy's Nightmares TV show that aired from 1988 through 1990.
The video and audio are as awesome as you'd hope they'd be in this set. Seeing crisp Blu-ray versions of footage from movies nearly three decades old never ceases to amaze me, and such is the case here. If you've never made your way through the entire Nightmare series, you won't find a better introduction than this one. And if you're a longtime fan who has followed Freddy's every kill, you owe it to your collection to add this set to your shelf. The comparatively low suggested retail price of $59.99 makes this set even more attractive, and it's entirely possible that the deluxe packaging I moaned about not having a few paragraphs ago would have pushed the price tag into less palatable regions. As it is, this collection is a fantastic presentation of a landmark horror series and comes highly recommended. The A Nightmare on Elm Street Collection released on March 5, 2013, and is available in stores now.
Jason is the founder and managing editor of Fandomania, and he co-hosts the weekly Fandomania Podcast with Celeste. He is severely into toy collecting, plays a worryingly large amount of games, watches way too many movies and TV shows, and reads more than his fair share of books and comics. He also likes guacamole.