Three new releases roll onto the Xbox Live Arcade today, each available at the oh so reasonable price point of 800 Microsoft Points ($10). Up for grabs this week are The Warriors: Street Brawl (inspired by the classic cult film), Ion Assault (an arcade style shooter), and Zombie Apocalypse (a dual-stick shooter against the undead). Here are the blurbs for each:

Warriors … come out to play-ayyy! Relive the unforgettable cult classic movie and experience The Warriors: Street Brawl in a 3-D side-scrolling fight fest. Brawl it out old school style using your fists and a variety of weapons. Battle through 20 miles of gang-infested Manhattan in order to get back to your home turf, Coney Island. Play as Swan, Cochise, Vermin, or Rembrandt and lead your gang all the way to the showdown against Luther and the Rogues.
Brawling action: Lead The Warriors home to Coney Island for the final showdown with Luther and the Rogues. Fight up close and personal with knives, bats, crowbars, and pool cues.
Multiple game modes: Play single player, local multiplayer with up to four players, or online multiplayer co-op over Xbox LIVE. For a special challenge, try Versus mode where you can go toe to toe with up to four of your fellow gang members to see who is the real Warchief. And in the unlockable Boss Mode, you must face off against a string of boss battles to become the city's top dog.
King of the hill: Vie for the top slot on the leaderboards, and unleash the Warriors now!

Experience Ion Assault, an action-packed arcade-style space adventure with an unprecedented particle physics engine. Fight alone or cooperatively through four different modes and more than 20 exciting levels. Instead of conventional weapons, use the free energy particles that are abundant in space to fend off swarms of aliens.
Space adventure: Battle aliens with a unique fluid and particle system.
Variety of play: Explore more than 20 levels in four diverse settings with lavish graphics.
Upgrades: Earn upgrades for your spaceships, such as augmented speed or increased radius for collecting surrounding particles.
Multiplayer action: Enjoy various multiplayer modes like Cooperative, Arena, or Harvest with up to four players.
Power-ups: Collect special power-ups, usable for a limited time, such as Black Hole.
International flavor: Ion Assault is the first Xbox LIVE Arcade game developed in Germany.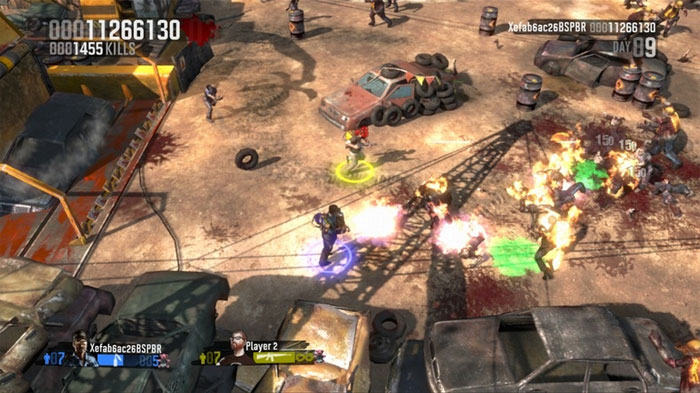 At the time of this posting, the official Xbox post for
Zombie Apocalypse
wasn't online, but it looks fantastic. A double stick shooter like
Robotron
(or a less frenetic
Geometry Wars
),
ZA
places you in the role of a survivor, fighting off wave after wave of the undead as you upgrade your weapons, accumulate points, and rescue other survivors.