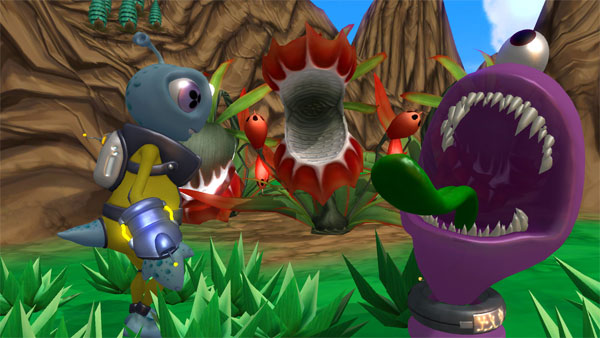 Today's new game releases on the XBox Live Arcade include a traditional Chinese tile game and an awesome new platformer, each priced at 800 Microsoft Points ($10). FunTown Mahjong is exactly what it sounds like: Mahjong brought to the 360 Arcade. The Maw might offer a little more bang for your Microsoft Points, as it's a full-fledged 3D platformer. Here's the official blurb from Xbox.com:
The pinnacle of alien evolution, Maw is a cowardly fat blob concerned mostly with snacking and lounging. He can, however, absorb the traits of anything he eats, is virtually indestructible, and can grow to unlimited size. If he wasn't a danger to all life in the universe, he'd make the perfect pet. In the action/adventure game The Maw, he's the best friend of our hero Frank, and only by working together, can Maw help eat their way to freedom. The Maw was honored with the Audience Choice Award in the 2008 PAX-10 showcase of independent games, and is a finalist at the 2009 Independent Games Festival for Technical Excellence.

The power of The Maw: Feed Maw a variety of different creatures and make him grow to help get through levels. Use Frank's plasma leash to control the indestructible Maw, as he grows, evolves, and gains new powers that can be used to get rid of enemies and solve level puzzles.
The teamwork of Frank and Maw: Frank and Maw must help each other to solve puzzles and get through each area. Frank's plasma leash can be attached to Maw as well as creatures and other objects to slam and toss things around.
Action and adventure: This single-player story-driven game features eight full levels with different puzzles and power creatures throughout.
Musical score: The original music score was created by God of War composer Winifred Phillips.
I'll likely be giving both games a demo run, but The Maw definitely looks like the steal of the week.
Check out the trailer:
Edit: It looks like you'll have to wait a little longer to get your mahjong fix. As pointed out below by CenobiteDK, that one has been delayed, so The Maw is your only XBLA new release right now.