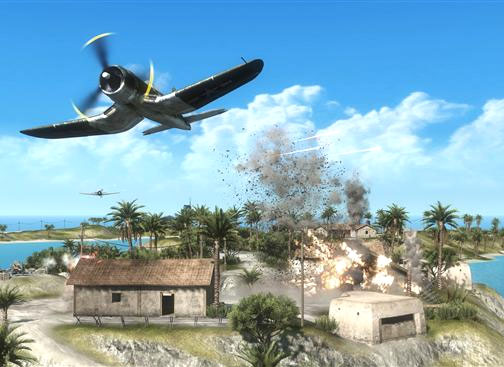 This week's new release on the Xbox Live Arcade is Battlefield 1943, a fully featured World War II shooter that's available starting today. Also of note this week is that N+, the crazy ninja stickman game, is discounted by 50%, down from 800 MS Points to 400.
Battlefield 1943 is priced at 1200 MS Points, or $15. Here's the official blurb from Microsoft:

Pick your path—be it as a rifleman, a steel-fisted tank commander, or ace fighter pilot. Play as a lone wolf or with your friends, coordinating to turn the tide of battle. Whatever you choose, in Battlefield™ 1943, enjoy the thrill of a fully featured online shooter.
By land, sea, and air! Unleash wide destruction with bombing raids, tanks, or fighter planes launched from aircraft carriers and enjoy one of the best vehicle experiences in any multiplayer game.
Varied locations: Play with 24 players online in three beautiful and destructible locations from the Pacific theatre. Whether you choose Guadalcanal, Iwo Jima, or the classic Wake Island, jump into the best balance of infantry combat complemented by land, sea, and air vehicles.
Frostbite-enabled destruction: Watch as the beautiful Pacific islands quickly turn into scarred battlefields as destruction rains upon you and your fellow soldiers as you fight to win the battle!
Ranking, persistence, and squad support: Featuring a deep, persistent ranking system accessible through a fully enabled website, track your stats and follow the leaderboards on the web. Jump directly into a squad to set up private matches and play with your friends.