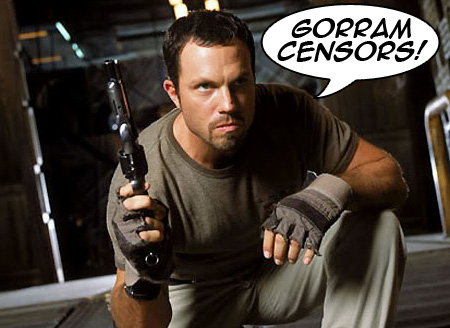 Growing up, there were words that I was taught in school and taught by my parents, and there were words that I just picked up on very quickly. I learned which words were "good" words and which ones were the "bad" words that I wasn't allowed to say, but human nature being what it is, not being allowed to say those words just made me want to say them even more. I don't think I ever got away with it, and many times during my childhood I was told not to curse because it didn't suit me. But that never ever happened when I said "naffing" or "nerk," two words that I picked up from an English television show from the '70s called Porridge which was set inside a prison and starred the great Ronnie Barker. The reason that I never got in to trouble for using those words is that they're not actually real words. They were swear words invented for the fictional world of Slade Prison. Though real or not, I never was brave enough to call anyone a "scrote" to their face.
I've always been fascinated by the language that we use in day to day life. This has nothing to do with languages; I still shudder at the thought of having to sit through Mr. Bailey's Irish language class in school. The only bit of Irish that I was ever able to learn was "an bhuil cead agam go dti an leaithreas, mar se do thuill e," and that was only due to a very persistent biological need. No, what I've always been fascinated with is the words that we embrace and the words that we shy away from, the words that we're taught and the words that we seem to just absorb from the people around us without ever being told what they are. Most of all though, what interests me is how afraid society has become of certain words and how we manage to work around these problems to say what we want to say without actually saying it. And in this article, there will be times when an example of a word will have to be asterisked so that it maintains the general American-daytime-TV level of language that this website adheres to. But there'll also be a lot of times when I use a word with a European-English spelling rather than the American-English spelling. That's the beauty of language, there are always many ways to say whatever it is you have to say.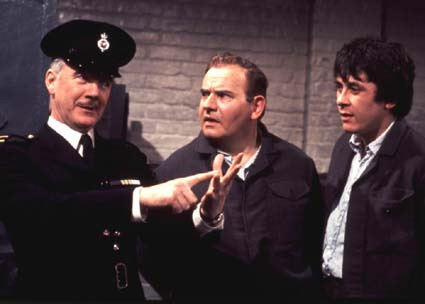 Not only is Porridge the earliest example of a show using fictional swear words, it's also the only example of a mainstream, non-sci-fi show doing it that I can think of. Later, more well known examples include all incarnations of Battlestar Galactica and Firefly.
BSG aired in America on the Sci-Fi Channel, owned by NBC, and Firefly was aired on FOX, both of which had to temper the language they used on the show while still trying to maintain a certain level of realism in their respective fictional universes. And, evidently, realism means that people swear. This reasoning is absolutely fine with me — spend fifteen minutes in my company or listen to me on Pubcast each week and you'll notice that I swear like a trooper. In real life, people also laugh and love and hate and fight, and there are any amount of shows on television that give us more than a little of that part of "real life." But I've yet to see any television show that has to invent its own form of violence. It seems that we can handle sex and violence and the evil that men do, but we can't handle naughty words on mainstream TV.
There's something about television-spawned neologisms that I can't help but love, even though a lot of them are just a way to get escape the censor's wrath. I love the fact that I can say "frak" (or "frack") in work without being told yet again that swearing in the office is unprofessional. I love the fact that I can say "frak" and absolutely intend the meaning of the word to be "f**k" but nobody realises it (I also love the protection that the humble asterisk will afford the writer of this article). Using "Gorram" is another favourite of mine, particularly because it sounds so very much like saying god damn, but because it's another almost-but-not-quite swear word, I can use it to my heart's content without anyone being able to hassle me about it.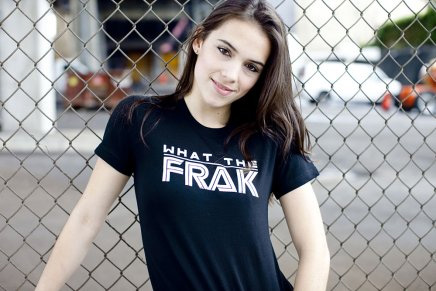 It seems that the smaller the audience for a programme or movie, the better the chance it has of being able to use certain words without having to censor itself. Shows on stations like HBO are able to get away with a lot more than shows on stations with larger audiences, thanks to the fact that people who watch HBO are paying for the privilege and know when they sign up what they're letting themselves in for. Though I can't help but wonder how SKY Broadcasting is going to broach this subject when Sky Atlantic, which is purported to be the home of HBO on this side of the world, is brought online for all existing SKY Television customers. I'm looking forward to seeing what this new home of HBO has to offer us and I hope that we get some good quality, mature storytelling that we've not been able to see over here before unless we knew where to stream an episode online. And I hope greatly that its inclusion on the SKY network of stations means it's considered "restricted" enough that episodes of shows like Boardwalk Empire can be aired in full. It seems like too much of a mainstream show to have considered making up its own language and start frakkin' around.
Kevin Smith has been called many things since Clerks debuted in the '90s. Some of those things have been good, some not so much. But I don't think that Smith has ever been accused of being excessively popular or of trying to appeal to the mainstream with any of the movies that he's written, and he can usually get away with saying what he wants to say in any of his movies, provided that there is a censor-imposed age restriction on the movie. Much like the HBO scenario, people have to pay to see Smith's movies' content and if they are offended by what they hear, well then, it's their own fault. But this rule doesn't apply to the title of Smith's movies, which are exposed to all the world, from the die hard fan (like me) to the overly sensitive and easily offended. In 2008, the easily-offended had a field day when Smith released a movie called Zack & Miri Make A Porno which, due to the fact that the title of the movie is totally accurate, is a movie that the makers of Season of The Witch would have done well to pay attention to.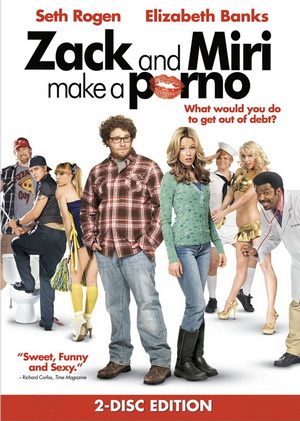 Smith's movie was ostensibly about two friends who decide to make an adult movie in order to raise cash, but in reality it was about how Smith made Clerks back in the '90s. Either way, though, it was pretty obvious that there was going to be a lot of language and probably some sexually explicit scenes in the film. Everyone was prepared for that. What people weren't prepared for was the uproar over the title of the movie, specifically the inclusion of "porno" in the title. Now, "porno" isn't an offensive word, it's not a swear word and, technically, it's not actually a word at all. But advertisers and cinemas were refusing to display any material to hype the film if the word was included on the posters. Even on the DVD copy which I own, even though it is seemingly displaying the full title, it's actually not. The title displayed on the DVD (and I assume the Blu-ray) is Zack & Miri Make A P [kiss sign] RNO. "Porno" doesn't actually appear on the case. And to be honest, I could nearly accept this censorship and oversensitivity were it not for the fact that the movie's theatrical release was at the same time as one of the woefully bad, lowest common denominator Saw movies. The poster for that particular piece of cinematic wonder featured a man wearing another man's face as a mask. Needless to say, this passed under the radar with no trouble whatsoever. Because gore is OK, sex is OK, violence is OK once we're seeing it. If it's spoken aloud or written down, then it has to be censored in order apparently to keep us from being corrupted.
Honestly, I think that it's this fear of censorship that causes the creators of TV shows to invent their own language so that they can say what they want to say without actually having to say it. But the thing is, it's actually turned out to be a boon rather than a hindrance and I think that it's a trend that's going to grow. Whether you're one of those guys who curses in Klingon or just find yourself using phrases and words that you hear in your favourite show, new language is being created as a way to avoid using the old language. It's a part of sci-fi now and it's not going anywhere. It's ingrained in our minds, it's expected. In a lot of ways… it's in the frakking ship.