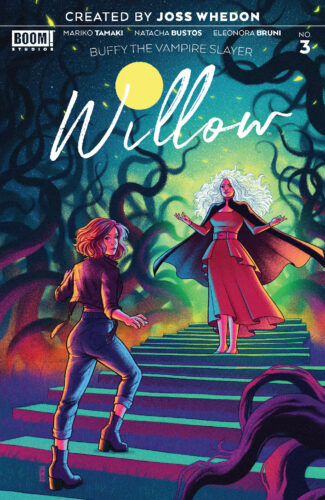 The exploration of Abhainn and its residents leads Willow to more questions. There's something weird about this town, but can Willow open her mind enough to find out what it is? Or will the lure of total acceptance be too much for her to overcome?
Note: This recap may contain spoilers!
We find Willow continuing her visit in Abhainn. Waking up after a night of fun festivities, the witch feels like she's been drugged. Even though she dismisses the idea, I have my doubts. This town is off, and that's made even more clear as Willow begins her day. Everyone at the inn greets her and wishes her good morning when she comes downstairs. This inclusiveness continues as she goes through town and is greeted by the other townspeople. The town seems to be more active today, but it's also clear that something odd is going on. Why would a bunch of strangers welcome her so readily?
Trying to find answers, she seeks out Aelara. After some initial fumbling, she flat out asks her if the town is a cult. Well, it's got all the signs of it, but Aelara denies that's what's going on here. She says that cults take power, but they do not because they are already powerful. A town full of witches doesn't need power, they need acceptance, and that's what Abhainn offers. It appears that Willow is taken in by the power and beauty of it all, accepting Aelara at her word.

For a moment, Willow and Aelara join and are transported to a dreamscape where they see Xander laying in the bed. Aelara says it's because Willow is sharing her heart with her, and Xander is in her heart always. Willow has found Abhainn because she was destined to. She needs the love and guidance the town has to offer, partially to deal with the burden she continues to carry. And Willow welcomes Aelara's friendship as well, agreeing to have dinner with her that night.
We leave the issue on a more serious note. As she departs Aelara, Willow walks through the darkened woods and comes upon the flock of birds gathered there. Quite the mysterious sight, as there have been no birds in town and it's almost like they're lined up on an invisible barrier that they cannot penetrate through. Upon her inspection, Willow is joined by a group of young girls who ask if she needs help finding her way, but they seemingly ignore Willow's attempts to explain how odd the whole bird situation is.

As the group is walking off, one of the girls turns back and looks at Willow. She appears lost, needy. Willow knows there's something weird going on and she's determined to find out what. But will she be strong enough to see her exploration through? Already, we've seen her taken in by the town and its power. Once she's back in the midst of it, will she once again fall under its spell or will the mystery beneath come to light? I'm looking forward to finding out!
Rating: 4 / 5 Stars