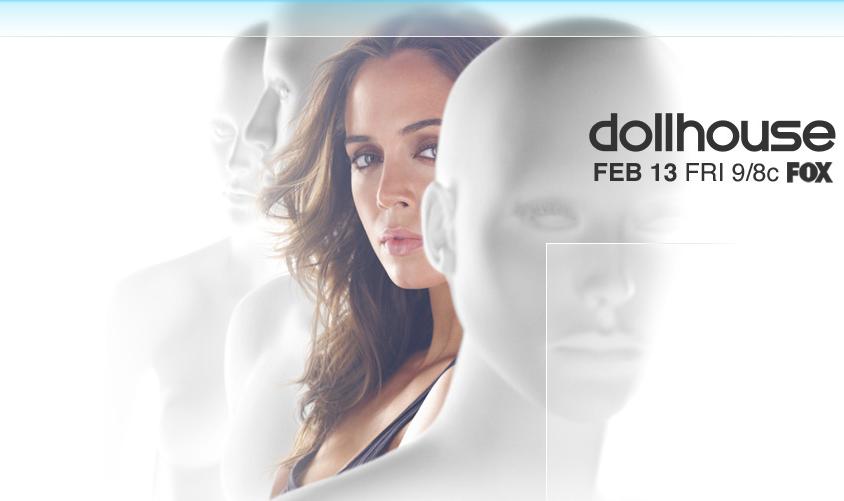 Since its premiere on Friday, February 13th, Joss Whedon's latest television series, Dollhouse, has received mixed reviews and decreasing ratings. Despite the fact that the series is gearing up for only its third episode, Joss Whedon fans, especially fans of his cult classic television series Firefly, may be wondering whether Dollhouse will make the cut or face the same fate as the crew of their beloved Serenity.
After watching the second episode of Dollhouse I immediately became a fan of the show, although I did understand why many viewers might not be. The problem is that the majority of television viewers watch TV as a way of escaping their daily lives. This is precisely why reality television shows like Survivor and cartoon series like The Simpsons and Family Guy are so popular: the combination of a short time span and simple premise replete with cutthroat competition, off-color jokes, slapstick humor, and other ridiculous antics distracts viewers from any of the larger issues that these shows address from time to time, and doesn't require them to engage in any type of critical thought.
Dollhouse, on the other hand, is not just fluff entertainment. In fact, the entire premise of the show is based on the increasingly unnerving and deeply troubling idea that there is very little, if anything, wrong with physically erasing a person's personality, implanting a new, foreign one, and then loaning the individual to wealthy clients for various purposes in order to make a very large profit.
As I mentioned, I was a big fan of Dollhouse after watching the second episode. What I didn't mention is the fact that I had not yet seen the pilot at the time, and personally I think it was a very good thing that I hadn't. Rather than focusing on how or why Echo became a part of the Dollhouse, the second episode ("The Target") focuses on the life-and-death situation in which she finds herself during a weekend in the woods with a seemingly charming client.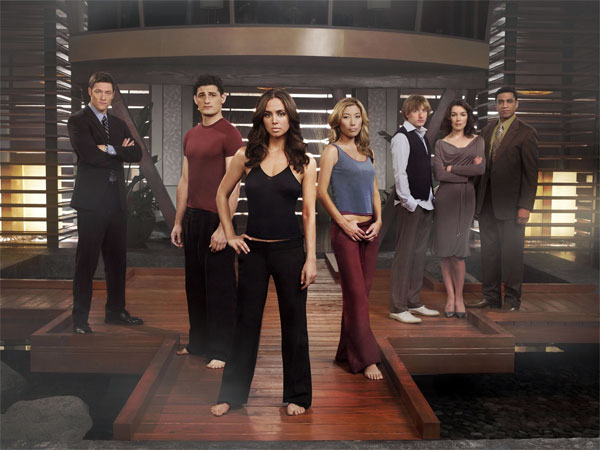 Despite the frequent flashbacks to the first time that Echo and her handler, Boyd Langton, met and began to develop a relationship, "The Target" pushes viewers to become more emotionally invested in Echo and her fight for survival than in any other aspect of her back story. In my experience, the intensity of the episode (and why it's so intense we won't say, just in case some of you out there haven't made it that far yet) kept me from wondering about Echo's past or the nitty-gritty of her various "missions". At that point, I thought about Echo the same way I would Cameron on Terminator: The Sarah Connor Chronicles. But that was before I watched the Dollhouse pilot.
"Ghost", as the pilot is titled, spends a great deal more time establishing the how and why behind Caroline's decision to join the Dollhouse and become Echo. The show addresses this process broadly, withholding specific details of the experiences Caroline has that bring her to the Dollhouse. While this approach at creating back story for Echo achieves what was undoubtedly its goal—intriguing viewers to wonder about the specifics of Caroline's life, causing them to become more invested in uncovering these details by continuing to watch the show—it also has a damning side effect: viewers are made acutely aware of the fact that Caroline was a real person with a unique personality that, for all intents and purposes, no longer exists.
This realization, in turn, causes many viewers to become extremely uncomfortable with the task that is then laid before them: determining whether they feel that what the Dollhouse does is morally wrong, as FBI Agent Paul Ballard does, whether the Dollhouse provides wealthy individuals an invaluable service that helps them in one way or another, as Adelle DeWitt and Topher Brink do, or if they even care at all.
The format of "Ghost" asks viewers to contemplate issues that can become highly problematic, even evoking feelings of discomfort or anxiety. What happened to Caroline's personality? Will she be anyone other than Echo ever again? What kind of situation was she in that made her feel that selling her body—which really is what she agrees to—to people who would have her performing tasks that she would never remember was a viable option? Perhaps the most damning thought of all is for female viewers: When Echo has consensual sex with a client, how does this affect Caroline? After all, it IS Caroline's body… If Echo ever becomes Caroline again, what will she do about the fact that she's been intimate with an unknown number of men (and perhaps even women?) while she was "sleeping"?
The answers to these questions are not simple or easy ones. Honestly, what viewer sitting down for a quiet evening of mindless entertainment wants to be hit head-on with these types of complicated issues?
The sad truth that Dollhouse fans and execs alike will have to face is that many viewers won't want to be bombarded with such moral and psychological issues after a long day of work. It's difficult to say yet whether Dollhouse will go the way of Firefly, but those of you who are worried about this possibility can take comfort in the fact that you are out there, Joss Whedon fans, and this is only the beginning.
Catch the latest episode of Dollhouse tonight on Fox at 9 p.m. EST.