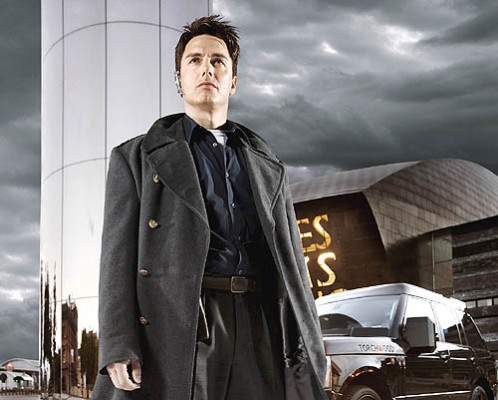 Torchwood: Miracle Day has just wrapped up for those of us watching on Starz here in the U.S., and if you're like me, you're still scratching your head trying to figure out what just happened (on several different levels). One question in particular that lingers in my mind is this: just who is this Captain Jack guy, anyway, especially in light of the events of Miracle Day?
I had watched the whole first series of Torchwood and probably part of the second before I realized that it was a spin-off of Doctor Who, and even then, it has only been recently that I have managed to catch up on the first three series of that show and learned all the back story about Jack and the Doctor. So, to help out fans of Torchwood who are not (yet) Whovians, as well as refresh the memories of Whovians who have forgotten what happened oh so long ago, here is a timeline of Jack Harkness's involvement in the worlds of Doctor Who and Torchwood. (I'm trying to keep it brief, so if you want more detailed episode summaries, I found very thorough ones at Wikipedia.com, linked from episode lists here and here.)
Doctor Who Series 1, Episodes 9 & 10: "The Empty Child" (May 21, 2005) and "The Doctor Dances" (May 28, 2005)
Rose and the Ninth Doctor meet Captain Jack Harkness, rogue time agent from the 51st century, in World War II-era London. After helping them with the alien menace du jour, he travels with them in the TARDIS for the remaining episodes in this series.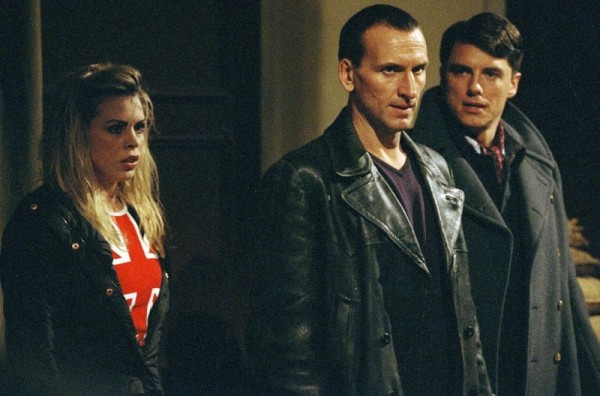 Doctor Who Series 1, Episodes 12 & 13: "Bad Wolf" (June 11, 2005) and "The Parting of the Ways" (June 18, 2005)
The trio goes back to Satellite Five where Jack finds himself exterminated by Daleks. Rose looks into the heart of the TARDIS and absorbs energy from the time vortex, enabling her both to defeat the Daleks and to bring Jack back to life. He is left behind when Rose and the Doctor take off in the TARDIS.
Doctor Who Christmas Special: "The Christmas Invasion" (December 25, 2005)
Jack does not appear in this episode, but I mention it because of a key scene that will have relevance later on. Towards the end the newly regenerated Tenth Doctor finds himself on an alien ship high above London, having a sword fight with a Sycorax. At one point, his hand is cut off and falls down through the clouds. He still has all this post-regeneration energy, though, so he is able to grow a new hand and finish saving the world, yada yada yada… but what happened to the first one?
Doctor Who Series 2, various episodes (April-July, 2006)
Several episodes in this series mention various iterations of Torchwood at various points in history. Particularly important is episode 2, "Tooth and Claw," at the end of which Queen Victoria in 1879 decrees the formation of an organization, based at the Torchwood estate in Scotland, for the purpose of studying alien threats (including the Doctor) and protecting England from them. The ending two-parter of Series 2 ("Army of Ghosts" and "Doomsday") is all about Torchwood One, based in the Canary Wharf area of London. It is destroyed in the battle between the Daleks and the Cybermen in what comes to be known as the Battle of Canary Wharf.
Torchwood Series 1, Episode 1: "Everything Changes" (October 22, 2006)
The mysterious, charming, and horny man known as Captain Jack Harkness is head of Torchwood Three in Cardiff, Wales. He is also in possession of a severed hand in a glowing container and has the unnerving tendency to gasp his way back into life every time he is killed. He tells policewoman Gwen Cooper that he has been trying for a very long time to figure out why he can't die, but he thinks that "the right kind of doctor" can explain to him what is going on with the immortality thing.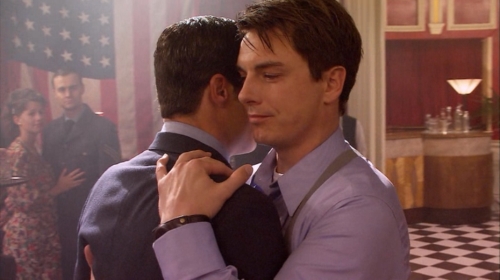 Torchwood Series 1, Episode 12: "Captain Jack Harkness" (January 1, 2007)
Jack and Tosh end up in 1941 and he tells her how he took the name of a pilot who had been killed in action from RAF records. Before the night is out, they come face to face with the real Captain Jack Harkness, just days before his fatal mission.
Torchwood Series 1, Episode 13: "End of Days" (January 1, 2007)
In the last few minutes of the episode, Jack notices that the container holding the severed hand is starting to glow and he hears the unmistakable (to Whovians, anyway) sound of the TARDIS appearing. When the rest of the Torchwood team returns to the Hub, they find both Jack and the hand missing.
Doctor Who Series 3, Episodes 11-13: "Utopia" (June 16, 2007), "The Sound of Drums" (June 23, 2007), and "Last of the Time Lords" (June 30, 2007)
The opening of "Utopia," immediately follows the ending of the last Torchwood episode, "End of Days." The TARDIS appears in Cardiff's Roald Dahl Plass and Jack launches himself at it just as it is disappearing, at which point he is rewarded with a wild ride through the time vortex as he holds on for dear life. He meets the tenth Doctor for the first time along with his companion Martha Jones, and he joins them for the rest of this series. Jack tells the Doctor that after he was left behind at the end of "The Parting of the Ways," he used his vortex manipulator to escape, ending up in the 19th century. Since then, he has been waiting for the Doctor in Cardiff, knowing that the Doctor would eventually come there to refuel the TARDIS at the Rift. He also returns the Doctor's hand and finds out that Rose's use of the vortex energy to resurrect him caused him to be a fixed point in space and time, preventing him from dying permanently.
Torchwood Series 2, Episode 12: "Fragments" (March 21, 2008)
In a flashback, we learn how Jack joined Torchwood in 19th-century Cardiff to pass the time until the Doctor returned. Over a hundred years later, in 1999, Jack is given command of Torchwood Three (as the Cardiff branch is officially known) just before the previous team leader commits suicide, having gone crazy and killed the other team members. Jack then proceeds to recruit new members and rebuild the team, as we see through Tosh's, Owen's, and Ianto's flashbacks.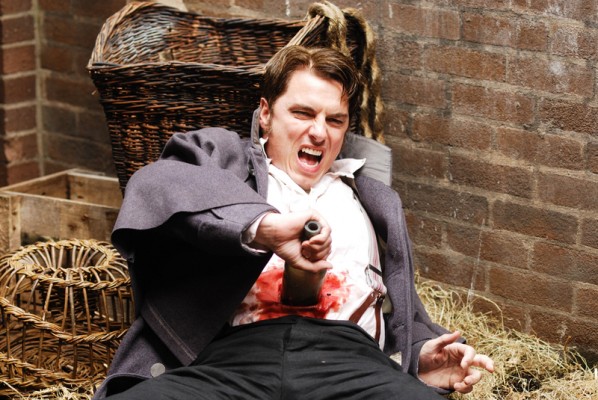 Torchwood Series 2, Episode 13: "Exit Wounds" (April 4, 2008)
Another former time agent named John Hart takes Jack back in time 2000 years, to where Jack's younger brother Gray waits for them. Gray buries Jack alive as revenge for an incident that happened when they were children. Back in the present day, the Torchwood team finds him banging on a cryo chamber after waking up — he had been frozen there since just after a Torchwood team found him in 1901.
Torchwood: Children of Earth (Series 3, July 6-10, 2009)
There are no changes to Jack's timeline here, just a few details added about his more recent past. We learn of his mid-20th Century dealings with the 456 and that he fathered a daughter; she is now grown and has a child of her own who thinks that his grandfather is his uncle.
Torchwood: Miracle Day (Series 4, July-September, 2011) – What the Heck?
That brings us to the most recent series. What bothers me about it (well, the biggest thing — there were many things that bothered me about Miracle Day, not least of which was Jack's repeated use of the coat as his wingman in bars), is that the treatment of Jack's immortality bears little or no resemblance to everything we know about him from previous episodes of Doctor Who and Torchwood, as I have outlined above. Despite the repeated explicit references to Doctor Who for the first time in the history of the series (previous mentions were few and far between, and always indirect, like the unexplained presence of the Doctor's hand), the writers seem to have very little experience with Jack's history as revealed during his two separate stints in the TARDIS.
(Before I proceed, let me throw in a spoiler warning. After the picture I will begin discussing some particulars of Miracle Day that you may not want to know if you have not yet seen all of the episodes.)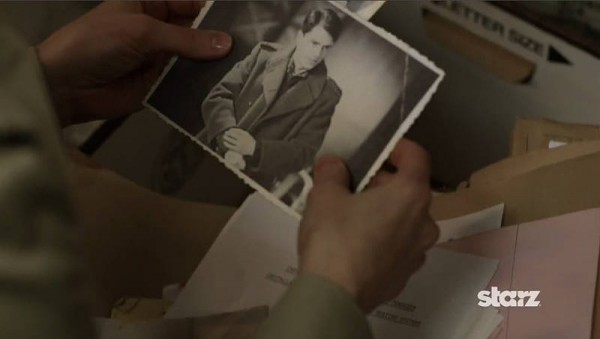 I'm having trouble with the idea that Jack's immortality is somehow linked to or manifest in his blood. Are we now to believe that the vortex energy with which Rose resurrected him changed his blood and that's what makes him come back to life each time he is killed? I can't think of any other explanation. Does that mean that it is this changed blood that makes him a fixed point in time and space? But if that's the case, then why, when the miracle happens, do people still get injured and get sick and age at a normal rate instead of healing themselves like Jack does? Are they now fixed points in time and space like Jack is? If so, again, why are they not acting like Jack does? And how has this all of a sudden reversed Jack's status as a fixed point, allowing him to be injured and (presumably, since it's never actually tested) mortal? It's not like Jack has some piece of alien tech or DNA that causes his immortal state and can be tampered with, yet that is exactly how the writers seem to be treating his blood, down to the matter of causing immortality in another person after he has been transfused with Jack's blood, no vortex energy needed.
After seeing the last episode, Torchwood: Miracle Day has left me with a whole lot of questions and a huge sense of disappointment for what has been done to a show that I really liked — yes, even the first two series that many people think were awful! Am I just confused because I missed an important plot point somewhere along the line, or are others noticing the same things I am? I would love to hear others' opinions on this matter, so please leave a comment to either shed some light on my confusion or commiserate on the state of the show, as the case may be!