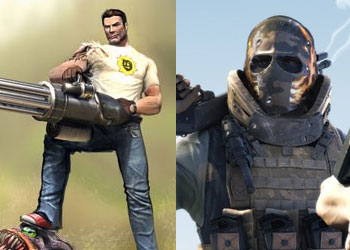 Starting this week I'll be taking a look at what I think are the most interesting new video games being released during the coming week. Feel free to let me know if I've missed something you think will be cool or if I've included something that doesn't register on your cool-o-meter.
Retail Releases
Army of Two: The 40th Day — This sequel looks to be more mercenary gun action, once again with a heavy emphasis on co-op gameplay. It's releasing for the Xbox 360 and PS3 this week.
Sands of Destruction — A new Japanese RPG on the Nintendo DS isn't a rare thing, but this game's backwards plot is an interesting selling point. In a typically convoluted JRPG manner, your goal is not to save the world but to destroy it… which, apparently, will in the end save it… somehow.
Downloadable Releases
Serious Sam HD: The First Encounter — Serious Sam is a classic first person shooter franchise that loves throwing massive numbers of enemies at you after loading you up with some crazy powerful guns. Sam makes his way to the Xbox 360 for the first time this week, via the Xbox Live Arcade.