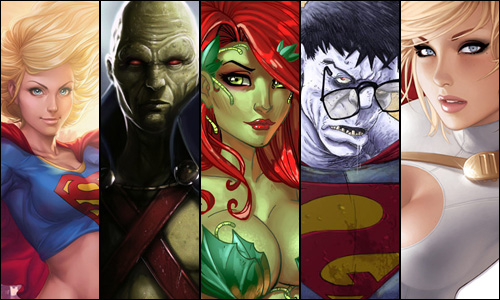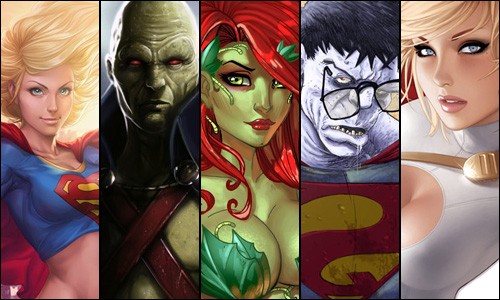 Netherrealm's latest game, Injustice: Gods Among Us, just might be the company's most fun and most widely accessible fighting game to date. Borrowing the gameplay look and feel from their 2011 Mortal Kombat release, the developer pits the heroes and villains of the DC universe against each other for an outstanding battle of superpowers. The DC Injustice game boasts a roster of 24 characters at launch, but in this era of early and often downloadable content, we're sure to have a slew of new combatants on the horizon. Netherrealm already has advertised that at least four new characters are coming as part of their purchasable season pass, the first of whom will be Lobo, the alien space biker / mercenary, but they've been tight lipped about what other characters will join the roster and how many more heroes and villains beyond that initial pack of four might be in the pipeline. Being a lifetime comics fan and a recent devotee to this excellent fighting game, I couldn't help but toss out some guesswork and suggestions about additional characters we need to fill out the roster.
The Heroines:
Injustice has a stellar lineup, but it's a little light on the women of the DCU with females making up only a quarter of the playable characters. Netherrealm could adjust that imbalance a bit by adding some of these super ladies into the fold.
Batgirl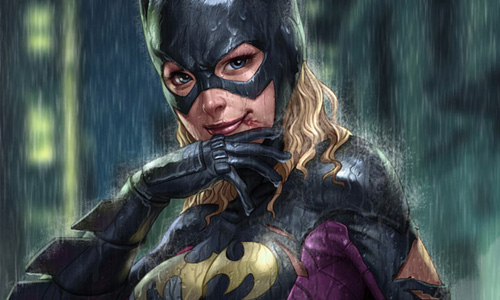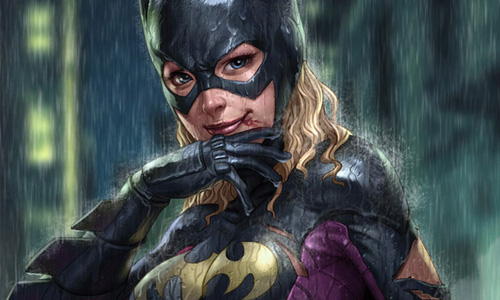 Art by: Artgerm
Powers: Gadgets, Acrobatics, Unarmed Combat
Super Moves: Being part of the Bat crew, Batgirl has some of Batman's tricks up her own sleeve, including the signature batarangs. She shows off her facility for technology by deploying some devices of her own design, as well as leaping and flipping around her opponents with athletic grace.
Costume Variants: Barbara Gordon (classic costume), Stephanie Brown (black and purple), Cassandra Cain (black with full face mask)
Supergirl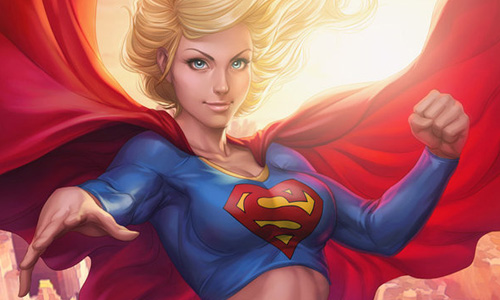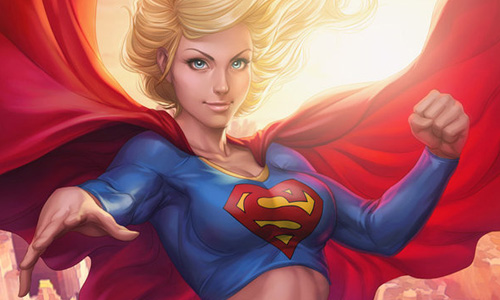 Art by: Artgerm
Powers: Super Strength, Flight, Heat Vision, Ice Breath
Super Moves: Possessing a power set very similar to that of Superman, Supergirl is a force to be reckoned with. Her character specific powers involve a lot of flight and flashy fisticuffs.
Costume Variants: Golden Age (blue skirt, full blue shirt, red cape), Michael Turner Design (see above), New 52 (blue tech bodysuit and high collared red cape)
Black Canary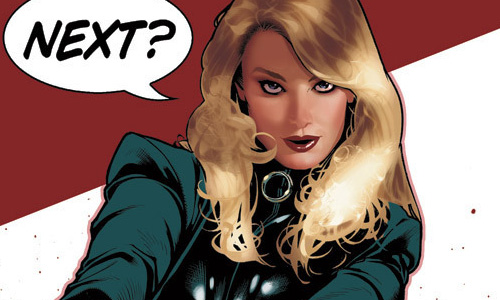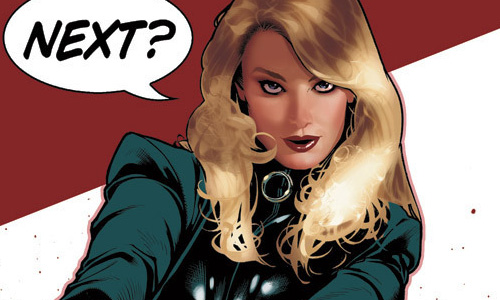 Art by: Adam Hughes
Powers: Martial Arts, Sonic Scream
Super Moves: Black Canary is most commonly associated with her sonic scream ability, and that power plays a big role in her ultimate move. Many don't realize that she also is one of the most skilled martial artists in the DC canon. They're about to learn, though!
Costume Variants: Classic (black leotard, jacket, and fishnets), New 52 (blue and yellow sleeved leotard with blue fishnets), Earth Two (diamond mask, short dress, and collared boots)
Huntress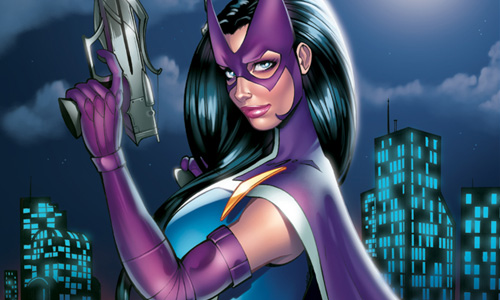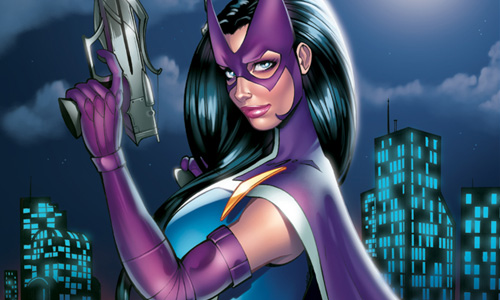 Art by: Elias Chatzoudis
Powers: Crossbow, Staff, Acrobatics
Super Moves: Huntress is an expert marksman, and her super moves will make her a power ranged character in line with Green Arrow. She can switch up to fighting with a staff for up-close encounters, and her super moves will combine her deadly variety.
Costume Variants: Original (pink and purple leotard with blue cape), Rubber Nun (black and purple bodysuit with pouches), Hush (extended domino mask, black and white cross leotard with stomach window)
Power Girl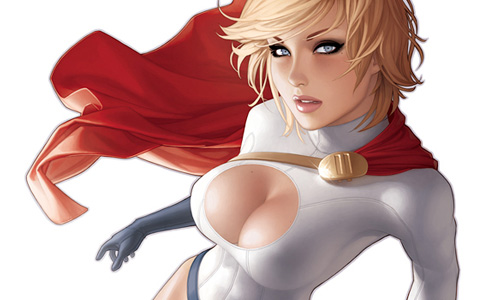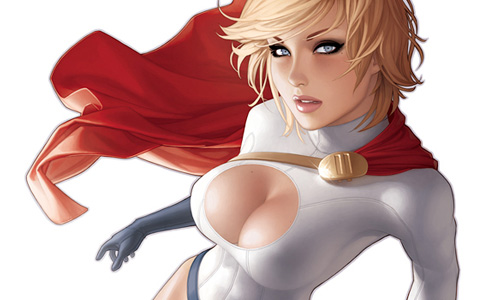 Art by: Warren Louw
Powers: Super Strength, Flight, Heat Vision, Ice Breath
Super Moves: Power Girl's power set overlaps greatly with Supergirl's, so likely only one or the other of these super ladies would be added to the lineup unless Netherrealm found a way to meaningfully distinguish one's gameplay from the other's. Power Girl is an ultra powerful wrecking ball and could go toe to toe with Kryptonians.
Costume Variants: Classic (white leotard with chest window), Nightwing Armor (black and red power armor with red bat wings), New 52 (red, white, and blue full body suit with red cape)
Zatanna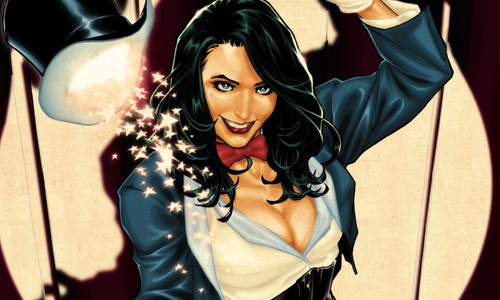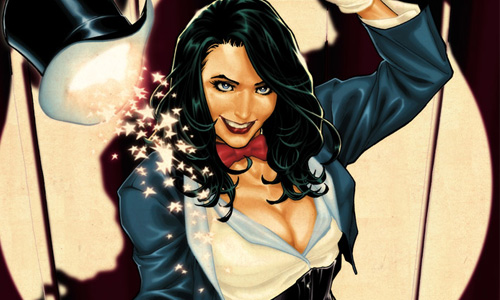 Art by: Mark Brooks
Powers: Magic, Levitation
Super Moves: Zatanna casts her spells by reciting incantations backwards. Each of her super moves is punctuated by her calling out the spell in her characteristic manner, and mystical energy lights up the arena as she fights.
Costume Variants: Classic (black and white suit with top hat and bowtie), Justice League Dark (black and white corset with black pants), Earth-One (blue and black costume with white cape)
The Heroes:
Most of DC's male A-listers are present and accounted for, so here are a few second stringers that would provide some variety for the player select screen.
Elongated Man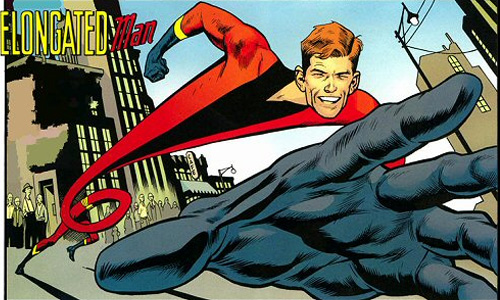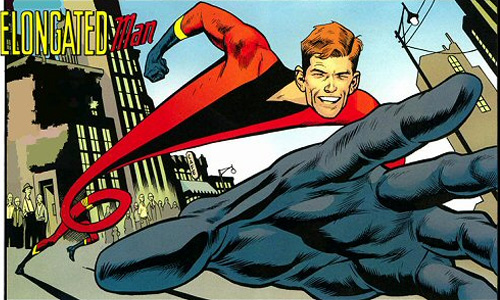 Powers: Elasticity, Shape Shifting
Super Moves: Injustice is conspicuously missing any stretchy characters. Plastic Man could fill this spot, but my vote goes to Ralph Dibny, aka Elongated Man. His elastic body provides for all manner of grabs, slaps, and extensions at various ranges across the screen.
Costume Variants: Red and Black Costume, Purple and White Costume, Business Suit
Martian Manhunter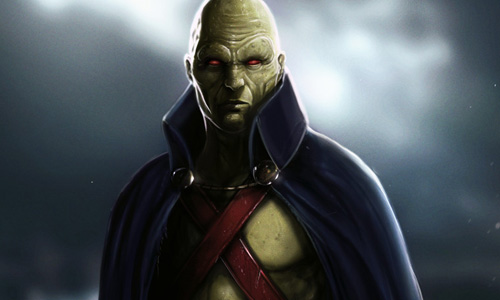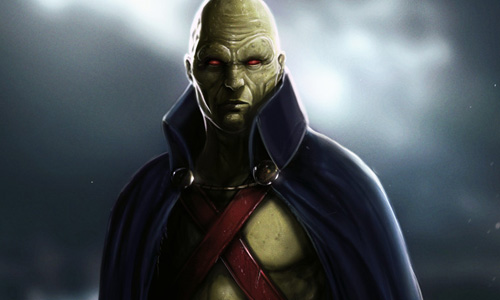 Art by: Mattias Fahlberg
Powers: Flight, Shape Shifting, Phasing, Super Strength, Telekinesis
Super Moves: The Martian Manhunter has a full array of interstellar abilities that make him a formidable fighter. His phasing power makes for a very effective blocking maneuver, and he's able to interact with the arena environments through his telekinesis. His shape shifting allows him to transform into all manner of implements of destruction for his opponents.
Costume Variants: Classic (red crossed straps and blue cape), Black Lantern (black and white Lantern uniform), New 52 (blue cape with mantle, red loincloth, and blue pants)
John Constantine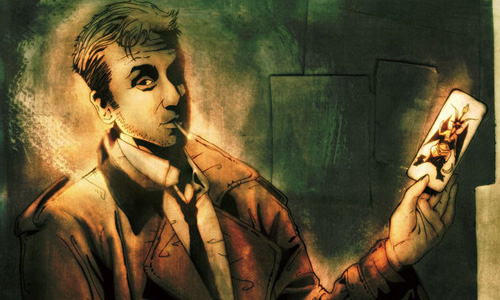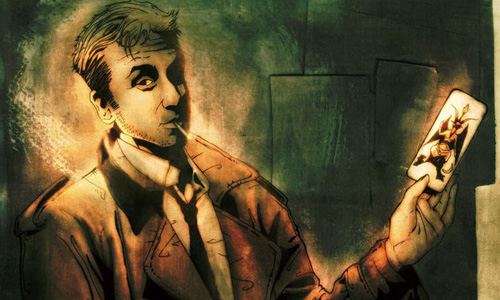 Art by: Javier Pacheco
Powers: Hypnosis, Magic, Necromancy
Super Moves: John Constantine manipulates reality on a whim. While not a physical powerhouse, he can conjure up lots of nasty tricks and even hurl Hellfire at his opponents. Raising the dead to do his bidding wouldn't hurt, either.
Costume Variants: Classic (brown trenchcoat), Movie (black trenchcoat)
Jonah Hex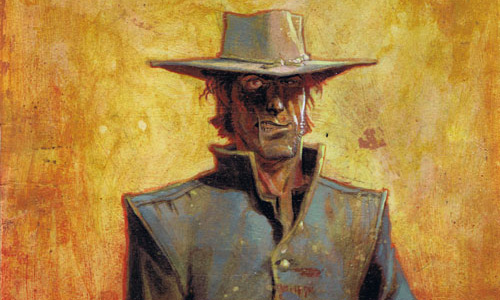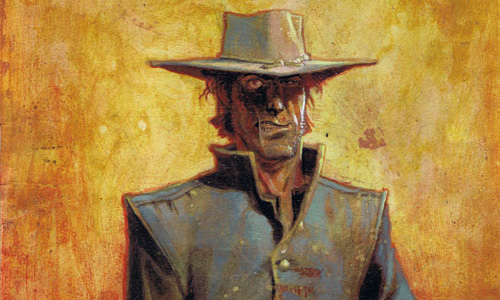 Art by: Andrew Robinson
Powers: Guns, Healing, Brawling
Super Moves: Jonah Hex is the ultimate Wild West badass, and his move list is full of ways for him to take down the bad guys at range with his pistols. He's able to take a beating and keep fighting, and his ultimate move leaves his enemy trampled by wild horses and perforated with bullets.
Costume Variants: Soldier (Confederate uniform), Bounty Hunter (Wild West garb and bandanna)
The Villains:
What good is a hero without a villain to fight? Here are a few deserving baddies who need a slot in Injustice.
Darkseid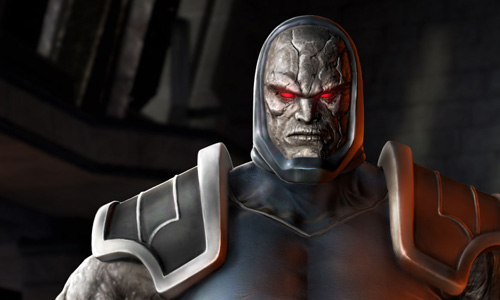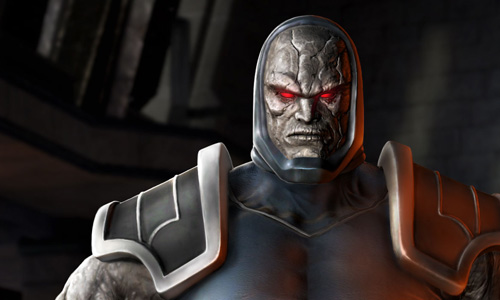 Powers: Super Strength, Teleportation, Omega Beam
Super Moves: Darkseid is one of the most powerful villains in the DC pantheon, and his strength rivals Superman's. His primary weapon is his versatile Omega Beam that fires from his eyes and can be used to inflict damage or even to teleport its victims. Darkseid also can teleport himself, useful for movement around the combat arena.
Costume Variants: Uxas (human appearance in red and yellow New Gods costume), Classic (blue tunic and shorts with gloves and boots), Earth-0 (blue, red, and gold armor)
Poison Ivy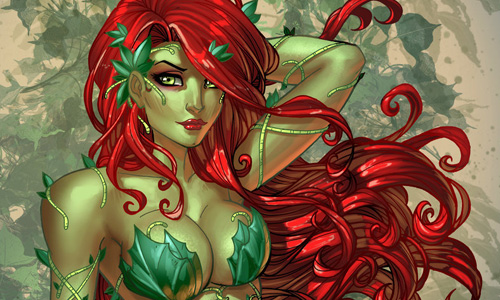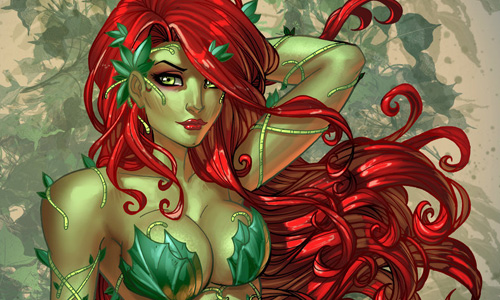 Art by: JamieFayX
Powers: Hypnosis, Plant Control, Chemical Attack
Super Moves: Poison Ivy has plants do her bidding for her, so expect plenty of viney tendrils and flyptraps to assault you if you go after her. She also can stun opponents with her hypnosis, and her skin can secrete deadly chemicals that make her punches pack more damage.
Costume Variants: Classic (leafy green leotard with green leggings), Arkham Asylum (orange Asylum jumpsuit), New 52 (black and green bodysuit)
Bizarro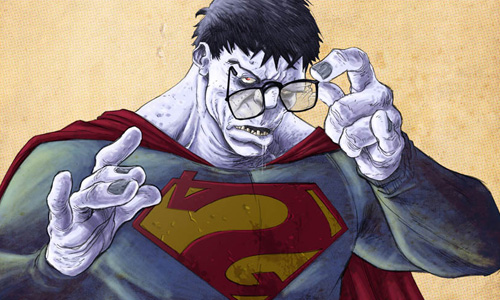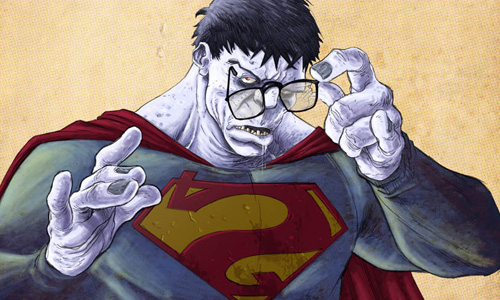 Art by: Marcelo Di Chiara
Powers: Super Strength, Flight, Flame Breath
Super Moves: Created by Joker as an alternate and imperfect version of Superman, Bizarro is a reverse version of our world's hero. As such, his powers mimic Superman's, but his control scheme is the reverse of Kal-El's.
Costume Variants: Origin (classic Superman costume and pale skin), Reverse Bizarro (backwards "S" on Superman costume and "Bizarro #1" medallion)
Killer Croc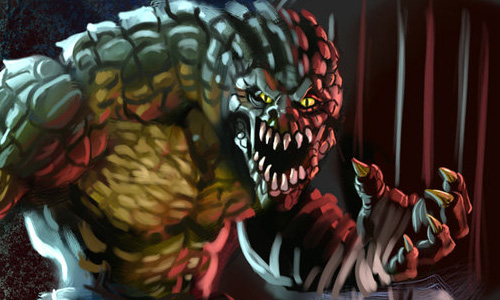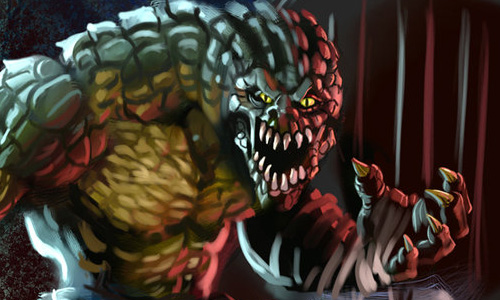 Art by: GrimbRo
Powers: Super Strength, Claws, Bite, Tail Attack
Super Moves: We all fought Killer Croc in Arkham Asylum, so we already know what to expect: a giant, feral beast that is all scales and claws! He's fast and big, and his tail can whip around for a sweeping attack while his teeth and claws rip and tear at his foes. Croc currently makes an appearance in one of Injustice's arenas, so he has one scaly foot in the door already.
Costume Variants: Classic (green scales and pants), Animated Series (grey scales and pants), Arkham Asylum (shackles on neck and legs, and orange prison pants)
General Zod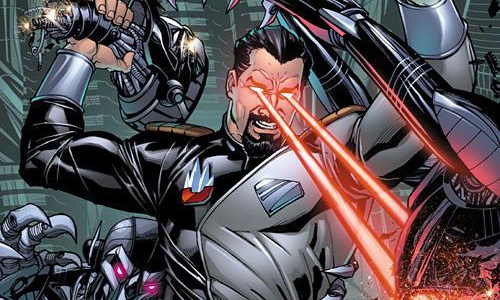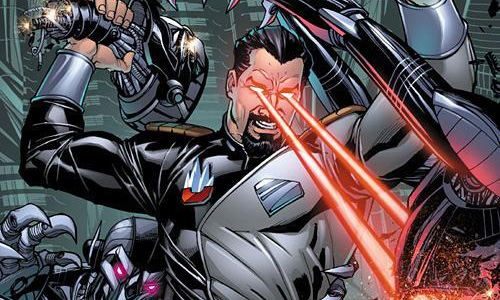 Powers: Super Strength, Heat Vision, Flight, Ice Breath
Super Moves: Hailing from Krypton, Zod shares Superman's amazing abilities and is a vicious leader and fighter. His fighting abilities are similar to those of Superman, but his ultimate move calls in his fellow Kryptonian prisoners, Ursa and Non, to perform a devastating combo attack with him.
Costume Variants: New 52 (see above), Superman II (Terrance Stamp's black costume from the movie), Man of Steel (Michael Shannon's armor from the movie)
Honorable Mention:
In addition to the proper DC Universe, DC also owns a number of secondary imprints with their own universes of heroes and villains. The honorable mentions on this list are worthy characters that don't quite fit into the mainstream DCU. After the New 52 reboot in DC's comics rolled the Wildstorm characters into the same world with Batman and Superman, anything is possible for Injustice.
Rorschach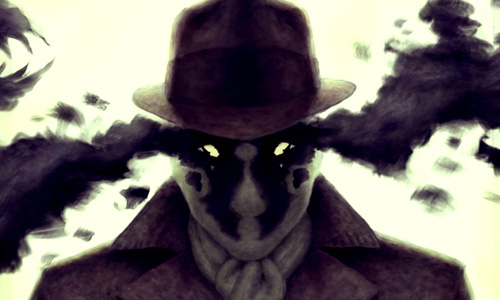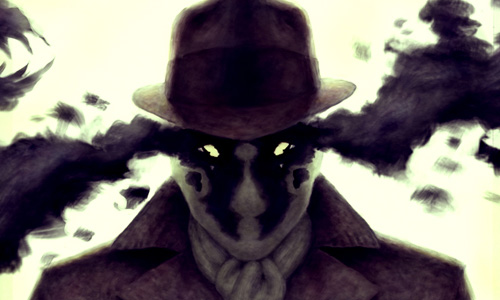 Art by: Darko Kreculj
Powers: Martial Arts, Gadgets
Super Moves: An intimidating crimefighter and member of the Watchmen, Rorschach brings his grappling gun and unforgiving fury to the battle. His ultimate attack terrifies his opponent with a shifting pattern on his mask while he slowly and deliberately breaks their bones.
Costume Variants: Classic (comic costume with purple hatband and undersuit), Movie (shiny coat and hat design from the film)
Grunge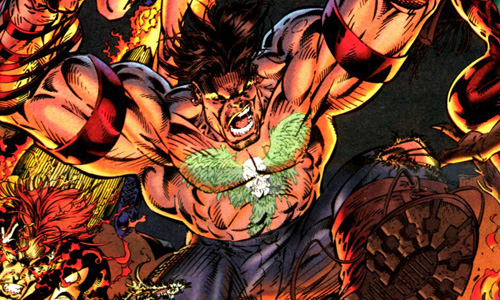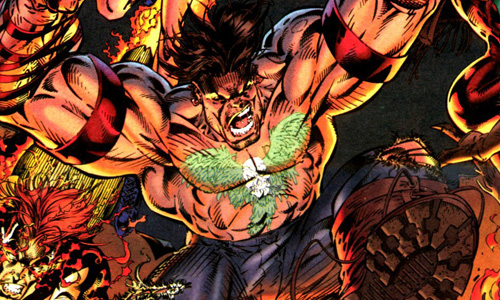 Powers: Super Strength, Absorbing Power
Super Moves: An unlikely addition to the roster, Grunge (formerly of Gen13) makes for an interesting and powerful combatant with his absorption powers. He can phase parts of his body to match any object he touches, so he'll come at his enemies with fists of metal and stone or withstand their attacks by shifting his own body to diamond.
Costume Variants: Classic (see above), New 52 (power bands on arms)
Jenny Sparks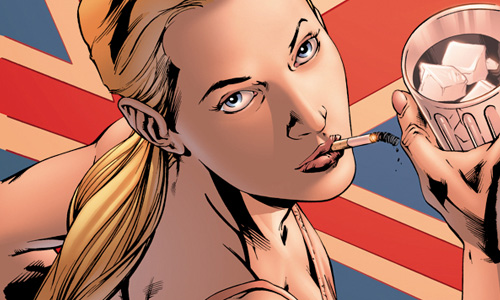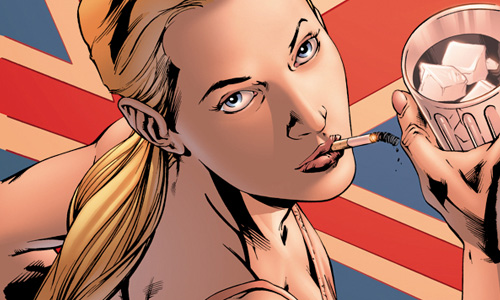 Powers: Electricity, Immortality
Super Moves: As the Spirit of the 20th Century, Jenny Sparks is essentially immortal for 100 years. That translates into Injustice as a lady who can absorb a lot of damage. She also controls electricity both for offense and defense, and she hurls lightning at her foes with wild abandon.
Costume Variants: Classic (Union Jack shirt), White Suit (black shirt under white jacket and suspenders)
Engineer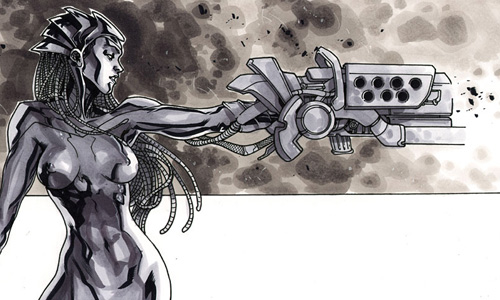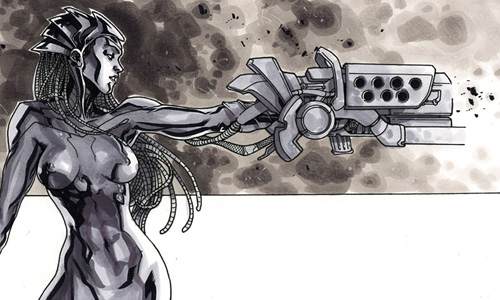 Art by: Mahmud Asrar
Powers: Elasticity, Force Field, Liquid Nanobots
Super Moves: Engineer, a key member of The Authority, replaced her blood with liquid nanobots and now can produce all sorts of weapons from her own body. She also can manufacture force fields and manipulate her own limbs to attack and defend. As a female counterpoint to Cyborg, she's a formidable addition to the Injustice lineup.
Costume Variants: Engineer (metallic skin and hair), Angie Spica (human form)
---
What say you, comic and game fans? Do you like our picks, and do you have additional ones of your own? Who do you want to see as a new playable character in Injustice?