There have been many people who have commented on the pun.  Edgar Allen Poe once said, "The goodness of the true pun is in the direct ratio of its intolerability." Meanwhile, the Doug Larsons of the world may think, "A pun is the lowest form of humor, unless you thought of it yourself." I humbly beg to differ. They clearly feel this way because they have never read The Princess Planet. Now, this is a webcomic that could even make the dark Poe slap a knee in a fit of mirth.
Brian McLachlan has created a world of puns, princesses, pirates, and adventures (what, you thought I was going for the alliteration)? Princess Christi has decided she's had enough of the regular princess scene and needs adventure as a treasure inspector. Along with a cast of recurring characters, the comic goes from a few different formats, from a strip to a page to the current two rows, but it always delivers a laugh. It is totally "the awesomes," and if you don't think so you're a-shut up!  Besides Princess Christi of course, do you know who else is the awesomes?  Brian McLachlan for taking the time to chat with me about The Princess Planet.  Hoorays all around!
Kelly Melcher: First, would you mind introducing yourself and telling us about your background in comics?
Brian McLachlan: (cue theme music — sound of cheering crowds)
And now… the man who puts the ill into illustration, the pun into punchlines, the "Oooooo!" into cartoons… Brian McLachlan!!!
How's that for an introduction? I'm usually much more quiet in person and I often use the French exit at parties, but if you're asking for an introduction, I might as well make it a fancy one.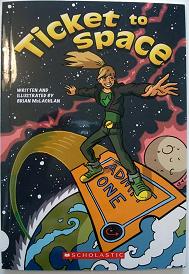 I've got two paths to trace, one for kid's comics and one for old people. For kids' comics it starts when I was 8 years old and my drawing of a futuristic human was published by Canadian children's staple, Owl Magazine. For some reason I decided we would turn green and walk on our arms which would be longer than our legs. About 20 years later I had the opportunity to take over writing their comic Alex & Charlie (kind of like tween Archies) and I passed the test with both flying colours and flying saucers. Since then I've written that monthly strip as well as making games, puzzles, valentines and other fun content. Textbook titan Nelson also hires me to do illustrations and comics to get kids more interested in learning. I've done gags for Nickelodeon Magazine and this year saw the release of a graphic novel reader I did for Scholastic Canada called Ticket To Space. I got to go to the Canadian Space Agency and interview an astronaut trainer for research. Super fun! Somewhere in there I started to do The Princess Planet, an all ages comic that's appeared in a few places including the Toronto Star's kids' section, where I also wrote kids' horoscopes as Phantasmo Starseer.
On the adult path, my first writing gig was for Vice Magazine where I wrote over a baker's dozen worth of articles plus lots of reviews and other things. There was a club/rave magazine called Tribe I did a monthly comic for as well. This led to some work with Sleazenation, Yellow Rat Bastard and other magazines with names I was somewhat embarrassed to tell my mother. One of my Tic Tac Machete comics even had the honour of running opposite an ad for a Fleshlight. Anyway, I also wrote the cussing-filled record store/office space/culture jamming/romantic comedy graphic novel No Dead Time for Oni Press. That led to one of my career high moments, when I sent a copy to Janeane Garafolo and she gave me a big up on her radio show. Hoorays!
KM: Where did the idea for The Princess Planet come from?
BL: The idea for The Princess Planet came to me when I was trying to write a biography of Thomas Edison and I kept getting all the facts so wrong that I might as well make him a princess and change William J Hammer into a snowman and throw accuracy to the wind. So it's an an allegory for the rise of technology, basically.
KM: Did you have any idea when you started it that it would still be ongoing today, and how long into the future do you see yourself creating it?
BL: Yeah, I figured this had legs because it combines everything I enjoy: sword and sorcery, space opera, monsters, pretty girls, puns, nonsense, ice cream… it was also important it was 6 panels. I make some bad jokes but if I only had 3 panels, I wouldn't be able to really overkill and mutate the joke so much that it would become actually funny by the end. Rhythm's important for comedy.
KM: How do ideas get from your head to where we can read them on the web for The Princess Planet?
BL: I do a lot of brainstorming. I also write down any words I hear incorrectly. I'm still trying to work out a gag based on when a guy had a bandage covering his new tattoo and he said "It's pretty scabby." I heard "It's Police Academy" and imagined a permanent ink rendering of Tackleberry, Mahoney, Callahan, and Michael Winslow.
Then every few months I sit down and work and rework jokes until they're funny to me and I draw about 12 at a time in blue pencil. Ink them with PITT brush pens, scan them, colour them with magical fairy dust and then the gremlins that make the computer work carry them down a system of tubes and into the Internet where people can enjoy the heck out of a new one every Sunday.
KM: Where else can we see your work, and do you have any projects we should be keeping an eye out for in the future?
BL: My next big project is graphic novel called Smooth N Natural. It's a retrosexual, blaxploitation comic with hardcore parkour and softcore sex.
KM: To date, what has been your favorite strip/pun/running joke from The Princess Planet and why?
BL: My favourite strip might be the one where the snowman is afraid they're going to bump into animated skeletons and instead they bump into muscles. It's pretty gross and I wonder why it's not actually a horror story staple. The art on that one is terrible because it's so old, so I'll also pick a newer one where Princess Boo is fighting the vampire because I like the drawing, colouring and there's a bunch of strong jokes in there.
KM: Besides princesses in spandex superhero outfits, what would you consider yourself a fan of?
BL: I never thought of Christi in spandex. I always thought of it as a spacesuit made of futuristic material (that would probably just be padded leather in the movie version).
But what else am I fan of? Picture-wise people should come to the Transmission-X forums and see the "artists who inspire me" thread in the Princess Planet section.
Otherwise I'd say I'm somewhat fanatic about:
-rifling through dollar bins at comic cons and looking for super fun and ridiculously bad comics, like The Young Lawyers, Super Cops (imdb the movie!) and Brute Force about cybernetically enhanced animals who fight on behalf of the environment.
-Conan the Barbarian in many of his forms, including the old pulps, the old and the new comics, the movies and even the animated tv show from the 80s.
–Mr. Show (I actually try to pay attention to who wrote what skit)
-having good times with friends like scavenger hunts, playing the urban tag and go seek game manhunt (how I met my wife) and cooking ingredient showdown battles.
I would like to thank Brian for taking the time to chat with me about The Princess Planet.  I would also like to congratulate him and his wife for recently tying the knot!
"Hanging is too good for a man who makes puns; he should be drawn and quoted." – Fred Allen