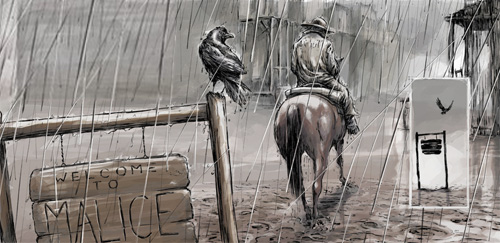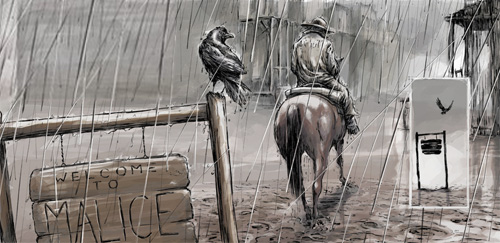 "Somewhere in the mysterious Shadow Valley lies a secret that could forever change the face of the frontier. To protect that secret, a posse of gunmen with special abilities must come together and defend against a tribe of ghostly warriors, an advancing army led by a deranged Colonel, and the perils of the valley itself."
This week's Webcomic Wednesday features The Guns of Shadow Valley, a Western adventure series from David Wachter and Jim Clark, the creators of the webcomic series Scar Tissue. The Guns of Shadow Valley is Wachter and Clark's second collaborative project and it began online publication in July 2009. While Wachter and Clark both write the series, Wachter also provides the illustrations and the series is lettered by Thomas Mauer. Fans of Stephen King's The Dark Tower series will inevitably like Wachter and Clark's Western story, which is peppered throughout with a fair number of science fiction elements. The series only promises to get better as Wachter and Clark prepare to continue work on Chapter 3.
I recently had the opportunity to speak with both David Wachter and Jim Clark. Here's what they had to say about their webcomic, working as a team, and their recent Eisner Award nomination.
Paige MacGregor: First, let me congratulate you both on your Will Eisner Comic Industry Award nomination. What's it like to be nominated? How did you find out about the nomination for Best Digital Comic?
David (Dave) Wachter: Thank you! I knew we had something great on our hands, but could only hope that others would feel the same way.
Jim Clark: I concur. We're very pleased by the nomination.
Dave: I was contacted via a short email on Monday. I was incredibly thrilled, but other than telling Jim and Tom who work with me on the comic, a few family members and close friends, I couldn't say anything publicly until the announcement was made Thursday.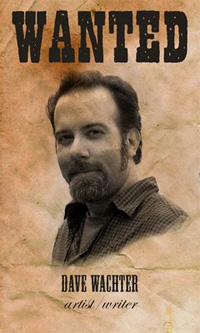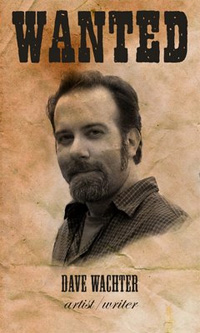 Jim: Dave's call was quite a surprise. I stayed in shock for days.
Dave: My head was about to explode all week, and it made actually working on the comic kind of difficult because I couldn't keep my mind focused. I thought it would be a relief when it was announced, but when all the congratulatory sentiments started pouring in, I got even more excited. It really is thrilling, and somewhat unbelievable. Hasn't made getting the work done any easier though!
Paige: Did you always aspire to be comic book creators? Even after breaking into the comic scene, did you ever imagine that you would be nominated for an Eisner Award?
Dave: I've wanted to make comics from the time I started reading them when I was 9. I've always been skilled at drawing from since before I can remember, and my love of comics only fed right into that. I began drawing and writing my own stories right away. While I always stayed with art, comics began to fade from my view as I became a teenager and into my art school years. It was after college when I rediscovered them and have become an even bigger comic geek than I ever was as a kid. About 5-6 years ago, I decided to try my hand at drawing sequentially again, and set about looking for collaborators. That's how I found Jim, and we created out first series together, Scar Tissue.
Jim: I've always wanted to be a writer ever since I was a little kid, but in the beginning I wasn't really sure what kind of a writer I wanted to be. I started early on with short fiction and tried my hand at poetry, even had starts and stops at a novel, but it wasn't until I wrote my first script that I found out how much fun it was to make comics. I was still in college when I renewed my interest in comic books; I hadn't realized there was a bunch of titles geared towards adults, and when I started reading them again I knew I wanted to write them.
Dave: I always figured my chances for an Eisner nom were pretty slim. There are so many incredible creators out there that I am simply in awe over. Being nominated is one of those things I would daydream about and hope for. I just try to make the best work I can. To have the work recognized in this way is so immensely gratifying. It's been a real high point of my career so far.
Jim: I knew what we were doing with Guns was something to be really proud of, and feedback has always been very positive, but I never expected the nomination. Every creator hopes for some industry recognition, so this is really something extra special.
Paige: Previously, you worked on the super-hero action series Scar Tissue — can you describe that series a bit for our readers?
Jim: It's about a teenager with who gets a heart transplant, only to find out the heart came from a murdered super-villain. The kid gets the super-villain's powers but he also inherits all the problems that go along with them. Then the consciousness of the super-villain moves into the kid's mind and makes itself at home, and everything sort of goes to hell from there.
Dave: Scar Tissue was the first project for each of us, and it was a lot of fun and a huge learning experience. Jim came up with that one. After he saw some of my work he approached me about doing the art for this script he had.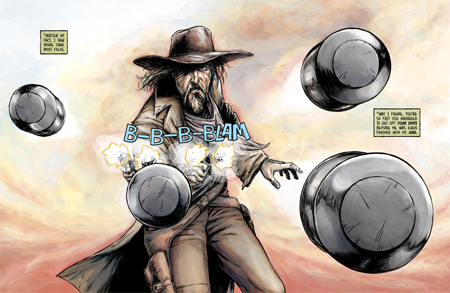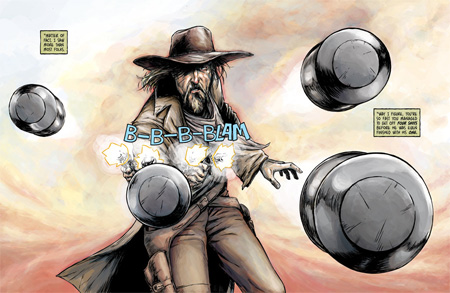 Jim: I'd taken a bit of a break from writing and was itching to get back into it again. I figured it was time to give comics a try. So I took the smallest nugget from a short story concept I'd written and reworked it significantly into the first draft of Scar Tissue #1. When Dave teamed up with me it was like a dream come true. Here was a guy who could read a few words on a page and create images of exactly what I had pictured in my head, and usually make them better than I'd imagined them.
Paige: Scar Tissue is a very different genre than The Guns of Shadow Valley. What inspired the genre shift and how did you come up with the idea for The Guns of Shadow Valley story?
Dave: We had just finished Scar Tissue. We were at our booth at San Diego Comic-Con selling the collected trade edition. I had my head down drawing a commission sketch for somebody as Jim plucked away at the ukulele he always brought to the convention. Jim turned and asked me what I wanted to work on next. He had some more ideas for Scar Tissue related stories—
Jim: Still do, actually…
Dave: —but I looked up and told him about my idea of a Western that crossed with superheroes. I explained a bit more about some of the ideas I had loosely floating around in my head for the last year or so, and finally Jim said, "Dude… let's do that!"
Jim: The concept was compelling and it generated ideas immediately. We talked about it a lot at that Comic-Con and the details just kept coming. For the next few weeks we threw things back and forth, characters started emerging, plot elements became more solid, and before long things had really taken shape.
Paige: The Guns of Shadow Valley is set in the 1870s in the Oklahoma Territories of the United States. What role, if any, does historical and geographic accuracy play in the series?
Dave: These are fictional characters in a fictional world able to do impossible acts. But it still has to feel real. I've done a lot of research into that era and within the boundaries we've created for ourselves, try to keep it as historically accurate as possible. I've studied the topography, flora, and fauna of the region, and made every attempt to keep it all true. This also includes the wardrobe, technology, and weaponry of the time. While the story includes modified weapons, the base models they come from are historically accurate. But there is a limit to how much research can realistically be accomplished. I could spend all day every day doing research, and sometimes it almost feels like I am, but there comes a point where I have to stop and get on with the business of actually crafting the story.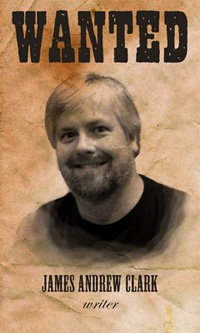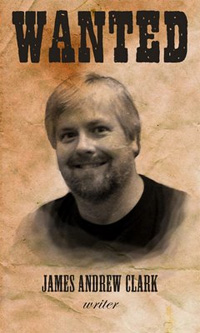 Jim: Dave's attention to detail is evident. He takes care to ensure every visual element he's drawing looks authentic, often filling in details I've omitted. I can write parts of a scene with a mere mention that it takes place in a saloon — when he's done drawing it there'll be spittoons in the corners and realistic looking details to the bar, the walls, the floors… all the things I don't need to put in the script because I trust him to bring it to life realistically. As for the dialog, I've done quite a bit of research on the vernacular of the time to get it just right without sounding corny or ham-handed. We've both done our homework on this one, and I think it shows.
Paige: Can you discuss a bit what the message behind The Guns of Shadow Valley is, if there is one?
Dave: Many of the themes will be familiar to fans of Westerns: wilderness vs. civilization, ideas of expansionism and colonialism, conflict between older ways of living and the encroaching industrial age… I think the most personal and powerful ideas in our story are about individual redemption and taking responsibility for one's own destiny. About whether we can ever truly escape our past, learn to live in the present, and hope for a better future.
Paige: Can you describe briefly for our readers what the process of creating a webcomic is like from start to finish?
Dave: Jim and I have meetings over Skype discussing the broad outlines and story structure. I outline each chapter, and we've each taken turns scripting.
Jim: Script re-writes and suggestions for changes get passed back and forth. Sometimes we belabor over a single word of dialog before it feels right.
Dave: I do the art from pencils, to inks, to colors. The pages go off to Thomas Mauer for lettering, and then up onto the website. After that, it's all about getting the word out to as many people as possible, which is a whole job into itself.
Jim: That's an important part of it, the word of mouth. Talking to people helps build an audience. Dave does the majority of that work — I try to keep up too, but Dave is the social butterfly of the team. He takes time to know his readers on the forums, he gets lots of great advice from other creators, and he does quite a few conventions each year, while my schedule limits me to just Comic-Con.
Paige: What do you view as the value of a webcomic series is for readers versus that of hard copy, printed comic books? In your opinion, what is the value for the comic creators and/or publishers?
Jim: I think webcomics offer a unique advantage over printed medium: the interaction between the creators and the audience. Both sides get the benefit of being able to talk to each other as the work takes shape. We'll put a page up and the feedback is instantaneous; we know right away what's working in a story line, how the readers are relating to the characters, and how our intentions are perceived. We're there as they turn each page, seeing the expressions on their faces as they read along. I'm speaking figuratively of course, but the feeling is the same — we feel more in touch with the audience because they're on the ride with us.
The other obvious advantage for independent creators is the freedom of control. We have no corporation to please, we have no fear of cancellation due to low sales numbers, and we're not boxed in by a format. Big publishers in the traditional sense will usually limit the number of pages per issue, the number of issues per series, and the number of books they're willing to print. And self-publishers have to worry about putting up their own money to print books in large quantities that may not move or turn a profit. It's a gamble any way you look at it, but the stakes are lower on the web — there's less to lose and much more to gain.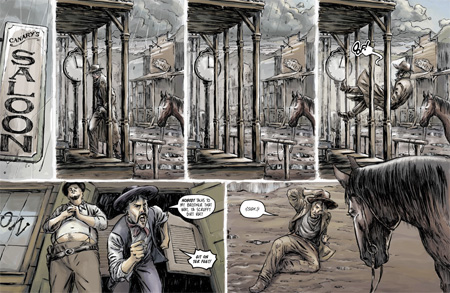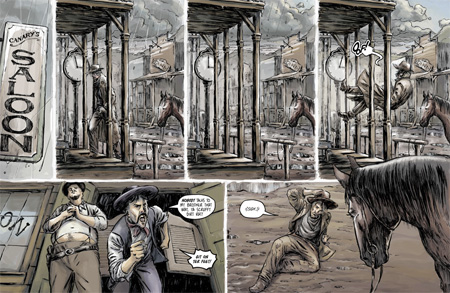 Paige: Working collaboratively is often a problem for creative minds. How do you two make the collaboration work so well — do you each have a particular role or part of the story that you work on, etc.?
Dave: It's not easy. The relationship has changed over time. It's much different with Guns than it was when I was just the artist on Scar Tissue and Jim did all the writing. The key I think is in keeping open the lines of communication, be willing to air any concerns, and not take things too personally.
Jim: I agree that communication is the secret ingredient. When either breaks down, progress diminishes. But we work at it because the project is important to us. So is the relationship.
Paige: If you could give one bit of advice to aspiring comic writers and artists, what would it be?
Dave: Learn by doing.
Jim: If you want to be a writer, write. If you want to make comics, go make them. Nobody is stopping you.
Paige: As you know, our site is called Fandomania — in the spirit of the site's focus on fandom, can you name three things that you are a fan of and briefly describe why?
Jim: Neil Gaiman, because he crafts stories that make other writers truly envious of his talent; Charles Bukowski, because he just wrote what he lived and didn't give a damn what anyone thought about it; and Bill Watterson for walking away from his creation on his own terms instead of compromising.
Dave: I'm a fan of anyone who puts their whole heart honestly into their work, and lets that reflect in the craft of it. I admire those who can grow, learn and change, try new things and not be afraid to fail. I am a fan of those who are fearless, because I wish I was more like them. That's my grandiose answer. On the street level: Comics, comics, and comics! Web, print, any which way, telling any kind of story imaginable, from the epic to the mundane, comics are my favorite way to take in a story.
---
For more information on
The Guns of Shadow Valley
, or on David Wachter and Jim Clark, visit
The Guns of Shadow Valley
web site, where you can read the comic series from the beginning. You can also follow David (
@citizenDave
) and Jim (
@UkuleleJim
) on Twitter, or check out
The Guns of Shadow Valley
on
Facebook
.