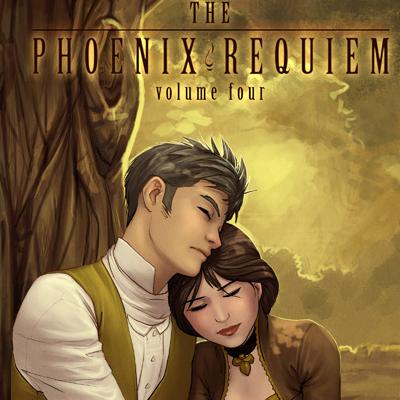 Sarah Ellerton, creator of The Phoenix Requiem, shows an amazing range artistically. Many pages of her web graphic novel are dark and foreboding, then transition perfectly into lighter, whimsical fare. While the tone shifts, her brilliant artwork is consistent. Every page is meticulous and her use of rich colors adds exceptional depth to each page.
What drew me into The Phoenix Requiem even more than the art is the story. It's very well paced and the characters are developed well over time. After reading The Phoenix Requiem, I had some questions for Sarah, and she was kind enough to take the time to answer them for me. I hope after reading our interview you will go and check out this truly phenomenal web graphic novel.
Kelly Melcher: First, would you please introduce yourself and tell us how you became interested in creating webcomics?
Sarah Ellerton: I'm a systems engineer at a regional University. Digital art has been a hobby of mine for quite some time, though I started out (like many) drawing fanart of characters from books (then later, from video games). I'd written a slew of rather awful one-page short stories as a child, and had later attempted to write fanfiction and a short novel, but it hadn't occurred to me to combine the two. I was introduced to a couple of comics in 2001, and decided it would be a good direction to take my hobbies and attempt something more seriously.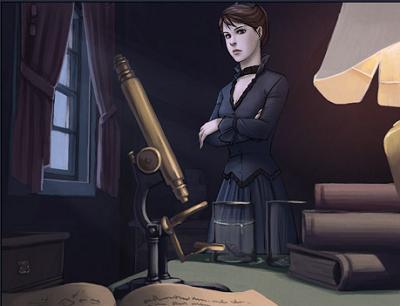 KM: Who or what are your inspirations both for The Phoenix Requiem and overall artistically?
SE: I don't really have any clear sources of inspiration, as I tend to be inspired by anything and everything around me, including movies, TV, friends and family. Some of what springs to mind are Doctor Who, Silent Hill, and Final Fantasy. Artistically, I tend to pick up things here and there that I've seen and liked in other webcomics.
KM: What is your favorite aspect in creating The Phoenix Requiem?
SE: Colour schemes. I struggled a lot with colour in my early days of digital art, so now that I have a better grasp of the theory, I really enjoy picking out colours for each new scene and environment.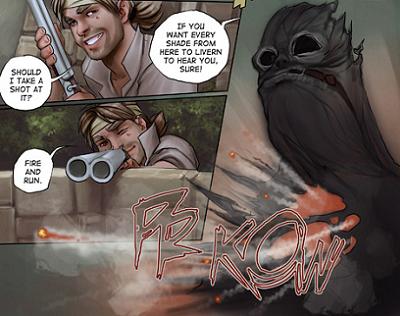 KM: Do you have a favorite character? If so, who and why?
SE: I try not to pick favourite characters, as doing so tends to give them preferential treatment and I end up trying too hard to make people like them. That being said, I do enjoy writing for Jonas; he's an awful lot like a kicked puppy that keeps wagging its tail. Plus he's a bit mad, which can be fun.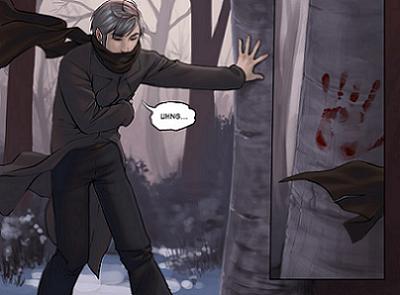 KM: What, in your opinion, is the most unique aspect of The Phoenix Requiem?
SE: I treat the story more like a novel or a movie than a typical serial comic. That means a slow build up, gradual introduction of characters and their histories, leading to a climactic ending, as opposed to keeping things at a fast pace all the way through and having no clear end in sight. I think there are definite pros and cons to each method of telling a story, but I like the novel-structured format as I feel it allows people to get to know and empathise with the characters better over the long term, so the action and events when they happen are more affecting.
KM: How do ideas get from your head to where we read them on the website?
SE: I already have the basic story structured out from start to finish, with basic chapter summaries penned. I write the actual dialog for a chapter just before I draw its first page. I used to have the entire story scripted, but there were so many rewrites and changes that I realised it was a wasted effort and it was much better just to have the events listed and worry about the dialog later.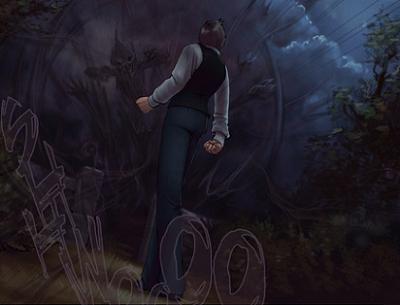 KM: At Fandomania we like to ask folks, what are you a fan of?
SE: Video games mostly, namely Final Fantasy, Silent Hill, and Monkey Island. Movie with a little bit of fantasy or the supernatural in them. I don't watch much TV; at the moment the only shows I'm following are Doctor Who and The Big Bang Theory. I suppose TV holds less of an appeal to me because I like conclusions and closures.
I would like to thank Sarah Ellerton on behalf of myself and my associates at Fandomania for taking the time to answer my questions.
All artwork belongs to Sarah Ellerton and has been used with her permission.