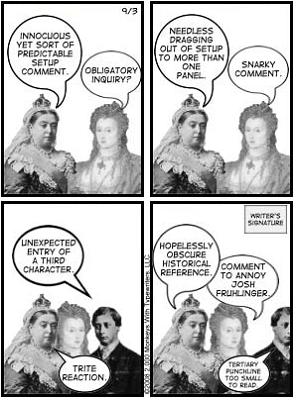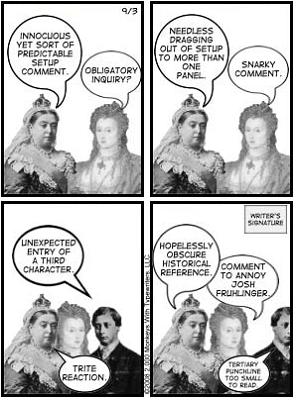 The New Adventures of Queen Victoria is an absolutely entertaining read. It borders on the absurd with its cast of characters, most notably Queen Victoria, her best friends Liz and Mary, and her son Edward. "Her Maj," as she is sometimes referred to, is an interesting juxtaposition of history with commentary on modern events and culture. Some strips are very political while others have a decidedly surreal bent to them. Each strip is thoroughly enjoyable.
I had the opportunity to ask the creator of The New Adventures of Queen Victoria, Pab Sungenis, a few questions about his creation, and I really feel that it says more about this comic than I ever could. This week's comic may not be drawn or photographed like the others we have featured, but that doesn't make it any less interesting and the writing will keep you hooked.
Kelly Melcher: First, would you please introduce yourself and give us some history on how you became interested in creating a webcomic?
Pab Sungenis: Hi, my name is Pab, and I'm a webcomic creator. (HI, PAB!) It's all about a lack of self control….
Seriously, I'm a 40-year-old writer and jack-of-all-trades, born and bred in Southern New Jersey, the portion of the State that always gets ignored because we actually have farms, forests, and beaches instead of factories and sewage plants, so are infinitely less interesting.
I spent most of my adult life in broadcasting, including stints as the morning DJ at two different stations, helping to launch the first FM Sports/Talk station in the country, and being the newscaster on the air at the top rated station in Atlantic City during the attacks of September 11, 2001. I also spent five grueling years as the owner/operator of a movie theater.
I grew up reading classic comic strips like Pogo and Peanuts, and learned to appreciate the possibilities of the art form. I recently found the first comic book I had ever drawn in some boxes from my grandparents' attic; I was 6, and it was made of scrap paper stapled together. Back around 1980 and 1981 I actually undertook the task of drawing a daily comic strip for my own consumption, which taught me one simple thing: I can't draw. Yet I loved the writing aspect of the job and always wanted to find a way to do a daily strip again, one that would hopefully find readers. I finally found a way of doing it.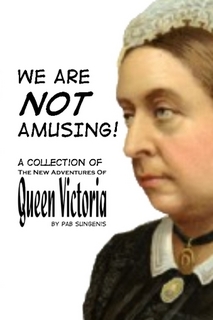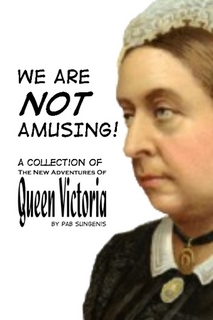 KM: I apologize for going for the obvious question, but why Queen Victoria?
PS: Queen Victoria was originally going to be just one of many characters in an even more surreal strip I was planning called In The Land Of Wonderful Clipart. (The title, for those who aren't aware, is a play on the alternate title of Winsor MacKay's Little Nemo In Slumberland.) After doing some graphic design and web design work, I realized the possibilities of using photomanipulation as a way of doing a daily strip again, where the amount of drawing I would have to do would be minimal at best, and started collecting images to use. Victoria was one of them.
Then, in February 2006, I was reading a blog entry by Ferrett Steinmetz (known lovingly in the blog world simply as "The Ferrett" discussing what people were calling "Surrealist Garfield," about how Garfield was funnier if you just blocked out all of Garfield's speech bubbles, so he acted like a normal cat. (Two other webcomics were inspired by the same phenomenon: Garfield Minus Garfield and Garfield As Garfield, so I wonder if the original Surrealist Garfield person realizes what he unleashed upon the world.)
I opened PhotoImpact and took an image of Garfield making goofy faces, dropped it into the four-panel framework I'd created for Wonderful Clipart and put Victoria in there staring at him silently for three panels, and in the fourth saying "We are not amused." I jokingly put the title The New Adventures of Queen Victoria at the top of the strip and posted it as a response to Ferrett's blog. The response was immediate and astounding. That was when I realized that Victoria would have to be the central character of the strip, and I kept the joke title. The next day I did another, then another and another… and except for breaks for emergency surgeries in 2007, I've been at it daily since.
It sort of makes sense when you think about it. Queen Victoria has such a reputation as a soulless, humorless, dour figure (although honestly none of those preconceptions are true) that putting her into ridiculous situations is a very simple way to get a cheap laugh, so it gets me halfway to the finish line. Think about it as the difference between doing stand-up comedy to a bunch of senior citizens, as opposed to doing it for a bunch of rowdy frat boys with a two drink minimum; Victoria is my two drinks.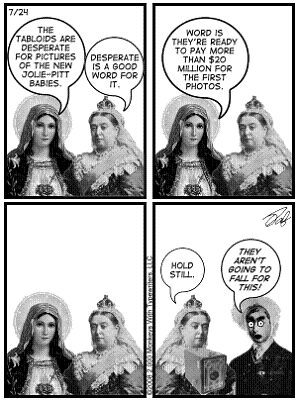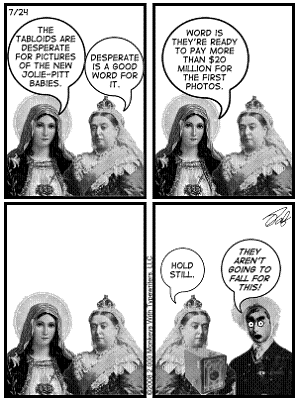 KM: The fourth book, Suffragettes Gone Wild, based on The New Adventures of Queen Victoria is coming out soon. Why should we buy the books instead of or in addition to reading online?
PS: I hate to sound mercenary, but it really all does come down to money. I have a tiny step up on a lot of other webcartoonists in that I have a syndicate paying me to do the strip. The problem is that I only get paid about 71 cents per strip on average. Advertising on the site only brings in about another 20 cents a day. So, essentially, I needed to do something to monetize the strip. I think I'd sold a total of 10 T-shirts through the old store I had through CafePress, so that wasn't going to work. Books seemed the best bet.
At last check, I had close to 13,000 subscribers to the daily E-mail feed of the strip through my syndicate (GoComics). That doesn't include people who view the strip at GoComics's or my website, or who it's forwarded to. If I could just get each of those subscribers to buy a book each year, the tiny cut I make off of each copy would be enough to not only let me keep the strip going, but to devote more time to it and other creative endeavors.
There are other, less "me-centric" reasons to buy a book as well. There's something about a permanent hard copy of something that someone can put into a library that appeals to me as a bibliophile. Also, each book has at least something that wasn't on the web. The first two had running commentaries on the strip, the third had an essay on Emperor Norton (who inspired the storyline that gave the book its title), and this one has a brief bit written by Corey Pandolph as his character TOBY, Robot Satan. Originally, I had asked Rachel Maddow to write an introduction, but the guardian beasts in the MSNBC mail room kept me away from her, sadly.
And never consider buying the books to be an alternative to reading the daily strip; the books don't include every single strip. When I compile the books I'll occasionally leave out a strip or storyline that I've soured on since it came out, or where I couldn't clear an image that I used for the print medium, as opposed to online.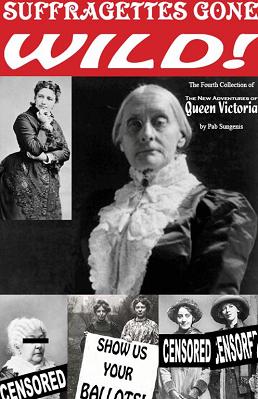 KM: When and how did you decide to start publishing the strips as books?
PS: For me, it seemed the natural thing to do. Like I'd said, I'd grown up reading old collections of Pogo and Peanuts, both of which put out a paperback pretty much every year, and in my adulthood found paperbacks the best way of digesting Bloom County and Dilbert. In November of 2006, I realized I had enough strips to put together a 72-page paperback through Lulu, so I did. It sold a few copies, though not many. I did another one the following November.
In 2008 I decided to take a chance at the convention circuit, so I found a really great printer (Keness) and had small print runs done of the two books that I could sell at my booth. I did better than I had expected with them, so I did a third book, then decided on a fourth.
This time, however, I decided to take the next step. Having fallen out of love with Lulu and print-on-demand in general, I decided to completely self-publish the book. I bought some ISBNs, created higher quality and larger source files than Lulu had let me do in the past, and set up my own little distribution arm. This lets me offer a better book than Lulu would have created, cheaper than Lulu, and with a better author's cut at the same time. It's more work for me, and more up-front investment, but in the end I think it's going to be better for both me and for the reader.
Over the next couple of months, the stocks I have for the first two books are going to run out. When they do I'm going to severely mark down the third and try to liquidate most of my stock of it. Then I'm going to roll out a new omnibus edition entitled Meet The Royals, collecting expanded versions of the first three books, along with new and hardly-ever-before seen material, in a 200+ page large-size edition. This will work out better since it seems that most people buying copies of the first three books from me are buying all three at once as a way to "catch up," so this way they'll get a better product for less than they could buy the books for separately.
KM: What is your favorite aspect of creating a webcomic?
PS: Pure, unbridled, creative freedom is the best part of it. I'm responsible to no one, not even to the readers if you want to know the truth. I've often said that I do stuff I think is funny, and if someone else thinks the same thing then I'm ahead of the game. I don't have to clash with editors or live in fear that some publisher is going to drop the strip to put Beetle Bailey back in the paper after a bunch of blue-haired old ladies write nasty letters. I do what I like.
The other thing I love about it, and this is specific to doing a webcomic for GoComics, is the instant feedback I get. GoComics has a space where readers can comment on strips, and I have a bunch of very loyal fans who participate there. I love being able to open my browser every morning and not only see what my readers have to say about the day's strip, but being able to join in the conversation myself. You don't get that quick a response in the print medium. As a disc jockey who used to answer his own phones, and a former troupe comedian who thrived on hearing the laughter of his audiences, I love to get fast response.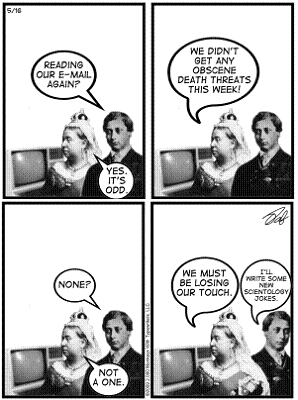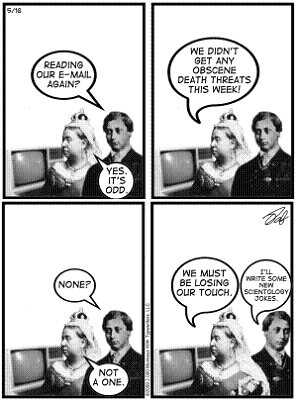 KM: What is the future of The New Adventures of Queen Victoria?
PS: It's always up in the air. I have the freedom to end the strip tomorrow if I want to, but I'm still having too much fun. My contract with GoComics is up on April 1st, but I'd gladly sign an extension with them if they want to keep me.
My business partner, Kris Leeds, and I are trying a new venture and possible new outlet for the strip. Starting November 30th, we're going to offer the strip to print publications through our own syndicate, instead of trying to cut a deal with one of the bigs. Papers who want to carry the strip will be able to download electronic versions at a higher resolution, designed for printing. We haven't started to go out and actively sign up papers yet because with the low overhead we'll be taking in our approach, we'll be able to let the print version grow the same way the webcomic has grown: slowly through word of mouth. We'll offer the strip for free to college newspapers, and at ridiculously competitive rates to other papers. I'll rely on my fans to twist the arms of their local papers into giving me a chance, and see if any take the bite.
KM: At Fandomania we like to ask: What are you a fan of?
PS: A lot of different things. I was a long-time fan of Star Trek before J.J. Abrams made it into just another space opera. I'm a voracious reader, taking anything I can get my hands on. I'm currently hooked on the British version of Deal Or No Deal, which is so much better than the American one. I was one of those weird kids who was a bigger fan of Flash and Green Lantern than Superman and Batman, and still am today (although I prefer Kyle Rayner and Wally West to Barry and Hal). I'm thrilled at how the BBC managed to revive Doctor Who, which made me a bigger fan than I was before. I have to watch How I Met Your Mother every Monday. I'm a fan of Too Much Joy and McFly, two bands that couldn't be less alike. And, of course, I'm still, after all these years, a huge fan of comic strips, in general and specifically.
I would like to thank Pab on behalf of myself and my associates at Fandomania for taking the time to answer my questions.
All images are from the work of Pab Sungenis and was used with permission. The comic usually appears in strip form but was stacked 2×2 for easier viewing.