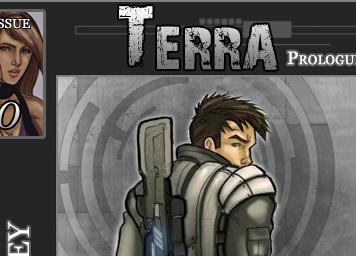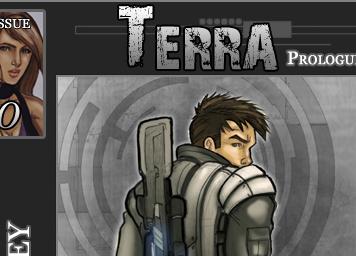 After last week's Bear Nuts, I became interested in the idea of a web graphic novel as opposed to the "strip." While I will always love a strip, there's something nice about getting a little more content with each update and having a story arc feature more prominently than a punchline.  In search of a change of pace, I found Terra by Holly Laing and Drew Dailey.
As many of you already know, if you say "interplanetary war" my heart starts pumping… something about me and military science fiction, what can I say?  Now when you pair that with beautiful artwork, well, I'm completely sold.  Terra is relatively new, having launched March 20, 2009, but already I'm hooked, and can't wait to see where the series goes.
Kelly Melcher: What was the inspiration for Terra?
Holly Laing: There have been so many things that have inspired me over the years, I can't really pinpoint one thing in particular. However, a few science fiction works stand out to me above the rest, such as Alien, the classic Star Wars trilogy, and the Firefly/Serenity series. What stood out to me about these titles were the developed realistic characters (Firefly), the amazing environments (Alien), and the ability to create unique, exciting alien worlds (Star Wars). I would be accurate in stating that the majority of my inspiration for Terra comes from these very films/TV series.
KM: What makes it different from other webcomics out there? Also, why did you decide to go the "web graphic novel" route?
HL: With Terra, I'm hoping to make the storyline very character-driven. I mean, there are space battles, and issues that are dealt with on a galactic scale, but for the most part you see the events unfolding through the eyes of a small group of characters. I haven't really seen any other science fiction webcomic attempt this (that I know of…) and I wanted to bring something different to the table.
Also, the reason I went with web graphic novel as opposed to webcomic is because I have a predetermined ending for the story, and do not intend to stretch it out into an ongoing series. However, expect it to be released over a long time — I already have a detailed outline for the rest of the story, and this is really just the beginning.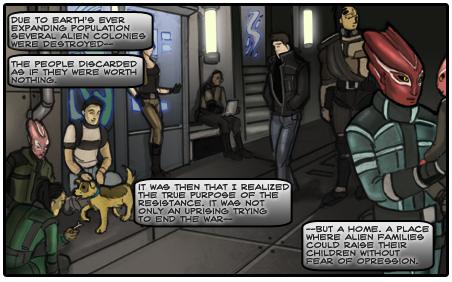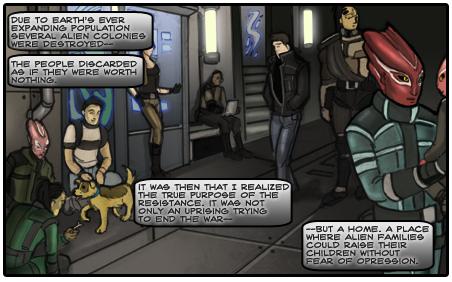 KM: Forgive me for being a novice in terms of comic art jargon, but what is your "process"? Or how do your ideas make it form your head to the internet?
HL: I kind of write and sketch at the same time, so usually when I am developing the story I am drawing my thumbnails for the comic. I then start roughly sketching out the page on 8×11″ Bristol art boards. I do the majority of the work digitally, so the rest (line art, colors, letters) are all done on Photoshop. The average page takes me 7-9 hours.
As for ideas for my comic, it is usually just a back and forth conversation between Drew (co-creator of Terra) and I. We throw ideas at each other, and decide whether or not they are going to fly in the finished script.
KM: What page or story element has been your favorite to date? Why?
HL: I feel like there is so much more to tell in the comic, so it's difficult to decide on something this early on. However, so far my favorite story element has been establishing the back-story for one of my main characters (Alexis Hawke). It is sort of showing you her past, instead of just telling you it in a panel or two. That way, you'll feel more for the character, and understand her personality more as the story progresses.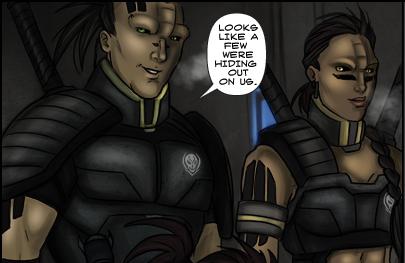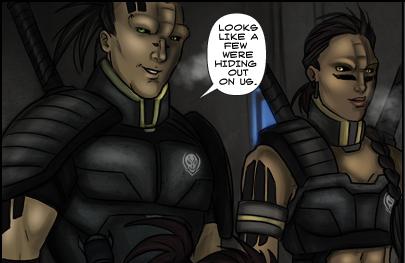 KM: What page, story element, or arc has gotten the most fan response? Why do you think this is the case?
HL: This is actually similar to my previous answer, so I won't really elaborate too much. So far, the most fan response has been to the introduction of Solus and the Shadow Cabal (beginning of chapter one). The readers don't seem to take too kindly to the group's sadistic ways and that is exactly what I am intending. Solus, in particular, is one of the main antagonists in the story, you aren't really supposed to like him; however, the reason he acts out so severely will likely become more clear in later chapters.
KM: Will we ever see Terra in print form? If that's not the plan now, do you see it being something you'd be interested in?
HL: I am planning to attend a con in October (Central Canada Comic Con), and I am going to try and get printed versions of the prologue and chapter one by then. I am likely going to save the extras from the con to sell on the website. After that, I intend to start getting a print to order system ready after a few more chapters. I want to add exclusive artwork by then as well, to give more incentive to own Terra in print form.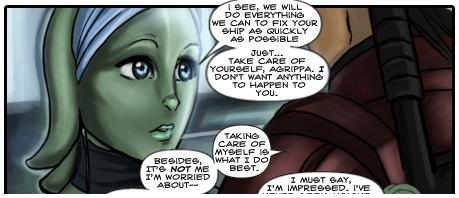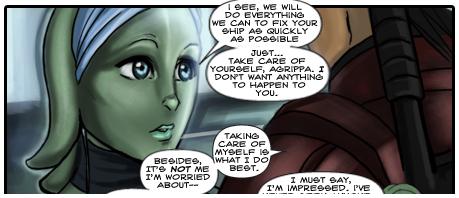 KM: At Fandomania we are a blog by fans for fans, and we like to know: What are you a fan of?
HL: I'm a big fan of movies, in particular science fiction (if that isn't already obvious). There are the movies I've mentioned earlier such as Alien and Star Wars, but I should also note that in addition to being a Firefly/Serenity fan I am also a Joss Whedon fan. I really enjoy the way he writes and develops his characters, they can be flawed, funny and determined all at the same time, this makes them more realistic and therefore more relatable. In addition to these I also really enjoyed some newer science fiction titles like Sunshine, Moon, and Star Trek.
I think I should also mention that I spend a lot of my time gaming, I think Fallout 3 is currently my biggest time-suck right now.
On behalf of myself and my associates at Fandomania I would like to thank Holly for taking the time to chat with me about Terra.