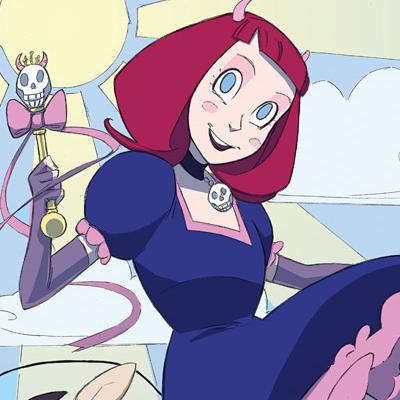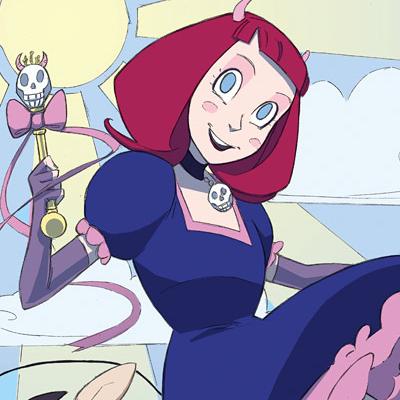 Evil Diva, this week's webcomic, has fast become one of my favorites for many reasons. I adore the storyline, which mixes elements of The Worst Witch and Card Captor Sakura with mythology and school elections. If those weren't reasons enough to tune in, the artwork is absolutely, for lack of a better word, fun! The art style is effervescent, lending itself to comparisons with both anime and Disney influences but without feeling like it was lifted from either.
Diva might not be the brightest crayon in the box, but she sets out to be nice (much to her parents' chagrin) and fair, even though she is a devil. She's a girl who wants to be more than what she appears to be. It's rather telling that her rival, Angela Bartleby, is anything but angelic despite the halo on her head. While initially this comic may be more appealing to the female population of webcomic readers, I think that it is a strong enough story that it will attract a very broad readership. I was able to talk to the creators of Evil Diva, Brinson Thieme, Joe Cashman, and Peter Menotti, about the process and future for the comic series. Read our interview below: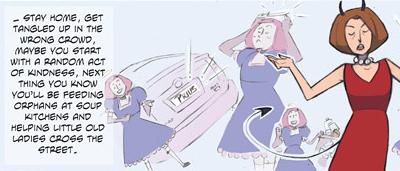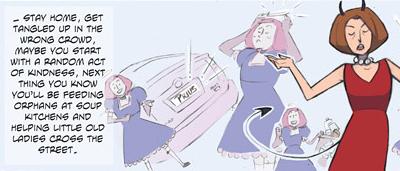 Kelly Melcher: Evil Diva is a little different from most of the other webcomics I have discussed in that it has several people involved in the creative process. Would you please start by introducing our readers to the creators of Evil Diva and what they contribute?
Pete: I spend, supervise, and hover over Brinson to make her nervous.
Joe: I write, and work on brand expansion. I also terrorize Brinson sometimes.
Brinson: I draw, letter, tone, maintain the website, sweeten the script when Joe's not looking, and draw the incentives. Joe pesters me on odd numbered days, while Pete's looming presence is constant.
KM: How did the three of you find each other?
Brinson: I met Pete completely by chance at San Diego Comic-Con 2007. He was hanging out at the Art Center booth when I stopped by to ask if they knew anything about a booth for my alma mater, Savannah College of Art and Design. Pete asked if I was a student, and I said I'd recently graduated. Once we got to chatting, we discovered that we both lived in Los Angeles, and that his studio was looking for an illustrator. Serendipity!
Pete: I found Brinson skulking through the halls of Comic-Con. I met Joe in college and the love affair has gone on for decades.
Joe: Pete and I have been friends for years. I got onto Evil Diva because I was too vociferous with my comments, and Pete dared me to do better. I've been writing the issues ever since.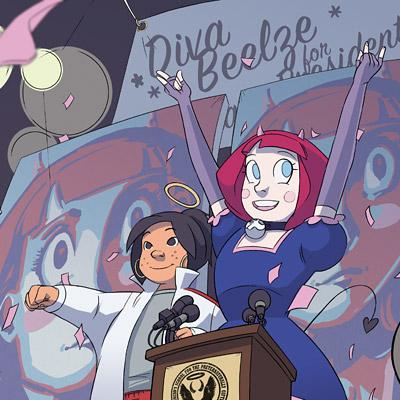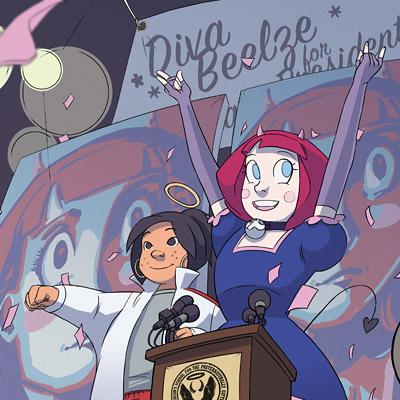 KM: What is the conceptual history of Evil Diva?
Pete: We were at Disneyland one day, and I don't know why, but my daughter just spit out the words "evil diva." I said, "that's catchy," so I wrote it down on a napkin. Then I stared at those words for six months. Finally, I had a graphic designer do a logo based on those words, and it was very Tim Burton-esque. But it just wasn't right. So it sat around unused for another six months.
Brinson: One afternoon in spring of 2008, Pete handed me the logo and told me to go to town. I sketched Diva first (in red pencil on a Post-It note), then Angela. Pete liked the sketches, but neither of us knew where to go with them until he came up with the brilliant logline: what if she was a little devil who just wanted to be good? It all just clicked after that, and we dove right into developing Diva's world and story.
Joe: Pete and I became business partners in early 2009. I started asking questions about Evil Diva, like "what's the overall story arc?" and "why aren't we selling tee-shirts?" And rather than answer my questions, Pete gave me a job.
KM: What is the most challenging aspect of collaborating versus creating a comic individually?
Brinson: Artistically, I'm a control freak, so it's hard for me cede to control in some matters. It was weird at first to have another person ink my work, but I think it's for the best — HAI is a lot quicker and more skilled at inking than I'll ever be.
Pete: The hardest part is keeping everyone happy when nobody ever is.
Joe: You don't always get your way no matter how right you are. (Or think you are.) Although most of the time the finished product exceeds my expectations.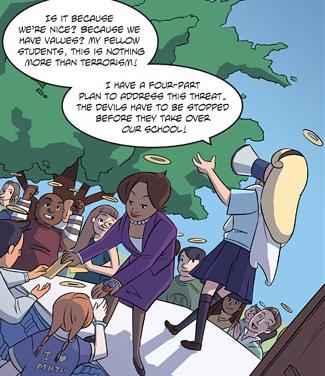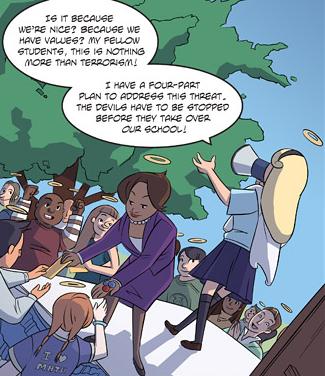 KM: What, in your opinion, is the most rewarding?
Brinson: The finished product. It's amazing to me to work on something that starts as ideas tossed around at a burger joint, and eventually crystallizes as a finished page a few weeks later thanks to the hard work of four people. I love that I can hold a page in my hand and say, "I helped make this."
Pete: Being popular! (See: song from Wicked.)
Joe: It's the one thing I do that is purely creative. Other than the fans, we don't really answer to a client, so we don't have to worry about some marketing dweeb watering down our work.
KM: Anime and manga appear to have a strong influence on the style of Evil Diva. I am interested to know what other sources the three of you take inspiration from that might be less obvious?
Brinson: I originally intended to model Evil Diva off Card Captor Sakura and other mahou shoujo comics, but lately, I see a lot of Disney influence creeping into the art. (I also tend to refer to Bryan Hitch's work on The Authority for inspiration on cinematic layouts, while I keep a copy of Nextwave next to my pencils for hints on how to handle action.) In terms of the storytelling, my influences are all over the place: a lot of the narrative structure and dialogue is inspired by Buffy the Vampire Slayer and Harry Potter, but I'm also interested in how guys like Gaiman and Mignola recontextualize old mythologies.
Pete: I think of it as a seventies sitcom. All it needs is a laugh-track.
Joe: Writing-wise, we've been on a genre kick lately. To be honest, this is my first G-rated writing experience, so this is kind of untrod territory for me. But I'm a huge science fiction and fantasy junkie, so Diva's world is easy for me to relate to.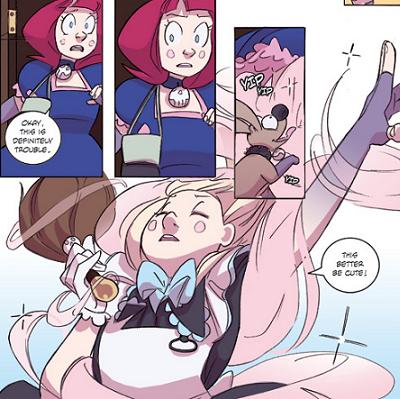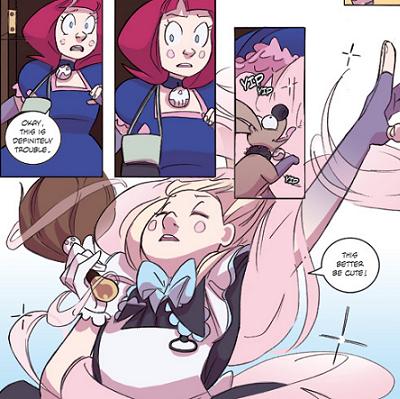 KM: What is the future of Evil Diva?
Brinson: I hope we can continue to develop the mytharc, because we have some interesting ideas about the nature of Diva's role in the grand scheme of things. Of course, I'd also like to use the comic to explore some of the problems kids her age face, but ultimately? I'll be happy if we can keep telling a story people enjoy reading. It sounds simple and kind of dumb, but I'm pretty satisfied with this work as long as I'm providing a little escapism for someone else.
Pete: … My dream is to see a four hundred and fifty pound man squeezed into Diva's dress at Comic-Con.
KM: At Fandomania, we like to ask, what are you a fan of?
Brinson: Right now, I'm pretty obsessed with Team Fortress 2. I'm also an MMO nerd — my poison of choice is Final Fantasy XI. I've been rereading Hellboy lately, and every time it gets more brilliant. And I keep rewatching The Tudors, hoping in vain that the history will change and Anne Boleyn will live happily ever after.
Pete: I'm a fan of Disney/Pixar, John Lassiter, and Mary Blair. Even more: Marc Davis.
Joe: That's really hard. I could probably teach a Master's class on Star Trek. I'm a huge fan of Watchmen and The Dark Knight Returns. I watch a lot of television and I think my most recent favorite would be Sons of Anarchy. Grand Theft Auto is probably my favorite video game franchise, and I'm also a fan of the Fear games. So, the classics, basically. (I was also a huge fan of Evil Diva before I joined the team… now, not so much. ;))