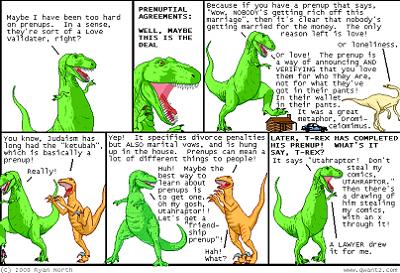 Dinosaur Comics is probably one of my all-time favorites. Who doesn't love dinosaurs in silly situations? Furthermore, who doesn't like dinosaurs providing commentary on modern life? Better yet, the images are reused every day… man I know this sounds weird, but you really, I mean REALLY need to read this! I don't think there has been a single one that hasn't at least made me smile if not outright laugh out loud (no, I will not abbreviate that).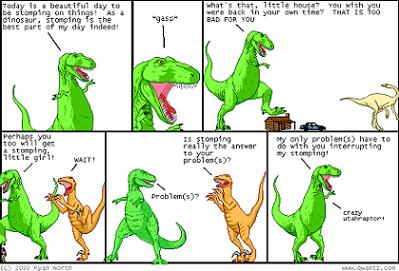 Now, I can see that the humor wouldn't be for everyone — it can be quite absurd, so if you like straightforward funny there are certainly other webcomics that will deliver. I mean, do you need a bigger clue that it's going to be a bit off the wall than it being about two dinosaurs? If that weren't enough to entice you into reading, think on this: since it began, Dinosaur Comics has been updated almost daily. Sure, from time to time a few days have been skipped, but there is a lot of back log to read for new fans. I have to admit, I love reading through archives of comics.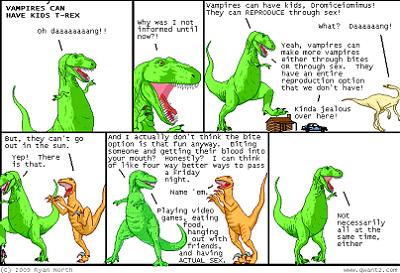 Also, if you're initially put off by the idea that you'll be looking at the same image every day, give the comic a chance. Ryan North, the creator of Dinosaur Comics, manages to keep the writing fresh each time. So, while you might have the images of T-rex and Utahraptor burned into your screen, you'll always be engaged by the topics they are discussing. While I said the humor can often be absurd, this webcomic also stands at times to be a commentary on modern interpersonal interactions and hard-to-express emotions. The anthropomorphic main characters often tackle topics that many people have trouble even talking about.
I know that Dinosaur Comics is rather popular, but I hope that if you have never heard of it you will go check it out. It's a great comic because it can be silly, but it's not mind numbing. It is strange but not without a foothold in reality (well at least to the point where it commentates on reality). Dinosaur Comics balances wit and wisdom in a fashion that I think anyone would enjoy. Oh yeah, and don't forget the dinosaurs — who doesn't like dinosaurs?!