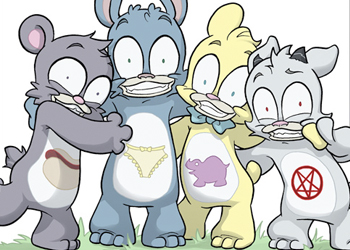 I have been reading quite a few webcomics lately, as you might imagine, but I have yet to find one quite as deliciously irreverent as Bear Nuts by Alison Acton. While these bears may look cute and cuddly, they aren't the Care Bears you grew up on. With names liked Tanked, Crack, Gay, Nerd, Lech, Gimp, Evil, Death and Prozac it isn't too hard to guess the direction this comic takes. I wonder if after reading a bit if you can't guess which is my favorite bear.
Unlike some of the other webcomics, this reads more like a web graphic novel. Each chapter is a story arc and introduces a little bit more about each bear. While each page doesn't end in a punch line, they're all sure to be entertaining. Since the pages are rather large and wouldn't fit completely in our layout I have, with Alison's permission, re-sized some examples. But to get the real feel, you NEED to read this. Also, I had a few questions for Alison and she was gracious enough to take the time to answer them. (I'd say this comic is for a 10-12+ range, there's violence… and some suggestive stuff, so if you have a little kid and don't want to explain Gimp's mask, don't let them read, otherwise….) Enjoy!
Kelly Melcher: This is really two questions. First, where did you come up with the idea for Bear Nuts, and secondly, what did the Care Bears ever do to you?!
Alison Acton: I was working at a local animation studio and they wanted to do a short spoof of My Little Pony as a bumper to throw in if episodes run short. The studio head also wanted only women to work on it if possible since he thought that was fitting. We had fun coming up with character designs but that particular bumper never really went anywhere.
Meanwhile, our studio was having problems meeting deadlines and when deliverables are late, funds don't get released so we were also laid off a couple times throughout the production while we waited for money to come in. One of those layoffs was a little over a month long, so to keep busy I played around with Care Bear spoofs for fun.
When the production shut down for good, I put the bears on stickers and took them to local cons. People thought they were really fun, so the comic eventually evolved as I worked less and less in animation and switched over to drawing comics full time.


Like any child of the eighties, I have a fond remembrance of watching the original cartoon (and spurning the oddly re-designed recent relaunches — it's just not the same in 3D). The Care Bears themselves were very manufactured (they were originally a greeting card property) so for me, it was a lot of fun to create my own style of something I used to watch. I've always loved drawing, and putting your own spin on something recognizable is entertaining for the artist and easily accessible for your audience. If you loved Care Bears when you were younger, you may find this incarnation amusing. If you disliked Care Bears, you may still find this incarnation amusing.
I do have other ideas I'd love to turn into comics some day but the hardest part for an artist is to gain an audience. If the accessibility of Bear Nuts leads to my other ideas finding an audience quicker, then that's all the better.
KM: To date, which page or story arc has been your favorite, and why?
AA: I get asked a lot if I have a favorite bear and I really don't. It often changes to whomever I'm writing about or drawing at the time. I definitely have pages that I think turned out really nice and I'm more proud of than others, like Tanked's colorful sugar-induced trance from page 31. It's often the really subtle interactions that I like the most and I think my favorite arc to draw so far was the Crack-centric one where Lech & Tanked watch a scary movie and Gay bemoans the horror of corn on the cob. Though the arc I'm working on right now may take it's place; Evil's origin story has been pretty entertaining…
KM: To date, which page or story arc has gotten the most fan response? Why do you think it got the most response?
AA: Any time Death shows up I get a lot of comments — he seems to be really popular despite the fact that he really hasn't done much. Death is a bit of a loner so I don't like to include him that often. He's also the only bear that has "powers" so that's not something I want to overdo either. In terms of response, I think the Nerd rage Evil beat down definitely entertained… I guess my readers just like violence, and who doesn't? It was also really fun to draw!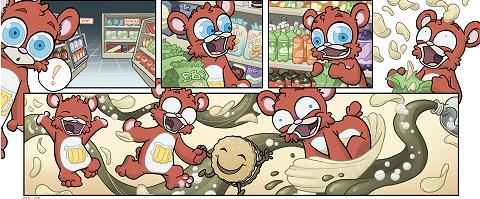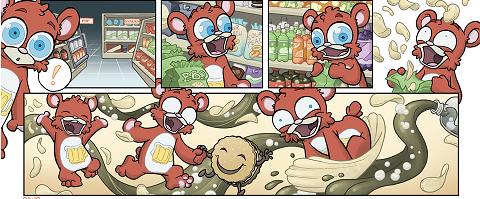 KM: While Bear Nuts is a webcomic, I know some folks prefer to read a book. Is one available and, if so, how is it different from the web version?
AA: We do have a book available. Coming from a comics background, I always intended to take BN to print some day but I wasn't sure how. Self-publishing is a very expensive gamble. I was lucky to meet a publisher at the local cons we attend. DMF has been helping us prep, publish, and distribute the book. Having someone else handle the packing and shipping is so invaluable as I wouldn't be able to get as many pages done otherwise. The book comes in a regular and an Artist Edition and features a brand new comic that didn't appear online. You can get more information through the Bear Nuts site or go directly to DMF publishing.
KM: What other projects have you worked on, and do you have any new projects on the horizon?
AA: I'm still hard at work on the first publishing contract I've gotten. I've been penciling, inking, and toning a sequel manga to Harper Collins's Faerie Path series. It will ultimately be a three-volume series published through Tokyopop. I just finished book 2 a few weeks ago and I get a short break before jumping onto the last one. They're about 160 pages each and take about 9 months to complete so it's pretty labor intensive. I also do side projects/commissions as I have time, and I had a short story in the latest volume of Popgun and another one in the upcoming Popgun volume 4. I also help my husband with his work when he gets swamped. He colors comics and backgrounds for animation so he's been lucky enough to stay consistently busy. We pretty much take on any work we can get as a freelance career can sometimes be paycheck to paycheck, and no pension to look forward to. It's really important to budget your time and save as much as you can. And now we're looking at the birth of our first dependent/tax benefit this Oct. so we've got a nursery to finish and I expect our productivity is going to drop as we all get adjusted.
In terms of new projects, I'm finding web comics such a blast to work on because it's all me. I don't have to get editor approval or make any changes I don't agree with and that freedom is awesome. Depending on my schedule, I have 5 or 6 other developed comic ideas that I'd like to re-format for the web as well. I have no idea when I'll find the time to launch any of them as I can't juggle the workload of BN and something new. My goal is to have one of them pretty much ready to go in a year but we'll see what the new baby has to say about that!


KM: Can you give us any hints on what is coming up in the future for our favorite Discount Zoo Exhibit?
AA: I've gotten a good way into the material for volume 2 which will feature Evil. I'm looking forward to drawing some of the new story lines I've already written: there's going to be some more interaction with other zoo animals, a long-awaited Death arc and probably one for Gimpy as well, plus the intro of a new bear. I'm hoping to keep these characters as interesting as possible and move a little beyond the typical stereotypes they represent.
KM: At Fandomania, we're a website by fans for fans. What kinds of things do you consider yourself to be a fan of?
AA: I love comics and I love animation. I'm partial to the more interesting and unique stuff coming out of indie comics (never been much of a superhero fan) and I love some of the animation coming out of Japan, though we're slowly starting to produce more good stuff for adults in North America as well… very slowly, unfortunately.
I've also always loved to read and my favorite thing to do in any down time I can find (which is rare lately!) is to put my feet up and plow through a good book. I find it interesting that movies are looking more and more often to novels and comics for source material but I've still never seen a movie adaptation that didn't make me want to go re-read the book for a more engrossing experience.
And of course, I love procrastinating online and hopping from web comic to web comic; you can find some really interesting stuff that way.
On behalf of myself and my associates at Fandomania I would like to thank Alison for taking the time to answer my questions, and congratulations to her and her husband on the impending tax credit — I mean, baby!
(To get a feel for a full page, check out my personal favorite Page 61: Tea Time With Tanked)